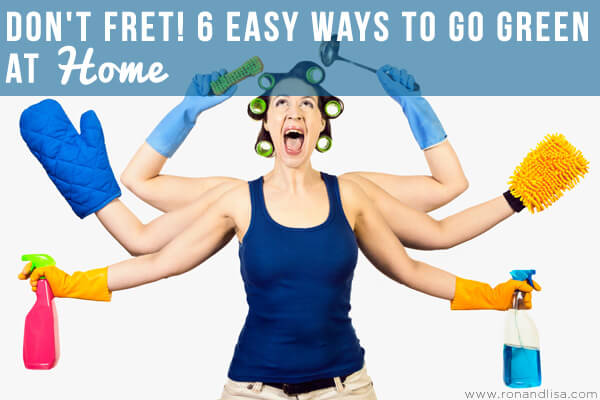 You don't need a twenty million dollar green home renovation like Julia Roberts or to trade in your SUV for a Tesla to achieve a green lifestyle (but if you do, you'll score some great tax perks this year). It's actually very easy, affordable (ahem, often free) and quick to green up any existing home. All it takes is the right mindset and replacing a few bad habits with good ones. To get started, consider one or all of these simple green fixes.
1. Recycle
The vast majority of Americans could actually be recycling much more than they currently do. In fact, most things that are disposed of could be composted or recycled instead. Read up on your city's rules for recycling and you'll be surprised to learn just how much greener you can be. In some instances, you may be required to obtain a special recycling container or visit your local drop-off center for certain items (ie: electronics). Even these small steps can make a huge impact on the environment.
2. Ditch the Chemical Cleaners
Whether you fell for a cheap infomercial product or you've merely been purchasing the same chemical-laden cleaner for years, one of the best ways to clean a home or car is actually with steam heated to 350 degrees and applied with an expert's touch. It's completely green, more effective, kills bacteria and viruses and won't expose you and your loved ones to potentially harmful side effects. At the very least, opting out of chemical cleaners and making your own concoction with warm water and vinegar or another folk remedy can work wonders.
3. Stop Being Wasteful
Turn off the tap while brushing your teeth; wash your clothes in cold water; and remember what your mom told you about turning off the lights when leaving a room. Seemingly obvious actions that aren't regularly followed can suck up vast amounts of energy and resources. Make a conscious effort to stop being wasteful and you won't just help the environment – you'll lower energy bills, too.
4. Walk More
Most of the time, people drive when they could just as easily walk; justifying it with such thoughts as, Even if the grocery store is just a block away, what about carrying all that stuff home? Emissions from cars are seriously damaging the environment. Instead, get a boost of energy and improve your health by walking or biking more. It all counts towards the recommended 150 minutes per week of exercise.
5. Defrost in the Fridge
Many people put something that needs to be defrosted in the sink or on the countertop. This can actually increase the odds of food poisoning. Did you know that putting food in the fridge to defrost it actually accomplishes much of the work required by the refrigerator to run efficiently? This means lower energy usage and safer food for you.
Related Article:
Rechargeable Batteries not Included (but should be)!
Phantom of the Home: 7 Tips to Reduce Your Load & Increase Savings
3 Secrets to Save Money While Greening Your Home
Ron & Lisa on Green Is Good Radio: We Are Living in Toxic Homes!
How to Properly Plan a GREEN Home Remodel
Soak up the Sun in One of These 5 Unique Sunrooms
Sustainable Style: 5 Eco-Friendly Tips to Decorate Your Home
How To Transform A Room Into An Office
How To Remove Scratches from Your Floors
Garage Rehab: 4 Simple Steps to Detox Your Garage
How to Quit Your Soda Addiction
6. Grab Bag
There are numerous ways to go green – from putting on socks in the winter versus turning up the heat – to buying used instead of brand new. Get creative and put some green back into your wallet and help the green movement to boot.
Guest blogger, Larry Alton is an independent business consultant specializing in social media trends, business, and entrepreneurship. Follow him on Twitter and LinkedIn.