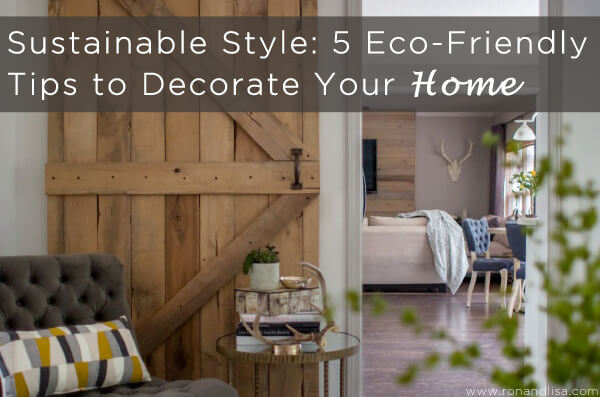 The value of homes in California with a green certification label is 9 percent higher than comparable, non-certified homes, reports the U.S. Green Building Council. They also explain that LEED-certified homes benefit your budget and your well being through lower energy costs, proper ventilation and measures to reduce mold and mildew. For homeowners who invest in a green home, it only stands to reason that they also want eco-friendly décor and furnishings. If you're worried about finding environmentally-friendly and stylish furnishings for your green home, consider some of the following options:
Natural Furniture
Wood furniture is a popular choice for both its durability and style. To make this option sustainable, look for local artisans who sell reclaimed wooden tables and accessories. Michigan's Woodland Creek, for example, sells natural wood furniture from sustainable areas. They even take it a step further by planting eight trees for each tree harvested for use.
Don't dismiss bigger companies like Crate and Barrel, though. They offer a selection of dining and home office pieces that are certified by the Forest Stewardship Council. They harvest wood from responsibly managed and environmentally-friendly forests.
Green Upholstery
Traditionally, upholstered fabrics and furniture contain chemicals that can be unhealthy for you and the environment. For example, foam furniture made before 2005 usually contains polybrominated diphenyl ethers (PBDEs) or other flame retardant chemicals. Since the flame retardants are semi-volatile, they can be present in household dust.
Finding green upholstery isn't always easy, but is within reach. Companies like Ekla Home are members of the Organic Trade Association, Sustainable Furniture Council and Co-Op America and offer organic, non-toxic pieces. Two of my personal favorites are Cisco Home and Environment Furniture (check out our book launch party held at their Los Angeles showroom HERE). Q Collection products also are free of chemicals found in wood, glues and finishes with non-toxic dyes.
Natural Sunlight
Sunlight helps keep you healthy by boosting your Vitamin D levels. Heliotherapy, or treatment with natural sunlight, also can help with skin disorders, seasonal affective disorder and your immune system, claims The Healthy Home Economist. In addition to keeping you healthy, sunlight naturally heats up and brightens your home. Skylights can flood your home with light so you don't need to turn on a lamp, and solar panels help reduce your carbon footprint and energy bills. To add some lighting style, put water in an old jar with some wild flowers to diffuse the light throughout your home.
Eco-Friendly Window Treatments
Green window treatments are more than just an eco-friendly alternative for your home— they also help to reduce your energy bills by keeping cold air out and warm air in depending on the season. Companies like the The Shade Store sell blinds constructed from low-impact, eco-friendly materials with over 60 stains and finishes. Their bamboo options come from real bamboo and are resistant to moisture.
Related Articles:
Rechargeable Batteries not Included (but should be)!
Phantom of the Home: 7 Tips to Reduce Your Load & Increase Savings
3 Secrets to Save Money While Greening Your Home
Ron & Lisa on Green Is Good Radio: We Are Living in Toxic Homes!
Don't Fret! 6 Easy Ways to Go Green at Home
How to Properly Plan a GREEN Home Remodel
Soak up the Sun in One of These 5 Unique Sunrooms
How To Transform A Room Into An Office
How To Remove Scratches from Your Floors
Garage Rehab: 4 Simple Steps to Detox Your Garage
How to Quit Your Soda Addiction
Recycled Pieces
If you can't find what you're looking for in stores, make your own green décor and furnishings. For example, the above image (barn door) was handmade as a b-day gift for our fabulous friend by her uber-cool husband (and, um. Yes. That's her photography…can you say ridiculously talented couple?). It's comprised of reclaimed wood — hard maple – which came from an old office building in Downtown Jacksonville, Florida. The track is from a tractor supply store. They left it unstained to eliminate chemicals and preserve the natural beauty. The entire project took about 1-2 weeks to build.
Also, recycled pieces from antique stores and estate sales can be sanded and refinished to your tastes. Go scavenging for wood at salvage and lumber yards to find your own reclaimed wood to make a table or desk. Next, decorate with natural elements by adding shells, fresh flowers from your garden and even brightly-colored fruits. If you really want to get creative, use tree stumps for ottomans or end tables.