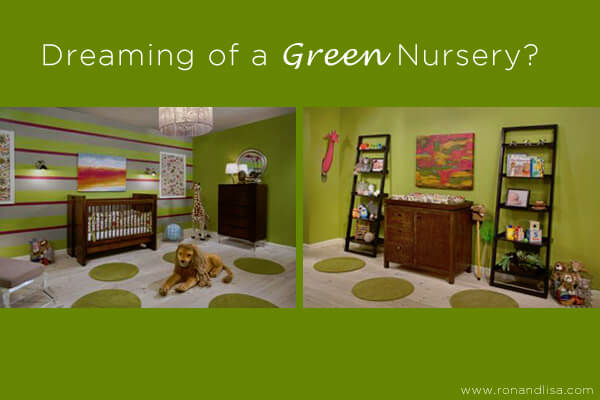 You may not believe in a blue man emerging from a bottle to grant your every wish.  However, there is such a thing as a genie; this time in the hue of green, not blue.  And perhaps the desire of a dream home and healthy nursery is very real and perfectly situated in beautiful Orange County, California.  Introducing the ASID Dream Home 2012; a very special home created by the American Society of Interior Designers.
What is the ASID Dream Home?
The 2012 ASID Dream Home is a uniquely designed 5,000 square foot show house built within a retail space at SoCo in Costa Mesa, CA.  This one-of-a-kind concept home demonstrates that a multi-generational and fully accessible home can be both beautiful and luxurious.  Over a dozen interior designers from the ASID, Orange County Chapter, have partnered with the National Multiple Sclerosis Society to bring this amazing home together.  Visitors can see the latest products and innovations in cutting edge design.
About the Green Nursery
The healthy Nursery is designed to be gender neutral with bright, happy colors and simple, clean lines.  As the interior designer for this space I, Julia Caro, used paint as an effective and inexpensive way to add detail and graphics to the crib wall.  Many paint companies now offer low or zero VOC paints which are especially useful when painting children's rooms.  I planned for the ADA requirements of the design house by providing enough room for a wheelchair to turn around, easily approach the furniture and exit the room without issue.  Reclaimed wood flooring was selected in that it adds great warmth under foot, is easy to roll a wheelchair onto, and has a fabulous history on where it originally came from: the Santa Fe Railroad Building in Missouri.  My inspiration came from a wonderful exotic paisley and animal print fabric in bright hues of green, magenta, aqua, yellow, brown and gray.  I pulled giraffes and lions from the print and used the animals as accents in stuffed toys complimented by a bright pink, wall mounted giraffe head with a chandelier Lucite necklace on.  I selected furniture that is sophisticated in both style and material and partnered it with gallery artwork from nearby artists.  The crib is from a local, family-owned manufacturer that uses heirloom quality materials such as select hardwood construction and low VOC, non-toxic paint. High quality organic cotton and natural latex mattresses are the best choice for infant cribs.  I used the high-low design theory by mixing designer furniture with inexpensive wool rugs, sustainable toys, accessories and bookshelves from local retailers.  I designed the lighting to address both ambient and task issues.  A lovely glass raindrop and silk chandelier hangs gracefully above the Nursery offering overall ambient lighting.  A night light comprised of a lion's face glows gently while wall sconces provide direct light at the crib.  The Nursery is a fun, hip room with luxury appointments and fully accessible to best meet this family needs and concerns.
DIY Designer Tips for Your Green Nursery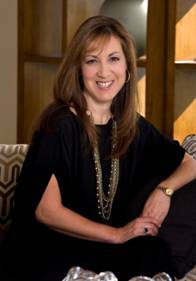 Infants don't understand what the décor of the room is.  Design for you, the parents.  You will be spending a lot of time in the room, so make it a place where you will be comfortable.
Gender-neutral means that you don't need to define your child by pink or blue.  Pick a palette that suits the feeling you want to achieve; be it relaxing, or fun!
Provide a comfortable space for those late night feedings.  Invest in a good chair or chaise, a back pillow and a warm blanket.
Design lighting for tasks and ambience.  Place directed light at the changing table or beside the chair.  Set the overall room lighting on a dimmer switch and keep a night light nearby.
Use baskets or bins for easy storage.  Keep staying organized simple with containers that are easy to see in to.
Use the high-low theory of design.  Spend the majority of your budget on items that will stay with your child as they grow up, such as a great dresser or chest.  Also, allocate these funds on a safe and well made bed.  Save your money in other areas such as inexpensive rugs, themed artwork or cute lamps and accessories.
Related Articles:
Would You Live in a Shipping Container?
Winter Wellness Roundup: Health is in the Palm of Your Hands
Behind the Scenes with Ron & Lisa at the SUZANNE Show on Lifetime TV!
Green Your Home for Under $250
Organic Cotton & Why It Matters
5 Innovative Eco-Friendly Window Treatments
15 Morning Habits to Make Coming Back Home Even Better
Guest blogger, Julia Caro is owner of Julia Caro Interior Design of Newport Beach; a full service design firm specializing in residential interiors since 1998.  Julia is an Allied Member of the American Society of Interior Designers.  Her excitement for design is derived from her innate sense of curiosity, a love of learning and the enjoyment of helping others.  She is a strong believer in the process of design and enjoys the collaboration between the homeowners and the design team.  She believes her job as a designer is to interpret the homeowner's vision into a reality and guide them through the myriad of design choices.