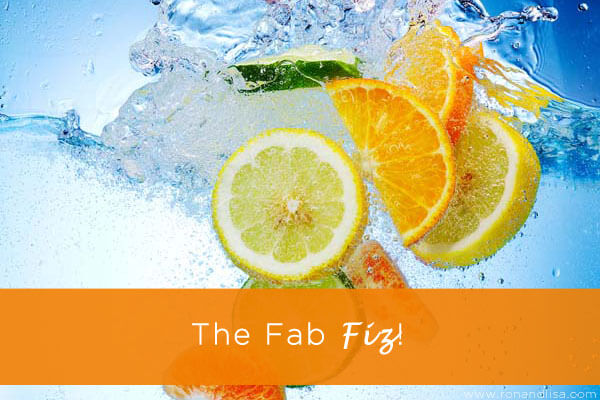 2012 is here and with it, the arrival of shiny red and pink bicycles promenading the sidewalks of my neighborhood.  To some we know and love – the holidays meant warm, fuzzy throws and family get-togethers, and to others – it meant ownership of new electronic gadgets and gizmos.  Among the priceless family gatherings and memorable holiday gifts, Lisa and I welcomed a new member to our own kin…in the form of penguin.  As you are well aware, we don't reside in the Antarctic, nor did we give birth to a warm blooded, vertebrate animal.   Quite the contrary; this year, Lisa and I added some fabulous fizz to our holiday season and New Year with our very own Penguin home soda make by SodaStream.
In as little as 30 seconds, I saw myself an alchemist, turning filtered water into sparkling, healthy and refreshing bubbly beverages for family and friends as we celebrated the close to an incredible 2011.  For those of you not familiar with the Penguin soda maker, I'm proud to introduce you to the newest member of the Beres' kitchen countertop.  From the makers of SodaStream, the Penguin is a convenient, environmental friendly and oh, so easy way for people to create sparkling water and/or flavored soda right from their own home.  Say goodbye to heavy soda or water bottles to carry, store at home or throw away! For example, during our holiday festivities, I proudly displayed the eye-catching, stainless steel and black SodaStream Penguin unit and its beautiful glass carafes in clear view for our guests to not only witness, but savor.  It was quite the crowd pleaser as I was able to turn ordinary drab water into foaming root beer floats and flavored sparkling beverages of lemon-lime and Black Currant & Pear.  I could tell by everyone's reaction during the holiday festivities that they were impressed with the ease at which I created tasteful concoctions that did more than just wet their whistle.
Like Mr. Popper, I was not alone in my ebullience for the Penguin.  But, don't just take my word for it.  Listen also to what Beth H. from Michigan(the winner of the Penguin SodaStream in our 'Tis the Season to Be Bubbly Sweepstakes) had to say"…This is the coolest thing I have ever won! So far the lemon/lime was the best! I don't have much counter space but I think the penguin will stay…"
"More than 80% of bottles in the US do not get recycled and end up in landfills." -According to the US Recycling Institute
Because SodaStream uses water straight from the tap or filter (As the Healthy Home Dream Team, Lisa & I highly recommend using filtered water), the system makes traditional store-bought beverage bottles virtually obsolete. For those of you making a New Year resolution of reducing your impact on the planet, the SodaStream maker is a perfect catalyst.  The habit of reducing purchases of bottled beverages will mean savings in your pocket, less plastic manufactured, less plastic waste created, and fewer bottled beverages being transported from manufacturers to distributors to stores to homes. When it comes to sparkling water, the Penguin is well – perfect!  The Penguin is the first and only soda maker with glass carafes making it not only our choice, but the perfect solution to reduce plastic waste. Among the Penguin features include: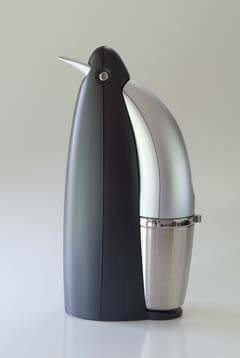 Customized carbonation level
No batteries, no electricity, no plumbing
Automatic access gas release mechanism and minimal space usage on counter tops
Two Glass Carafes w/ fizz-preserving caps
Allows you to enjoy sparkling water for as little as 25 cents per liter
30-day money-back guarantee and a two-year manufacturer's warranty similar to all of the new soda makers from SodaStream
The Penguin SodaStream, similar to their other models, allow you to choose from over 50 flavors to add to your drink including: traditional favorites like Cola, Dr. Pete,  sparkling naturals (our favorite) and even mixers for classic cocktails & wine spritzers.
For personal use, Lisa & I prefer using our SodaStream "MyWater" brand of flavors such as Lemon-Lime,Orange, Raspberry or Mint (Mojitos anyone?).  They are unsweetened, all-natural flavor essences and used for making lightly flavored seltzer or sparkling water.  Each of the 40 ml bottles produces around 20 liters of flavored seltzer and they come in small hand held packages of 3 bottles each.
Lisa and I also enjoy the Sparkling Naturals Line which includes all-natural ingredients for the creation of healthier sodas (ie: Cola, Green Tea, and Black Currant & Pear). My brothers & parents favour the Root Beer flavor from the Sparkling Naturals line.  Regardless of your flavor preference, all of the natural selections are free of artificial flavors, artificial colors and artificial sweeteners, and do not contain any preservatives.  What's more, a 750ml bottle of Sparkling Natural concentrate will make 6 liters of all-natural soda.  Something everyone can do the happy dance – or in this case – the penguin dance to!
Related Articles:
Would You Live in a Shipping Container?
Winter Wellness Roundup: Health is in the Palm of Your Hands
Behind the Scenes with Ron & Lisa at the SUZANNE Show on Lifetime TV!
Green Your Home for Under $250
Organic Cotton & Why It Matters
5 Innovative Eco-Friendly Window Treatments
15 Morning Habits to Make Coming Back Home Even Better
Don't worry about fuss, mess or tools!  Assembly of the Penguin was fairly simple and comes with an easy-to-follow picture guide on how to install the carbonator; available in sizes of 60 or 110 liters.  Each carbonator makes the equivalent of either 170 or 310 aluminum cans worth of beverages; depending on size.  When empty, the carbonator can be refilled and reused at local retailers or online.  For more information on exchanging a carbonator visit this link.
The Penguin isn't going to break your igloo when you factor in the savings!  It retails for $199.95.  But, SodaStream offers adorable models priced for as little as $79, like the Jet Home Soda Maker featured in the RonandLisa.com 2011 Gift Guide.  To march to store near you go to SodaStream online.
Sipping sustainably with the Penguin, or any of its SodaStream cousins, will undoubtedly have you drinking a healthy treat and dancing with Happy Feet!