By guest blogger, Danielle Hegedus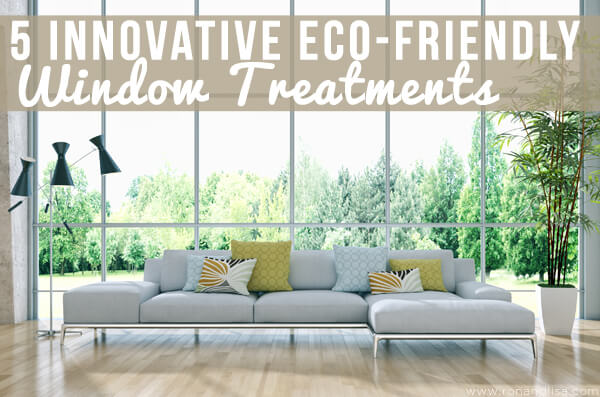 Window treatments are a great way to infuse a lot of style into your home–maximizing the height of a room, introducing color and patterns, and creating an overall polished look. They can also make your home much more comfortable by regulating the temperature and reducing harsh glares and UV rays.
Approach your window treatments the same way you would any other home upgrade, from an environmentally sustainable perspective. Read on for suggestions on how to decorate your home with window coverings that reflect your personal style without taking a toll on the environment.
1.) Create a Streamlined Look with Solar Shades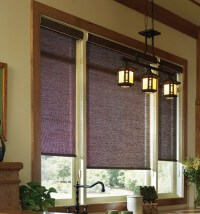 You're probably most familiar with solar shades being used in college apartments as "blackout shades," perfect for late sleepers! Solar shades now come in a variety of colors and designs to fit in with your home decor. Solar shades absorb and reflect 95% of the sun's heat, glare, and UV rays. They can save you money on your cooling bill, reduce eye strain when using the computer or watching television, and prevent the sun from fading your furniture. They also allow you to enjoy daytime privacy while maintaining your view outside. Here are some tips for choosing the solar shades that are best for your home. (Picture via Blinds Galore)

2.) Let the Light In and Maintain Privacy with Window Films
The majority of window films are made from poly-vinyl chloride (PVC), which is difficult to recycle and presents a potential health risk. PVC is actually classified as a carcinogen by the Environmental Protection Agency. That doesn't mean that you can't experiment with fun window films that afford you privacy while creating fun designs–great for kids' rooms. You simply need to look for film that is made from polyolefin or that is labeled non-PVC (or vinyl chloride free). Emma Jeffs has a great product that is non-vinyl, shipped to you in packaging that is made from a minimum of 40% recycled cardboard, and that is fully recyclable. (Picture via Emma Jeffs Window Film)
3.) Make Your Home Eco-Chic with Bamboo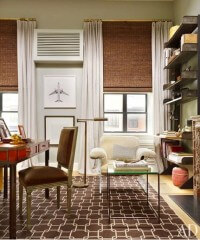 Bamboo has been used as a building material in Asia for thousands of years. Incredibly durable, it also has a lot of environmental appeal. Bamboo grows incredibly fast–up to 24 inches in a single day! Its rising popularity is also positively affecting those who harvest it in economically developing countries. Its wide root system is also useful in preventing soil erosion.
Bamboo window coverings come in an array of styles including roman shades, roller shades, panels, and drapes. You can find them in a variety of colors, textures, and weaves. They naturally filter light, but a liner can be added to block light and increase privacy. They also pair well with fabric drapery panels. (Picture via My Design Chic)
4.) Block the Sun's Harsh Rays with Custom Shutters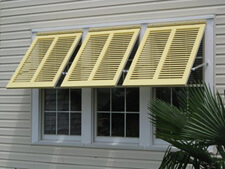 In warmer climates, it's common to see hurricane shutters or "Bahama Shutters." These shutters help give you maximum ventilation–allowing cool breezes to come through and hot air to escape. They also provide great shade. If you live in an area that is hit hard by summer storms, these can also add a valuable layer of protection to your windows. Follow this simple tutorial to learn how to customize hurricane shutters for your home. (Picture via SHUTTERSTILE)
Related Articles:
Would You Live in a Shipping Container?
Winter Wellness Roundup: Health is in the Palm of Your Hands
Behind the Scenes with Ron & Lisa at the SUZANNE Show on Lifetime TV!
Green Your Home for Under $250
Organic Cotton & Why It Matters
15 Morning Habits to Make Coming Back Home Even Better
5.) Showcase Treasures and Reduce Clutter by Upcycling
Creating your own window coverings out of items that are already in your house is a great way to style your home with minimal environmental impact. Do you have scarves or antique handkerchiefs stored away in a drawer? Fashion them into a one-of-a-kind curtain (Picture via Dishfunctional Designs).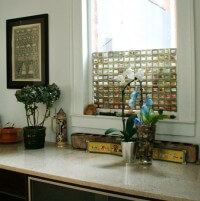 My favorite example of upcycling is this custom window treatment made of metal slides from old family photos. A definite conversation piece, this window covering also reflects colorful light into your home throughout the day (Picture via Sweet Peach).
For more design ideas and inspiration, head to Modernize.com.