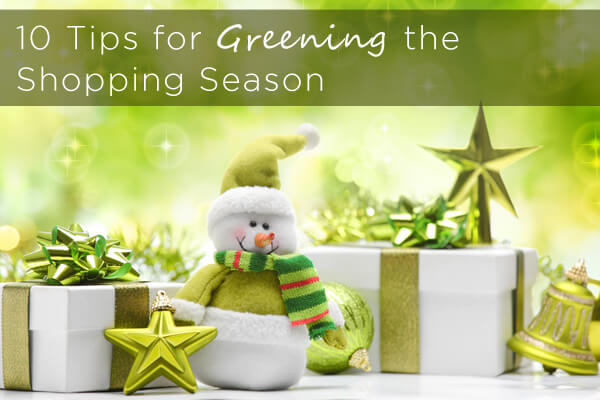 However you choose to spend the holidays, consider the following. As friends and family gather for one of the sweetest times of the year we, sometimes unknowingly and without intention, cause much undue stress on the environment; one reason being the large number of people shopping.
In comparison, the stress occurring on an individual basis doesn't appear to be that high. However – when factoring in the millions of consumers hustling about at the same time in search of the perfect gifts, food, and plethora of additional holiday décor and goods – the result is a tremendous amount of waste and pollution being generated.
This doesn't require everyone to suddenly cease shopping; rather there are a number of green-minded steps we can all take to make less of an ecological footprint on the world around us, whilst still enjoying the holiday season.
Simple Green Tips Include
1. Transportation: Fumes and chemicals from cars contaminate both the air and ground therefore, whenever possible, take public transportation. However, if driving is necessary then it is wise to either carpool or save on gasoline by driving when there isn't a lot of stop and go traffic. Also, avoid taking multiple trips by making a list so you don't forget anything.
2. BYOB shopping: Would you believe there are billions upon billions of plastic bags in the world already and most are not made from recyclable materials? When shopping, think reusable and bring your own bags (BYOB).
3. Buy organic: Supporting the organic industry is a great way to go green this shopping season. Whether its food and sweets or the cotton in clothing, look for the organic label or tag when making purchases.
4. Buy local: On a similar level as purchasing organic, buying local helps support neighborhood industries that don't have to utilize precious resources shipping in from afar. As a result, the carbon footprint is much smaller.
5. Energy efficiency: If you're planning to make purchases on appliances or electronics that use energy, stick with energy efficient models.
6. Recyclable material: Let's face it – the holiday season produces vast amounts of waste from packaging that gets tossed in the trash in the days following Christmas. One way to make the holidays a bit greener is to purchase items that have recyclable packaging and to be sure to recycle it back on your end as well.
7. Order online: If you aren't the least bit excited to brave the shopping mall, ordering online can be a quick relief.  It's the greenest option since the more people that engage in online shopping, the fewer vehicles will be utilized on the roads.
8. Give an experience: Instead of giving a physical gift, an alternative gift idea is tickets to cultural events such as concerts or passes to a museum. These are ideal because there's very little waste.
9. Carry reusables: While shopping, it's very likely you'll need to fuel up with a quick bite or drink. To prevent unnecessary, non-biodegradable trash from entering a landfill, bring a glass or stainless steel reusable water bottle and reusable cutlery along instead.
10. DIY wrapping paper: Lastly, there's no sense in buying new wrapping paper which is just going to get disposed of. When you're ready to wrap your gifts, be creative and make your own customized coverings from whatever you can find around the house. Draw, paint, or sew it. With a personalized touch, it will make the present even more meaningful.
Jakob Barry is a home improvement journalist for Networx.com. He blogs about Green living tips for electricians and other professionals across the U.S. Specializing in eco-friendliness, Jakob teaches people how to incorporate better efficiency and sustainability into everyday life.