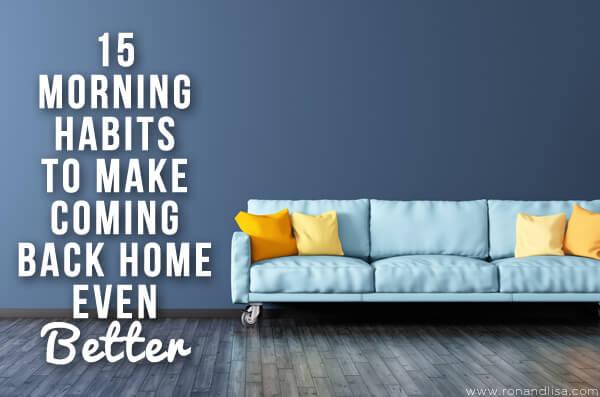 Chances are, you've dashed out the door in a heated frenzy, leaving the house in complete and utter chaos. Upon arriving home, you experience that dreaded pit in your stomach as your to-to list races feverishly through your mind.  The good news is – it doesn't have to be this way. You'll be surprised to discover how a few simple touches around the house can make your return home feel relaxing and joyful.
Pay close attention to the first area you see upon entering your home, be it an entryway, hallway or living area. Be sure to leave it in a tidy state as you depart so that you're not walking straight back into a guilt-ridden 'to do' list. Consider putting a vase of fresh flowers or a potted plant in the hall to greet you; flowers have been shown to have an immediate impact on happiness, as well as fostering increased contact between loved ones. Certain potted plants can also remove toxins from your air. Discover tips – including using certain indoor plants – to remove toxins from your indoor air by taking our free Healthy Home Challenge.
Perhaps you're the type that flees the house in the morning with dirty dishes piled in the sink and the windows shut. In this case, you can easily brighten up your bat cave by allowing the light in before you leave for work and by clearing the sofa. These steps will allow the first moments of rest in the evening to feel unhindered. Getting those dishes done while the sun's still rising is more commitment, but will give you back fifteen minutes in the evening when you're tired. Also, get early start on your dinner planning to ensure you'll eat healthy.
Related Articles:
Would You Live in a Shipping Container?
Winter Wellness Roundup: Health is in the Palm of Your Hands
Behind the Scenes with Ron & Lisa at the SUZANNE Show on Lifetime TV!
Green Your Home for Under $250
Organic Cotton & Why It Matters
5 Innovative Eco-Friendly Window Treatments
Finally, don't forget the bedroom.  Finding your bed made and your pj's laid out will bring instant peace and calming upon returning home. For more tips on how to prepare for a relaxing arrival, enjoy this helpful new infographic. Got a favorite tip? Share it with us in the comments below!

15 Morning Habits to Make Coming Back Home Even Better [Infographic] by the team at Amara
Save
Save
Save