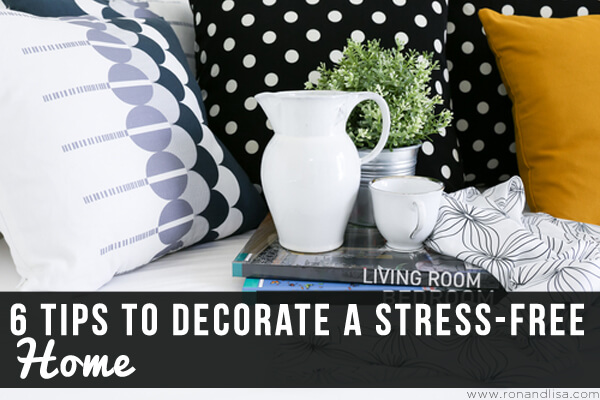 According to a study conducted by the American Psychological Association, 77 percent of people surveyed experience physical and psychological symptoms of stress. Such symptoms range from fatigue to headache, upset stomach, teeth grinding, feeling dizzy and irritable. Getting a handle on everyday stress and figuring out where to start can feel overwhelming. By making a few simple decor changes around your home, you can pave the way to stress-reduction and reclaim your sanity.
1.) Focus on Something You Love
What's the first thing you want to see when you come home? The answer probably isn't stacks of mail or discarded paper grocery sacks. Instead, create a focal point in your entryway that puts you in the right mood the moment you enter. Hang a beloved family photograph, set up a table of fresh potted plants, or include a small fountain and nontoxic candles that invite you into a calming space.
2.) Embrace Your Daydreams
Think about where you feel the calmest and relaxed, whether it's a mountain retreat or beachside resort. Incorporate that feeling into your home by adding tropical artwork, painting a wall with sea-colored blues and adding natural bamboo rugs to warm up your hardwood floors. Extend the theme to your backyard with native plants and palm trees if your climate allows.
3.) Rotate Fresh Potted Flowers and Plants
Plants and flowers have been shown to reduce stress levels and make you feel more secure and relaxed. Incorporate more nature into areas where you feel stress, like your home office. Studies also have shown adding flowers can help reduce your chances of stress-related depression. Want to encourage social relationships? Place a potted plant in a seating area where you usually have conversations and create a focal point for your next chat.
4.) Use Calming Colors
Many people go for light hues in their homes ranging from pale blues to soft greens and neutrals. But you don't have to let soft, dewy colors dominate your home. Dark charcoals and browns also can create a relaxing atmosphere. Choose alow or zero-VOC flat finish to reduce the glare of a high-gloss option. Start with your bedroom and a sitting area to create a warm and relaxing mood.
5.) Go Beyond Decluttering
Everyone knows you need to cut clutter to cut through the stress. But there are other ways to scale back than removing stuff. Look at your lighting. It's difficult to wind down when an entire room is filled with bright lighting. Use soft LED lighting to reduce overhead lighting, and add accent lamps and unscented candles to create a softer mood.
6.) Feng Shui Your Bedroom
Your bedroom represents where you start and end your day so it should remain stress-free. Embrace the principles of feng shui and place your bed away from the door and keep it off the floor to encourage the flow of energy beneath you. Too much furniture, books, and gadgets can create stress and disrupt the tranquility in your bedroom. Clear out what you can and remove any electronics away from your head.