by Ava Anderson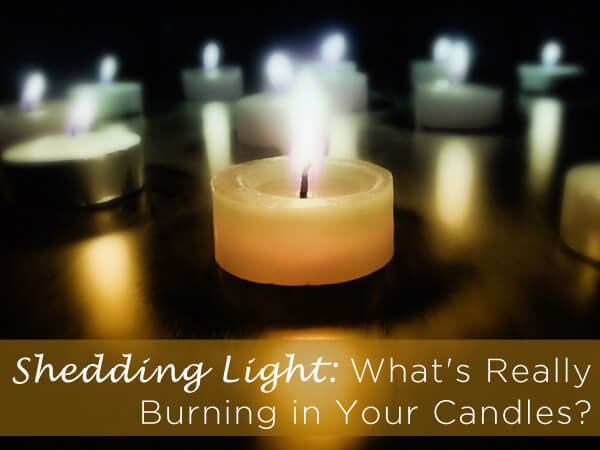 What's In a Candle?
Many candles are made from paraffin wax, metal wicks, synthetic fragrance & dyes and BHT's – among other toxins – which release harmful chemicals directly into the air we breathe.
DID YOU KNOW? Paraffin is toxic
The process of making paraffin wax starts at the bottom of the barrel – literally, the bottom of an oil barrel.  After petroleum is processed into diesel gasoline; motor oil; kerosene; and other fuels, the waste that has been rejected by the gasoline industry is then whitened with industrial strength bleach.  Next, a few additional ingredients are added and finally you have the very wax that is burning inside your homes.  The soot created by paraffin wax contains the same toxins found in diesel fuel.
Paraffin wax contains 11 known toxins while burning including: toluene, benzene, and formaldehyde; all of which are known carcinogens. One study by researchers at the University of Michigan found that candles made from paraffin wax give off emissions that exceed the EPA's standards for outdoor air quality. Hence, when you're burning paraffin based candles, you're breathing in all of these toxins and polluting your indoor air.
What's Ava's Solution?
Ava has done the research once again, and recently launched three new organic coconut wax candles to burn brightly (and safely) this holiday season and throughout the year! Organic coconut wax comes from the process of cold pressing the oil out of the meat of the coconut, then cleaning and filtering the wax until you are left with a beautiful white, creamy, dreamy wax that is clean, natural, and healthy.
These candles come in three scents, CINNAMON VANILLA, COCONUT LIME and GREEN TEA LEMONGRASS and they burn bright for 45-50 hours.  The candles are set in a beautiful class cube which makes a perfect gift for this holiday – or any season! Visit us to learn more HERE.  Shine on!