By Julia Stander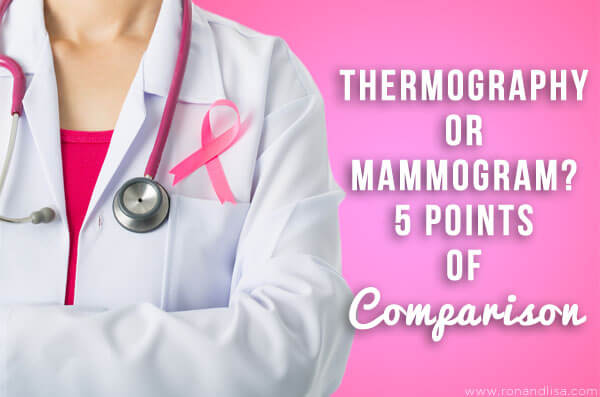 Mammogram screenings are widely touted as being the best tool for early breast cancer detection, but critics point to false positives, increased radiation and the fact that about half of women have "dense breast tissue," which makes mammograms more difficult to interpret. However, these two technologies work in different ways, so it is also important to take into consideration their accuracy, what they look for and how early they can detect a possible problem.
The Pros and Cons of Thermography and Mammograms
1. False positives and false negatives
According to The University of California San Francisco, "During a decade of receiving mammograms, more than half of cancer-free women will be among those summoned back for more testing because of false-positive results, and about one in 12 will be referred for a biopsy." That's a lot of unnecessary anxiety. Of course, the key is early detection, but ideally without the false positives. So how does thermography compare?
A study of 92 women in 2008 using thermography found false positives 12-44 percent of the time, depending on the setting of the machine.[i] That's a big range and it does seem to depend quite a bit on the person performing the exam, so researching your potential doctor is important.
But what about false negatives? According to The National Cancer Institute, screening mammograms miss about 20 percent of existing cancerous tumors. This is largely due to dense breast tissue, which is more common in younger women. Thermography readings are not affected by the density of breast tissue, but there is still evidence of false negative results about 4 to 10 percent of the time.
2. Radiation vs. no radiation
Take note that we are exposed to ionizing radiation every day, both from naturally occurring sources like radon and from radioactive particles, called cosmic rays, that come from outer space and hit the earth. Radiation is measured in millisieverts (mSv) and in the U.S. we receive an average of about 3 mSv per year, with slightly increased exposure if you live in higher elevations. Even tobacco can account for a significant portion of yearly radiation if you smoke (so quit!)
The website radiologyinfo.org breaks down the approximate radiation dose compared to background radiation exposure for the following experiences:
Dental X-ray: 1 day
Coast to coast airline flight: 3 days
Chest X-ray: 10 days
Mammogram: 7 weeks
Spinal X-ray: 6 months
Abdominal CT scan: 3 years
You can see the exposure is not insignificant. For some, that risk is worth it for the peace of mind. But for others, adding in the exposure of a yearly mammogram along with all the other sources of radiation that accumulate over a lifetime, leads them look for an alternative. Thermography is radiation-free.
3. Contact vs. no contact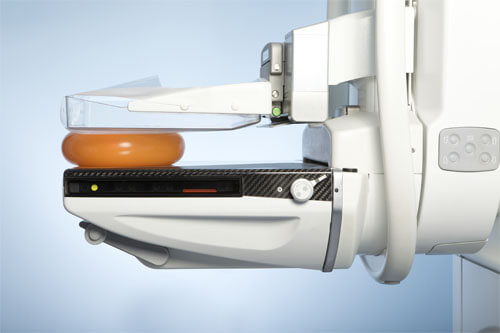 Mammograms are notoriously uncomfortable, but is there any actual harm done to the breast tissue? There is a concern among many that the compression of the breast, if it contains cancer, may rupture a localized mass of cancer cells and cause them to be released into the woman's bloodstream. The National Breast Cancer Institute refutes this, stating, "Breast compression while getting a mammogram cannot cause cancer to spread." Thermography does not require contact, but you will need to sit disrobed for about 15 minutes to allow your skin to cool to room temperature. You will also need to immerse your hands in cold water for 1 minute to provide before (baseline) and after (functional) images.
4. Angiogenesis vs. anatomical changes
Mammogram
These screenings aim to detect breast calcifications. Now, to be clear, there are many kinds of calcifications and most are nothing to worry about. These are simply small deposits of calcium salts. They are not painful and are small enough that a manual exam wouldn't detect them.
Calcifications can occur for many reasons:
Increased age
Medical conditions like diabetes or heart problems
Injury to the breast
Prior surgery
Implants
Inflammation caused by a breast infection
Calcification in the arteries within your breast
Calcifications in a fibroadenoma (benign)
Calcium inside a dilated milk duct
Calcium mixed with fluid in a benign breast cyst
They appear on a mammogram as small, white spots and in order to determine whether they are benign or suspicious, the radiologist will look at the size, shape and pattern.
Size – large or small
Shape – eggshell, rim-like or popcorn shape are usually benign, whereas linear rod-like shape is a concern
Pattern – arranged in a loose cluster (usually benign) or in a tight cluster (suspicious)
Thermography
Thermographic imaging works by detecting heat and increased blood flow. It does not detect changes in anatomy or structure. An American Cancer Society report Mammograms and Other Breast Imaging Procedures (2010) stated that "[t] thermography is a way to measure and map the heat on the surface of the breast using a special heat-sensing camera. It is based on the idea that the temperature rises in areas with increased blood flow and metabolism, which could be a sign of a tumor."
5. Earliest method of detection
So, which choice is the earliest method of detection? We now understand that they are looking at different things: calcification versus heat and blood flow.
According to Dr. Jeremy E. Kaslow of Santa Ana, CA, a physician and surgeon, board certified in internal medicine, "Numerous studies have been published in the United States, England and France demonstrating that patients in the false positive thermographic group, those patients with positive thermograms and negative mammograms who were told the thermography was wrong, were determined by long term follow-up to have developed breast cancer in exactly the location thermography had demonstrated its positive finding 5-10 years earlier. Thermography's only error is that it is too right – too early."
In addition, Dr. David Gorski, a surgical oncologist at the Barbara Ann Karmanos Cancer Institute, states that "ever earlier detection of cancer is not always a good thing because not all early lesions progress to become cancer. In other words, detecting breast cancer earlier is in general a good thing most of the time, but there clearly exists a point of diminishing returns and a point beyond which detection that is too early has the potential to cause harm…through over-diagnosis and over-treatment."
What do you think? Mammogram, thermography or both? Let us know in the comments below. As always, the best medicine is prevention and studies have shown that between 60 and 90 percent of all cancer deaths are preventable and determined by lifestyle choices. For tips on living a healthy, cancer-free lifestyle, see Breast Cancer Rise In Young Women – Is it Preventable.
Related Articles:
Ban Exercise Excuses: Build a Better Body from Home
Sip on This! Coffee Colonic: A Dynamic Detox
It's Not You, It's Mercury in Retrograde! 4 Tips to Turn Your Life Around
10 Natural Headache Remedies You Can Do Yourself
Discover the Best Workout for Your Personality
5 Reasons Holistic Dentistry Is Gaining Popularity
3 Useful Gadgets for Monitoring Your Health
Earthing: Healing Power Right Under Your Feet
5 More Facts About Breast Cancer Screenings
According to the FDA, thermography has been cleared since 1982 as an adjunct, or additional tool, for detecting breast cancer.
Women who undergo breast cancer screening cut their risk of dying from the disease by 40 percent.
Breast cancer mortality is down by half in the last 20 years.
The Mayo Clinic recommends starting screenings at age 40, the American Cancer Society recommends starting screenings at 45, and the European Union recommends starting screenings at age 50.
Hundreds of studies on thermography have been written up in peer-reviewed medical journals. You can find a list HERE.
---
[i] Arora N, Martins D, Ruggerio D, et al. Effectiveness of a noninvasive digital infrared thermal imaging system in the detection of breast cancer. Am J Surg.Oct 2008;196(4):523-526.
Guest blogger, Julia Stander, is passionate about healthy living and traveling the world. A mom and a writer/producer, Julia works with her husband at Stander Productions, Inc. and resides in Los Angeles, CA.
Save