By guest blogger, Clint Ober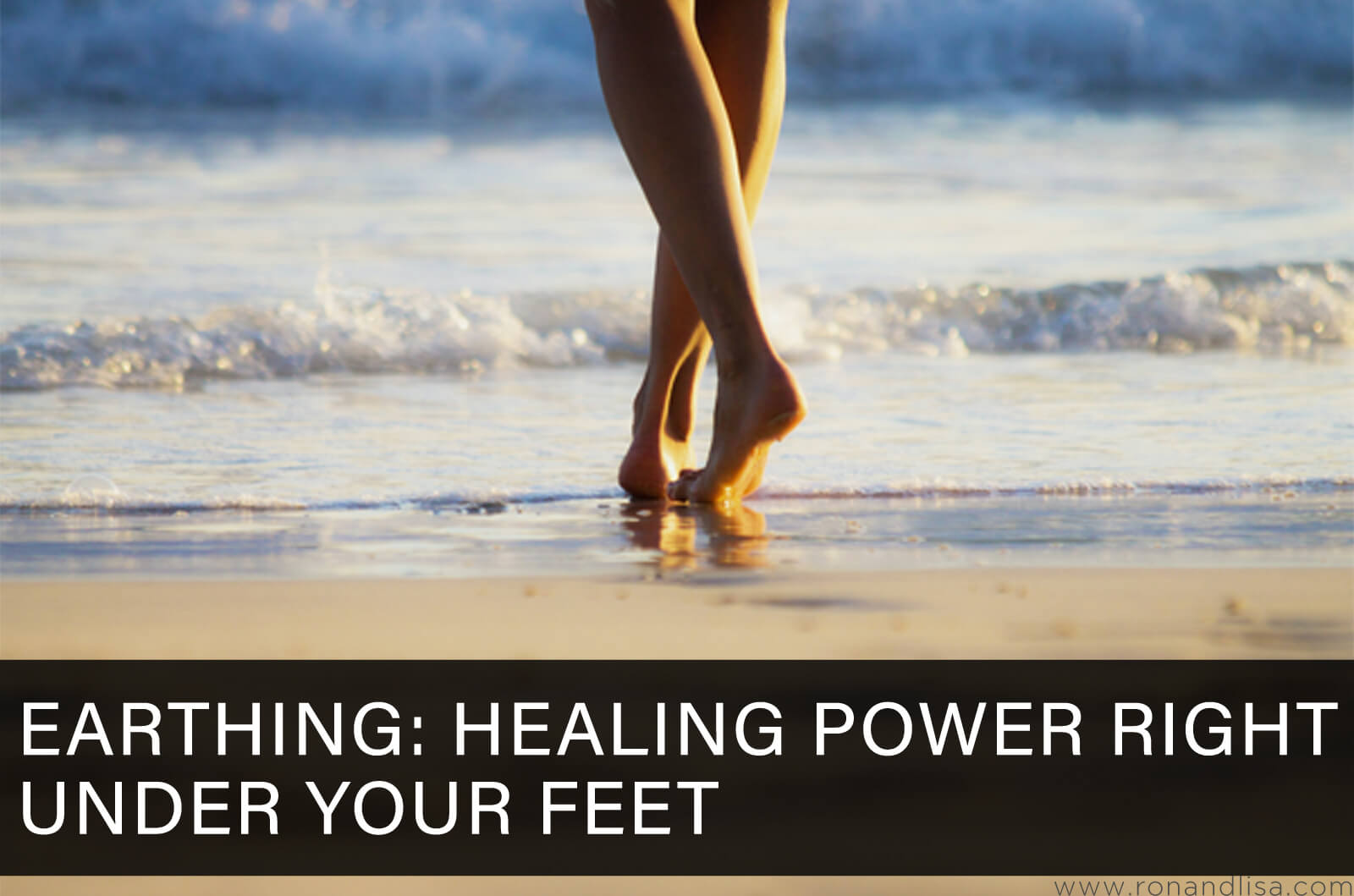 Most people are unaware that we live on an electrical planet. If you've ever walked barefoot along the beach or across wet grass you may have experienced the earth's subtle energy manifest as a pleasant tingling or warm sensation in your feet. Unbeknownst to many people, this "natural electricity" in the ground possesses a remarkable potential to reduce inflammation, pain, anxiety, fatigue, pain, and PMS, improve sleep, increase energy, and accelerate recovery from injuries.
All that is required to benefit is to connect with the earth.
Up until 1998, I knew nothing about the benefits of earthing. At that time, I was suffering from chronic back pain. I needed painkillers and sleeping pills just to function. To my surprise, I found I could eliminate the medications I was taking by applying a simple principle garnered from my decades of work in the cable television industry.
The crisp television images you enjoy on your screens at home are delivered via shielded cables that prevent signals from leaking out while simultaneously preventing outside interference from leaking in. This shield is electrically connected to the ground. This prevents the build-up of electrical charges while stabilizing the signals that are flowing through the cables. Electrical systems throughout the world are similarly protected. They are referred to as being "grounded" or "earthed."
An Earthing Discovery Goes Global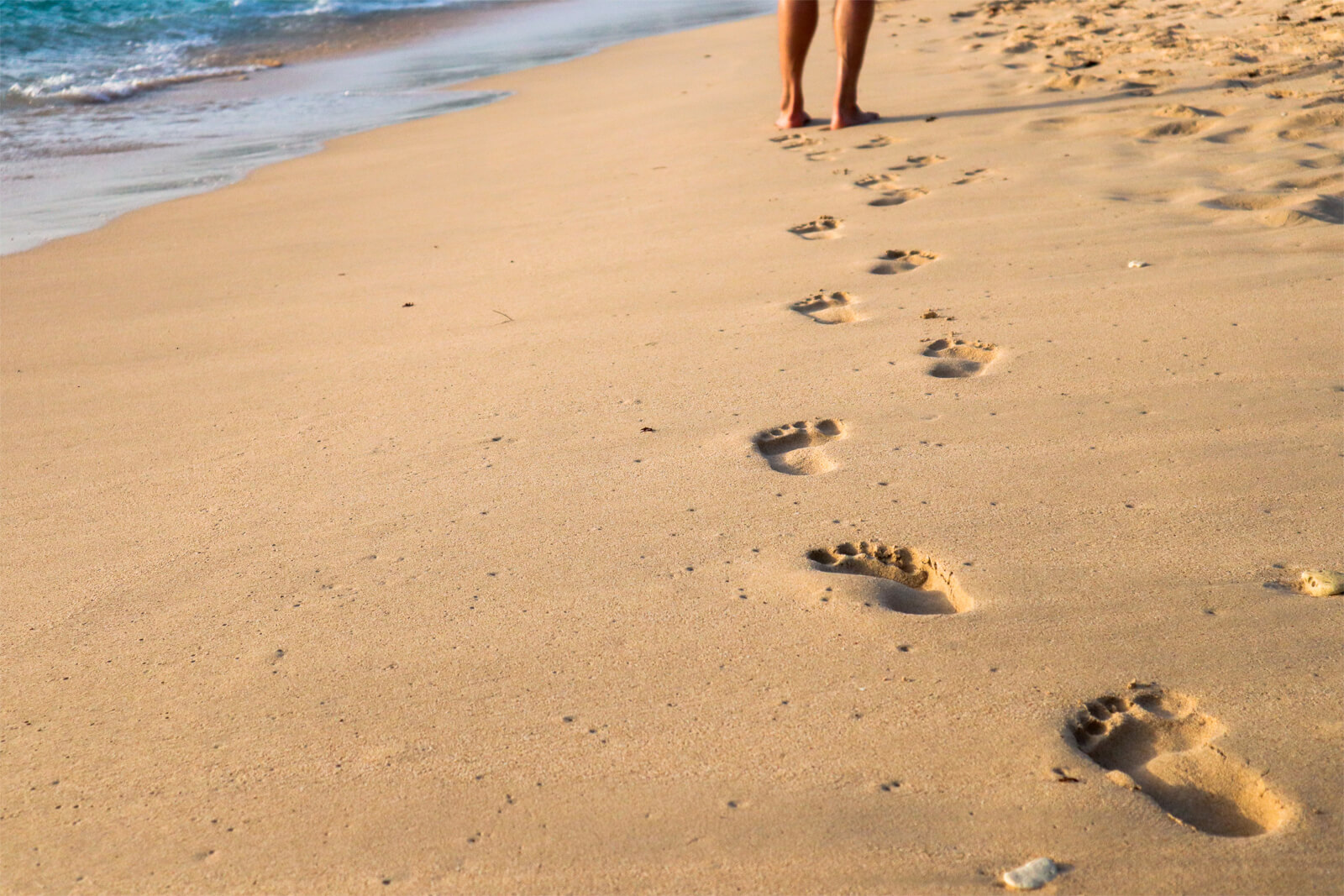 With this knowledge in tow, I proceeded to ground myself with metallic duct tape as I lay on a bed. I clipped a cord to the tape and ran it out the window and attached that cord to a ground rod that was pushed into the soil. This crude setup worked on alleviating my pain and did so for several friends who had pain and sleep problems.
I called this setup Earthing or grounding. I was unable to find any research on this concept, so I decided to experiment. Working with a nurse, I grounded the beds of 30 volunteers who were experiencing chronic pain. For comparison, I also "sham-grounded" another pain group of 30. This meant that the former group was connected to the Earth but that latter was not. At the end of the month, we compared the group results.
A staggering 85 percent of people in the grounded group fell asleep faster, 100 percent awoke feeling well-rested, and approximately 75 percent of this group experienced less back, joint, and muscle pain. The results were stunning, so much so that I became passionate about getting the word out to more people and exploring grounding scientifically. For this, I needed researchers to help me do the digging.
Today, more than 20 years later some 25 studies on grounding have been published. This research documents consistent evidence revealing many significant health benefits of Earthing. The research created immense buzz in the health community with an increased demand for grounding products that people could use comfortably while sitting or sleeping.
This concept has spread worldwide, as many people around the world are grounding themselves, both indoors and outdoors, on a routine basis while enjoying improved health. Earthing is free and accessible to everyone; it's as simple as walking or sitting barefoot outdoors on the ground.
If are currently experiencing any type of pain, go outside and give it a try. If going barefoot outside isn't an option where you live, indoor grounding devices can be conveniently used and offer the same benefits. Earthing is an effortless lifestyle addition that pays off substantially.
"The world is in sympathetic overdrive. That means so much stress. The purpose of our existence is to maximize the experience of innate joy, to maximize our capacity for love, to unleash our creative potential, and to be healthy. When you take off your shoes, and just walk on the grass or the sand at the beach or even on dirt, negative ions come from the Earth into your body, neutralize the excess free radicals that build up every day as a result of stress. So, your inflammation goes down. And by connecting with the earth directly, you reset your biological rhythms." − Deepak Chopra, M.D.

Planet Earth: A Battery Loaded with Healing Powers
Here are some basic details about the Earth's healing power. The surface of our planet, both the landmasses and bodies of water, is like a gigantic battery, filled with subatomic particles called electrons. These electrons are what give the Earth its natural negative charge. When you physically connect with the earth you absorb this energy like a sponge, and it starts to immediately stabilize the inner workings of your body.
Here's another way to think of it. We obtain vitamin D when our bodies receive radiation from the sun above 93 million miles away. The earth also provides energy from below, that's beneficial for health. You could refer to this energy vitamin G (G for Ground). Are you ready to hook up to the earth and feel better?
Humans are Disconnected. Blame Your Shoes and Your Bed
Throughout history, humans, like all animals, sat, slept, and walked with direct skin contact to the ground. Such contact was a basic part of ordinary life. Modern-day lifestyles have, however, changed things. Over the last half-century, shoe manufacturers phased out of traditional leather-soled shoes that conveyed the Earth's energy. Today, 95 percent of shoes have synthetic soles that block this vital earth energy.
Past cultures were also connected when they slept on conductive hides or other natural materials. Today, most people sleep in beds that are elevated off the ground. Additionally, many people live and work in high rises situated well above the ground.
Modern society now lacks an energetic hook up with the earth; we've lost our electrical roots and are vitamin G deficient and ungrounded. This deficiency may be a serious and overlooked reason why there is a global epidemic of chronic illness and pain in our world.
Earthing restores a lost electric connection to the planet which, I believe is an essential factor for health and healing. Once that connection is restored, people feel, sleep, and look better; they are healthier, and experience less pain and stress. Earthing works for all ages – from babies to seniors. Earthing reunites you with an abandoned natural protector – Mother Earth's healing touch.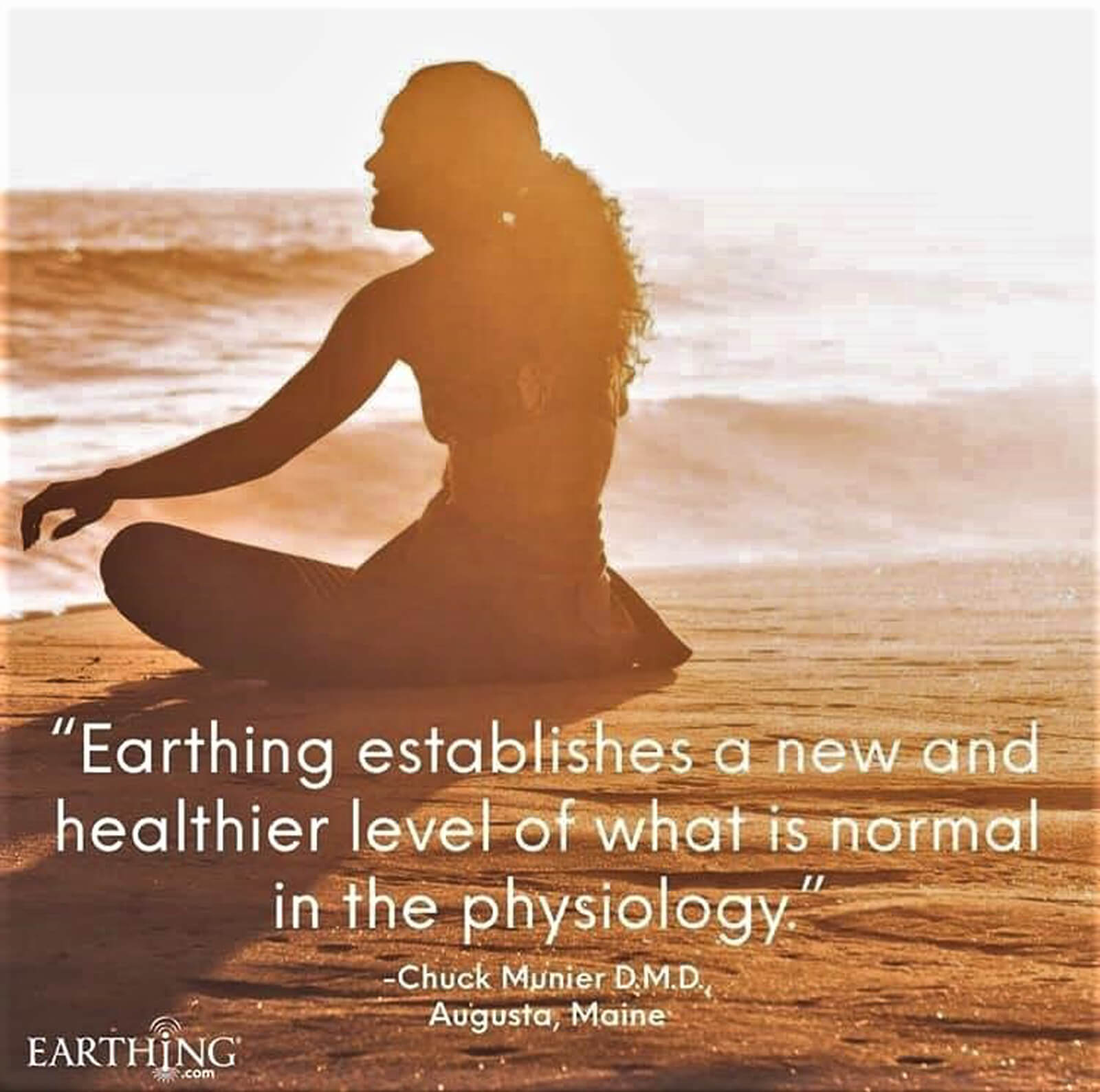 8 Benefits of Earthing
By reconnecting to the earth, common symptoms are often relieved and even eliminated. Here are several common health benefits, based on nearly 20 years of research and feedback.
1. Reduces inflammation and pain
Doctors are now aware that inflammation is associated with pain and nearly every serious disease, including cardiovascular disease, diabetes, Alzheimer's, cancer, autism, and even premature aging. Inflammation means the body is on fire, the immune system is dysfunctional and healthy tissue and organs are slowly being destroyed.
I am not a physician, but I know something important about the earth that doctors don't know.
I know that grounding powerfully reduces inflammation and pain; it is nature's way. When you are grounded, the electrons, present throughout the surface of the earth rise into the body and immediately start to neutralize inflammation.
For more than 20 years I have been grounding thousands of people and I've seen miracles. I have witnessed almost immediate changes, many times within just a half an hour. My experience has convinced me without a doubt that a lack of grounding is an often overlooked cause of inflammation and the associated disorders and pain. Most pain, including the most severe, usually responds quickly to Earthing. I will never forget what one woman told me after she started grounding, "Earthing sucked the pain right out of my body." That says it all.
2. Improves sleep and energy
The body repairs itself while asleep. When sleeping grounded, the body goes into high gear to repair itself. You'll fall asleep faster, sleep deeper, and wake up with more energy and be in less pain; you feel more vibrant.
3. Decreases stress in the body
Earthing studies reveal improved mood as well as beneficial changes in the stress hormone, cortisol. People report less anxiety and depression and are calmer when earthing.
4. Better Blood Flow, Better Blood Pressure
Several studies have shown improved blood flow as well as a blood-thinning effect on red blood cells. One clinical study with ten hypertensive patients documented significant improvements in blood pressure after they started earthing.
5. Reduces hormonal and menstrual symptoms
Many women have revealed that earthing quickly lessens, and in many cases, eliminates PMS, or premenstrual syndrome, as well as reduced hot flashes.
6. Improves appearance
Many females confess to quickly feeling and looking better after they start earthing. They experience more radiant skin, brighter eyes, and more vitality which is likely a result of reduced inflammation, improved blood flow, including to the face, as well as a calming effect on the body.
7. Accelerates healing from trauma, injuries, and fitness activity
Whether you are dealing with a nagging old or new injury, a surgery, or sore muscles from overdoing exercise, Earthing can speed up the healing process, often dramatically.
8. Viruses and infections
I've been asked in recent months if Earthing can help against Coronavirus. Over the years I have heard from many people who have said they suffer from fewer colds, flu, allergies, asthma, and COPD symptoms than before. However, we have no research on the current Coronavirus or similar conditions. One of the features of COVID-19 is severe inflammatory chaos in the lungs. Since Earthing reduces inflammation, it could be beneficial.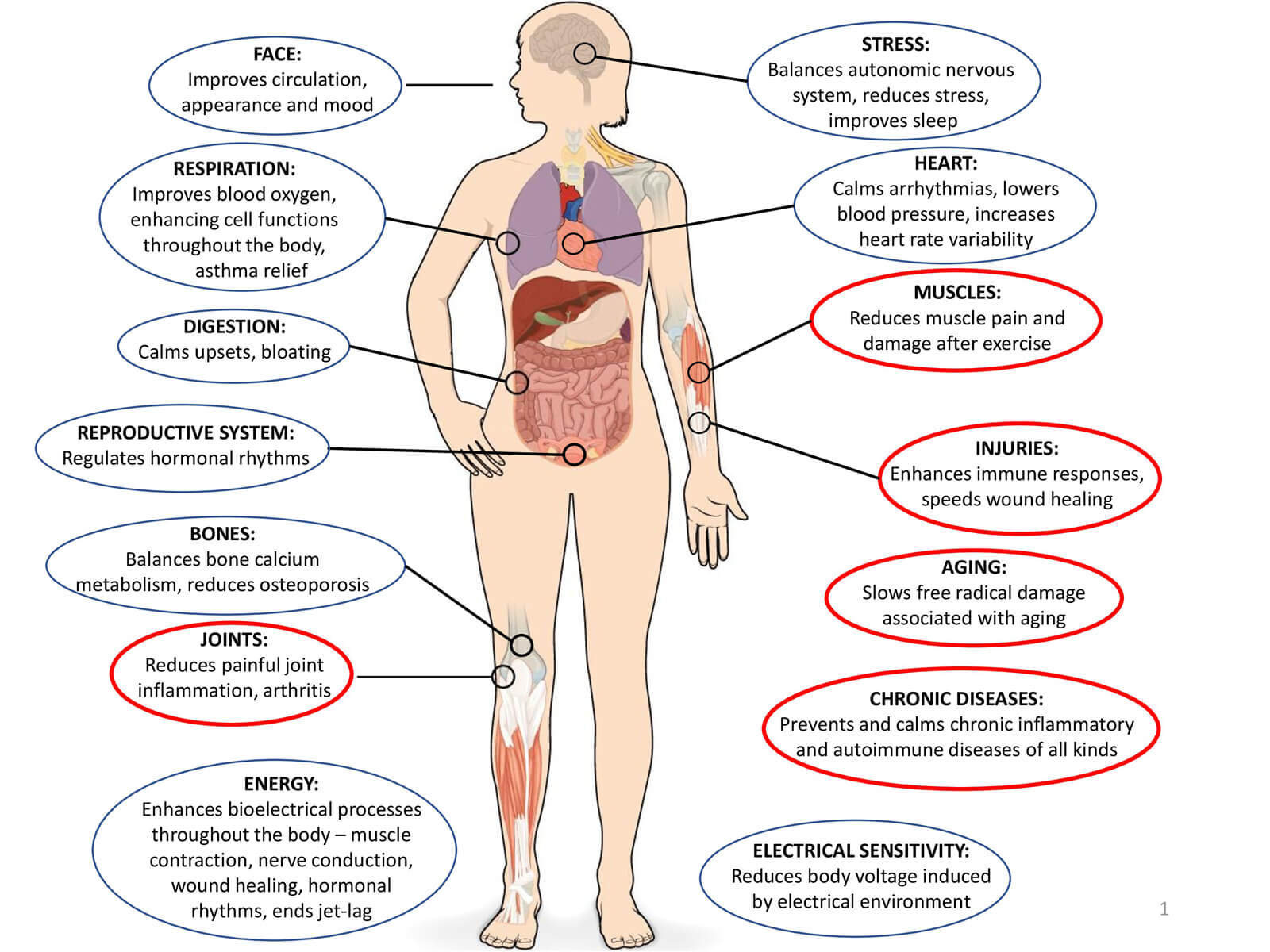 How to Ground Yourself
Being barefoot outside is a simple way to ground yourself. Do this for a half-hour or more and see what a difference it makes on your pain or stress levels by sitting, standing, or walking on grass, sand, dirt, or concrete; conductive surfaces from which your body can draw the earth's healing energy. As an aside, wood, asphalt, and vinyl are not conductive.
Ideally, you want to sustain the Earthing experience and make it a part of your daily routine. You can achieve this by using Earthing systems indoors such as bed and floor mats, or patches placed at specific pain spots on your body. These products, which I have developed and refined over the years, can be found at Earthing.com. The products are connected via a wire to the grounding port of a wall outlet found inside a home or to a ground rod placed outside. These systems do not run on electricity; their job is simply to conduct the Earth's natural energy. The Earthing products can be used for sleeping, watching TV, reading, and even while working at a desk.
For more information about Earthing, refer to the Earthing book, The Earthing Movie, or the Earthing Institute website.
Related Articles:
Ban Exercise Excuses: Build a Better Body from Home
Sip on This! Coffee Colonic: A Dynamic Detox
It's Not You, It's Mercury in Retrograde! 4 Tips to Turn Your Life Around
10 Natural Headache Remedies You Can Do Yourself
Thermography or Mammogram? 5 Points of Comparison
Discover the Best Workout for Your Personality
5 Reasons Holistic Dentistry Is Gaining Popularity
3 Useful Gadgets for Monitoring Your Health
About Clint Ober
Clint Ober grew up on a ranch in Montana. As a young adult, Clint entered the fledgling cable television industry and went on to create the largest cable installation and marketing company in the United States. After a near-fatal disease in 1993, Clint set out on a personal journey to find a higher purpose in life. During his travels, he discovered Earthing and has since been tirelessly focused on research and practical applications for the concept. The full story of his discovery can be found in his book Earthing: The Most Important Discovery Ever! (Basic Health Publications, 2014).