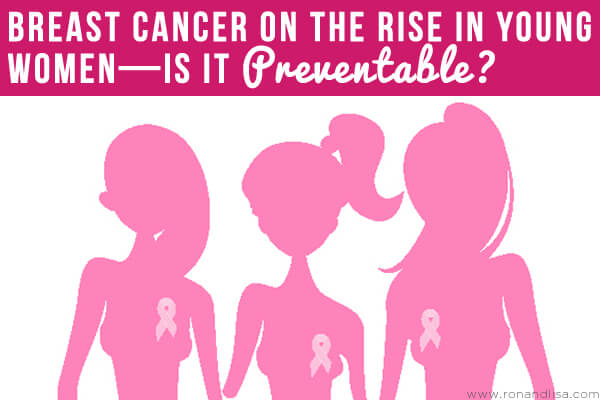 As a plastic surgeon, I became alarmed as I watched my breast cancer patients become younger and younger. When I performed my first breast reconstruction on a woman in her 20s, and then lost my own mother to this disease, my passion turned to ending the breast cancer epidemic.
In searching the medical research, I found thousands of studies showing why we have a breast cancer epidemic, what contributes to it, and what can protect against it. The answers were all "natural" foods, supplements and lifestyle choices. In fact, research shows that 95 percent of all cases of breast cancer could be prevented through diet and lifestyle alone.
Since the inception of "Breast Cancer Awareness Month," the message has been about reminding women 40 years of age and older to get mammograms. But, in this country, incidences of breast cancer are still on the rise in women under 40 – an age when mammograms are not effective. Mammograms will never stop the breast cancer epidemic; however prevention will.
Research shows that lifestyle choices made during the pre-teen and teen years are the most influential to your overall health as an adult. Here are a few simple tips to lower the risk of early breast cancer:
PRE-TEENS: Replace red meat and dairy with tofu.
Entering puberty early can increase a woman's risk of breast cancer by 50 percent. Research shows girls as young as 10-years-old who consume tofu on a regular basis can delay puberty. Tofu also causes breast cells to mature, making them more resistant to cancer-causing toxins, which can cut the risk of breast cancer in half. My favorite is Morinaga Mori-Nu Silken tofu because it is a good non-GMO soybean blend free of preservatives.
TEENS: Rev up your immune system – avoid vaccines.
Sexually active teenagers ages 14 to 19 have the highest incidences of human papillomavirus (HPV), a common virus passed from person to person during sex that can lead to cervical cancer. In recent years, there has been an aggressive campaign for girls starting at age 10 to get the HPV vaccine. But, it comes with many risks and for the 98 percent who get HPV only 2 percent are actually affected by cervical cancer. According to a 2013 VAERS report, the HPV vaccine has caused 30,000 adverse events including, 171 deaths, 922 disabilities and 550 life threatening illnesses.
There is a much safer option than vaccination. In a pilot study recently conducted by M.D. Anderson Cancer Center, HPV was eradicated in females who took AHCC, a natural substance extracted from certain subspecies of medicinal mushrooms that can be taken in supplement form (often found as an immune supplement), when taken daily for 90 days. AHCC is also the leading complementary cancer treatment used in hundreds of clinics throughout Asia to support the immune system in lowering the risk of cancer and improving survival.
TWENTIES: Stop Bar Hopping.
Alcohol is most damaging during a woman's 20s because her natural estrogen levels are peaking. Even one drink a day can increase a woman's risk of cancer by 11 percent; two drinks by 22-40 percent and three drinks by 33-70 percent!
Eating primarily a plant-based diet, filled with organic fruits, vegetables, whole grains, nuts, seeds and omega-3 fatty acids minimizes the risk of every chronic disease, including breast cancer. Regular exercise, a good night's sleep, minimizing stress and having the support of loving friends are also essential for good health. Read more about the research-proven natural ways to lower your breast cancer risk in, Waking the Warrior Goddess: Dr. Christine Horner's Program to Protect against and Fight Breast Cancer. www.drchristinehorner.com
Christine Horner, MD is a board certified and nationally recognized surgeon, author, expert in natural medicine, and a relentless champion for women's health. She spearheaded legislation in the 1990s that made it mandatory that insurance companies pay for breast reconstruction following mastectomy. She is the author of the award-winning book, Waking the Warrior Goddess: Dr. Christine Horner's Program to Protect Against and Fight Breast Cancer.