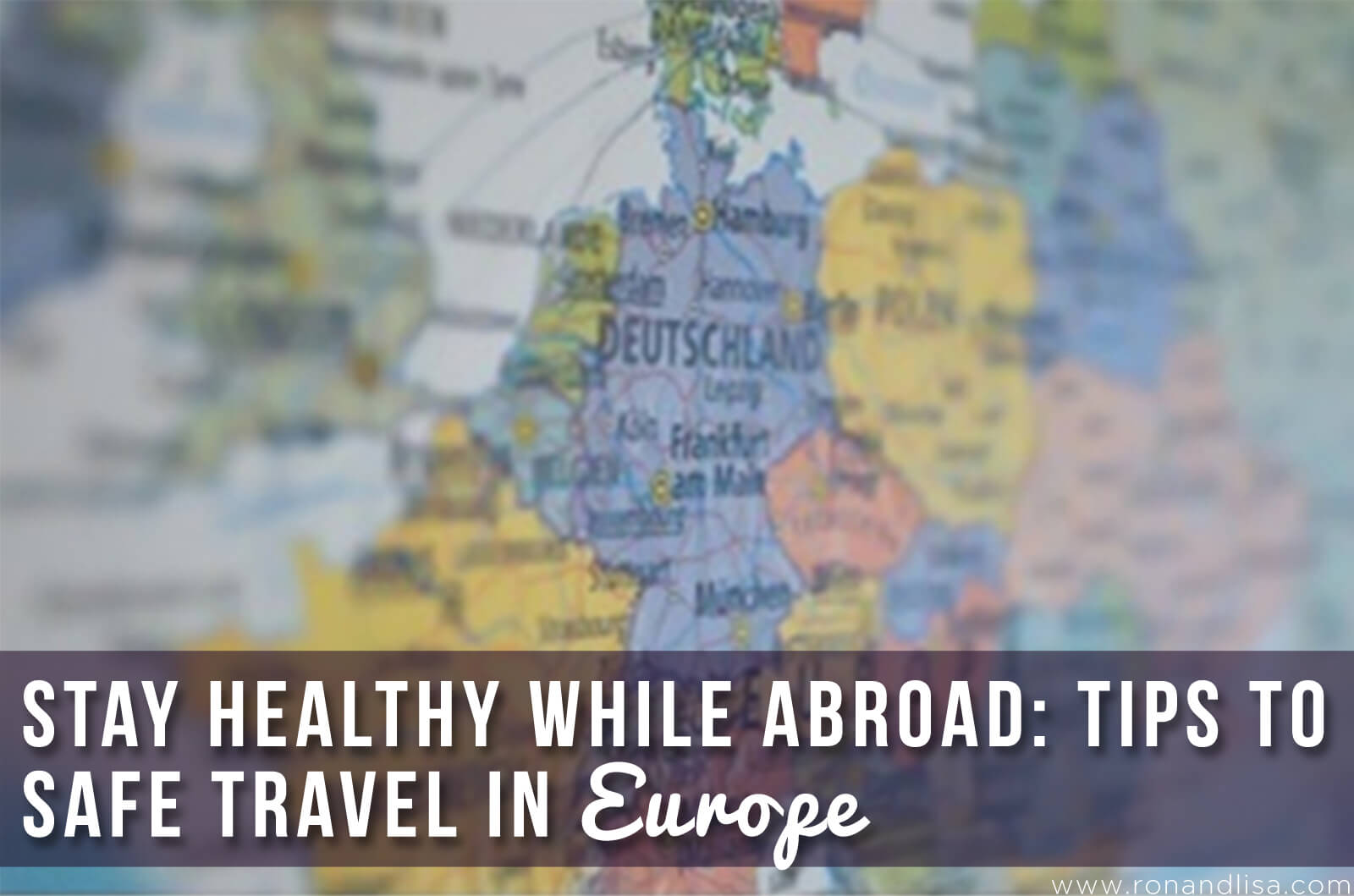 A trip abroad is an opportunity for fun and adventure, so of course, you want to try new things and experiment with foods. International travel can be tricky though, even in developed countries across Europe. Food preparation, climate, and more can lead you to illness abroad, which can quickly put a damper on your trip.
Here are some tips and tricks to staying healthy in Europe, spanning the United Kingdom to Bulgaria.
Start on the Flight
Healthy travel practices begin on the flight. International travel is long, tiring, and often results in dehydration. Stay hydrated, eat lightly, and avoid alcohol, coffee, and sugar during the flight. You will be grateful you did once you land and still feel fresh.
You should also take short walks up and down the aisle or even just to the bathroom to avoid cramping or potential blood clots. While seated, do not cross your legs and make sure to flex your ankles. The risk of a blood clot is very low but can occur when combined with factors like age, obesity, smoking, and genetics.
These same rules apply once you land. If you are driving across Europe, you will need to stop and stretch to avoid cramping and other issues. A cheap car hire in countries like Bulgaria will also keep you safe from the germ-infested public transit.
Enjoy the Food – But Eat Nutritiously
International travels involve plenty of culinary delights but can often be disruptive to your normal diet and routine. You have likely changed time zones and might be eating more often than usual, throwing your body into a flux.
Be kind to your body and balance your diet. It might be tempting to eat more carbs while staying budget-friendly, but this won't be ideal in the long-run. You'll need plenty of protein to rebuild muscles as you explore and resist infection. Incorporate nutrition and protein into the largest meal to stay healthy.
Exercise Good Judgement
On the topic of food, make sure you exercise good judgment when seeking food to eat. If the food looks suspicious or undercooked, do not eat it. A great idea is to learn "well done" in the pertinent language and use this when ordering. You can also opt for thick-skinned fruit and peel it in order to be safe.
Do some research prior to traveling to learn about the countries you are visiting; this is how you learn if there are any foods or ingredients to be wary of.
It is also best practice to stick to bottled water. This is not because the water might be low quality, but because the water might have natural bacteria your body is not used to. It might be safe for locals to drink, but not newcomers.
Stay Hygienic
It is so important to wash your hands frequently, keep nails clean, and avoid touching your face. Purell and other hand sanitizers might seem helpful, but they target bacteria and not viruses. Washing with soap and warm water is the best way to kill viruses and bacteria on your hands.
Get on a Sleep Schedule
The change in time zones might really throw off your sleep schedule. Prioritize this so you still get the same amount of sleep even if the time frame might look different. If you fall behind and have some sleepless nights, take time for an afternoon nap or sleep in one day. It is better to be well-rested than physically exhausted in the middle of a trip.
Give a Pep Talk
Europe can be a culture shock and a challenge in many ways. Being vastly different from your home, you may struggle to adapt to a new culture which could even affect your physical health and impede your travels.
Stop to give yourself a pep talk and always remember why you took the trip in the first place. This pep talk can be the refresh button needed to keep going on a long trip.
Europe is a beautiful and historical-cultural mecca to explore. Whether you are traversing via train or cheap car hire, this exploration will be like no other. Do not let your health impact your trip and use these tips to stay healthy!
This post was sponsored. All thoughts and opinions are our own.