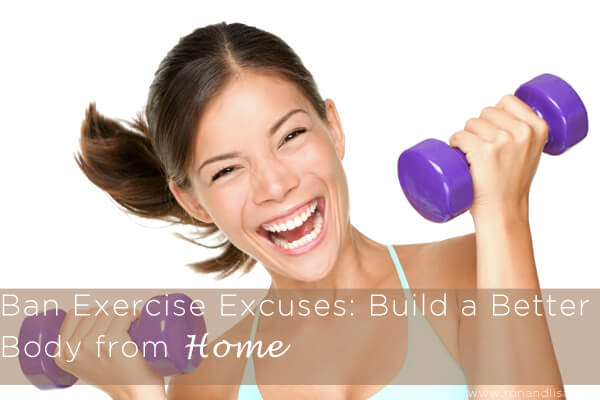 Can I take a moment to ask you a big question?  How is your get fit 2012 New Years resolution going?  I ask this because we are halfway into the year (can you believe it?), in the height of bikini season and because I care!  As a personal trainer, group fitness teacher and woman that fully understands how desperately people really want to look good naked, there is nothing more I want than to see you accomplish your goals!  Of course, being in the fitness industry for so long, I have heard all the excuses.  No gym membership?  No problem.
Let me get into your head for a moment.  If you were to work out – and by that, I mean increasing your breathing as well as your heart rate for 30 minutes every day – do you realize that it could take as little as 2% of your day? By showing you exercises that you can do from the comfort of your home or on the road, I hope you can begin to comprehend that there really is NO excuse for not prioritizing your health.  At the end of the day, making healthy and positive choices in your life is really about choosing self-respect.
I have contemplated how to motivate you and get you on an accelerated summer program to looking and feeling your best; without excuses.  So, to begin, here are my (3) simple tips to get started from the comfort of you home, office or even while traveling:
1. Begin Your Week with a Plan.  That's right – schedule your workout in like any other appointment.  At the beginning of the week, I write a W and circle it on my schedule and then highlight it.  It is the only neon yellow mark on my pen filled schedule!
2. Buy a Band!  My magic workout wand is actually a band! There are many kinds of workout bands on the market and they are easy to travel with.  A band workout usually won't make you sweat, but gives your muscles a good challenge and can be a great cardio workout as well. Check out my band workout for your legs and buns here:
3. Break with Circuit Training; not Coffee.  Just when you feel like you need that cup of coffee, try this circuit workout instead.  Stand in an open spot and squat with some sort of weight in your hand.  Squat 30 times, then do a "superman" press (press your arms out like you are flying away) with the weight 30 times.  After that, drop down and do 10 pushups (on feet or knees), and add a 30-second plank.  Repeat 5-10.  Can you say natural rush?
Related Articles:
Sip on This! Coffee Colonic: A Dynamic Detox
It's Not You, It's Mercury in Retrograde! 4 Tips to Turn Your Life Around
10 Natural Headache Remedies You Can Do Yourself
Thermography or Mammogram? 5 Points of Comparison
Discover the Best Workout for Your Personality
5 Reasons Holistic Dentistry Is Gaining Popularity
3 Useful Gadgets for Monitoring Your Health
Earthing: Healing Power Right Under Your Feet
So remember- hard work works!  And, making healthy choices will help create a healthier you and a happier home.
Guest blogger, Katy Clark, also known as "Fit Chef Katy" has been in the fitness and food industries for over 15 years. She won viewers over on season 7 of Food Network Star with her vivacious personality and healthy and balanced outlook on food and nutrition.  Katy owned a restaurant in China, The Silver Spoon Café; a kids cooking program, LOOK! I Can Cook; and teaches healthy cooking demos at places like the NBC Health Expo, The OC Foodie Fest and has written for Shape Magazine. Giving back is Katy's second job.  She was honored to be Mrs. Long Beach in 2011.  Katy works with LA's Best after school programs for 28,000 students and was a Chef mentor to the nationally winning Healthy School Lunch team. She is currently creating and teaching her comprehensive women's health program FIT WHOLE BEAUTIFUL. Visit her at www.fitchefkaty.com, on her Facebook page or on twitter @fitchefkaty.