By guest blogger, Carol Cannon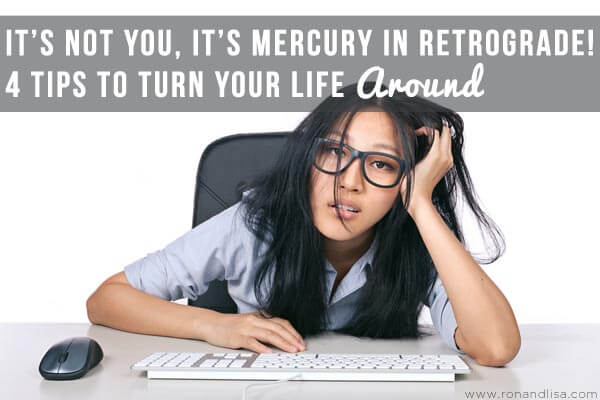 How many people did you hear talking last month about technical problems, car breakdowns, meeting delays, contracts unsigned and other uproars that impact the flow of life? What could they possibly have in common with each other? It's quite basic, my friend. Several times a year, the planet Mercury goes into a retrograde mode. It impacts all of the above and many other things that have to do with movement, flow and getting things started.
Mercury, the Roman God is Associated with Travel, Communications + Luck
Three (and sometimes four) times a year, the planet Mercury appears to go into a pattern of retrograde where it looks like it is going in reverse! Imagine the consequences of attempting to initiate something in the realm that Mercury is known for – when the planet is going in reverse. There is a period of time before it goes retrograde, when it is slowing down. Once the reversal has completed (usually about 3 weeks), then it slowly begins its forward movement again. All of this can impact new beginnings.
1.) Things NOT Beneficial to Initiate During Mercury in Retrograde
new car purchases
computer or phone purchases
signing contracts to move or purchasing real estate
and more
If you do any of the above and things break down and/or are not going smoothly, the answer may lie in Mercury. If you are planning to travel during this type of time period, be sure to allow extra time for unexpected delays which just may happen.
2.) How to Make Great Use of This Time Period
A great use of this time is to work on completing things that you started prior to Mercury going retrograde. It's also good for working on your Feng Shui declutter projects or spending time self-nurturing. Reviewing your past and inner seeking is also beneficial during retrograde times.
3.) To Sell or not to Sell?
Sometimes I work with Feng Shui clients that wish to sell their home. If Mercury retrograde is approaching, I usually suggest taking that time to purge and get the home ready. Once the planet goes direct, and even after its slower forward movement, one can then sign a contract to list the home. Of course, life cannot stop, but doing the best you can to practice patience will go a long way toward reaching your goals!
Related Articles:
Ban Exercise Excuses: Build a Better Body from Home
Sip on This! Coffee Colonic: A Dynamic Detox
10 Natural Headache Remedies You Can Do Yourself
Thermography or Mammogram? 5 Points of Comparison
Discover the Best Workout for Your Personality
5 Reasons Holistic Dentistry Is Gaining Popularity
3 Useful Gadgets for Monitoring Your Health
Earthing: Healing Power Right Under Your Feet
4.) Moving Forward
Now that Mercury is in its direct phase again, (it went direct February 28th) it's time to move forward! Spring is around the corner and this is a great time to start those new projects. By moving forward without hesitation, you'll accomplish much more without concerns. The next retrograde begins June 7 and continues through July 2. Remember to plan appropriately and enjoy the next phase! Finally, if you ever want to know if Mercury is in retrograde, you can check online HERE. Be sure to bookmark this page if ever in doubt. P.S. Have you had any personal experiences? Share with us below in the comments section.
Carol Cannon, a graduate of the New York School of Feng Shui has been a Feng Shui Practitioner since 1993. She is also certified as a BBEC (Building Biologie™ Environmental Consultant).  A resident of Emmaus, PA, Carol's passion is to help people find peace and joy in their lives. Visit Carol on Facebook HERE.