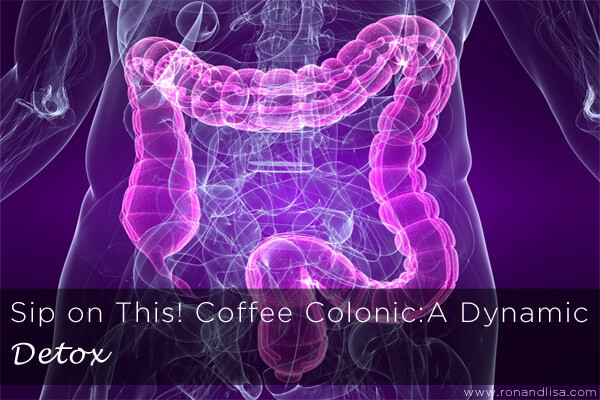 Hold the froth! You are going to put that coffee where? As a colon hydro-therapist, I am optimistic to find that both coffee enemas and coffee colonics are becoming more mainstream and are no longer limited solely to cancer patients. However, many people are unaware of their numerous benefits to your body and health.
Dr. Max Gerson was the first to study and recommend coffee rectally and discovered that it aided the body in healing itself in quite a few ways:
First, any water or coffee introduced into the colon will bind with toxins and allow your body to dispel what you might otherwise hold on to from over- toxification to your system.  Our bodies were not designed to live the way we do in today's modern world.  From the chemicals we ingest, apply to our skin, breathe in and are exposed to on a daily basis – our livers cannot possibly filter everything we throw at it.
Secondly, coffee stimulates the hepatic ducts natural dilation process, thus allowing more toxins to be dumped out of the liver. Additionally, coffee stimulates the blood vessels in the wall of the large intestine; keeping good bowel tone and a healthy lining.
Coffee in the colon also stimulates the production of two important things in the body:  glutathione and red blood cells. Glutathione is known in the body as a gut healer and master detoxifier. It can increase detoxifying effects in the liver by 600 percent and by 700 percent in the small intestine, according to a 1982 study conducted by the National Research Council (NRC). Perhaps more importantly, is the production of red blood cells.  This is due to the fact that a quarter of all cells in our body are red blood cells and they can only be made in our bone marrow. Red blood cells carry the life force of oxygen to each cell of our body. Oxygen helps each cell repair and heal itself. By providing your body with more red blood cells, it is better equipped to heal itself from degenerative diseases including cancer.
Related Articles:
Ban Exercise Excuses: Build a Better Body from Home
It's Not You, It's Mercury in Retrograde! 4 Tips to Turn Your Life Around
10 Natural Headache Remedies You Can Do Yourself
Thermography or Mammogram? 5 Points of Comparison
Discover the Best Workout for Your Personality
5 Reasons Holistic Dentistry Is Gaining Popularity
3 Useful Gadgets for Monitoring Your Health
Earthing: Healing Power Right Under Your Feet
The good news is that, since you don't have to digest the coffee to reap the benefits, it typically does not have the same stimulant effect that drinking it has (unless, of course, you have a severe caffeine sensitivity). A coffee enema is easy to execute at home by using an enema kit and making sure you use certified organic coffee at body-temperature.  Note however, that this process will only clean a few inches into the colon. Alternatively, you can leave it up to the professionals to be performed with a certified colon hydro-therapist and detox all 5 and a half feet of the large intestine.  Is a cup of joe your friend or foe?  Depends how you use it and now – you know!
Tiffani Diorio is the owner at Feel Well 4 Life located in Laguna Beach, California.  She is an Advanced Level I-ACT Certified and National Board Certified CHT.  Contact her directly HERE & visit here website at: www.feelwell4life.com