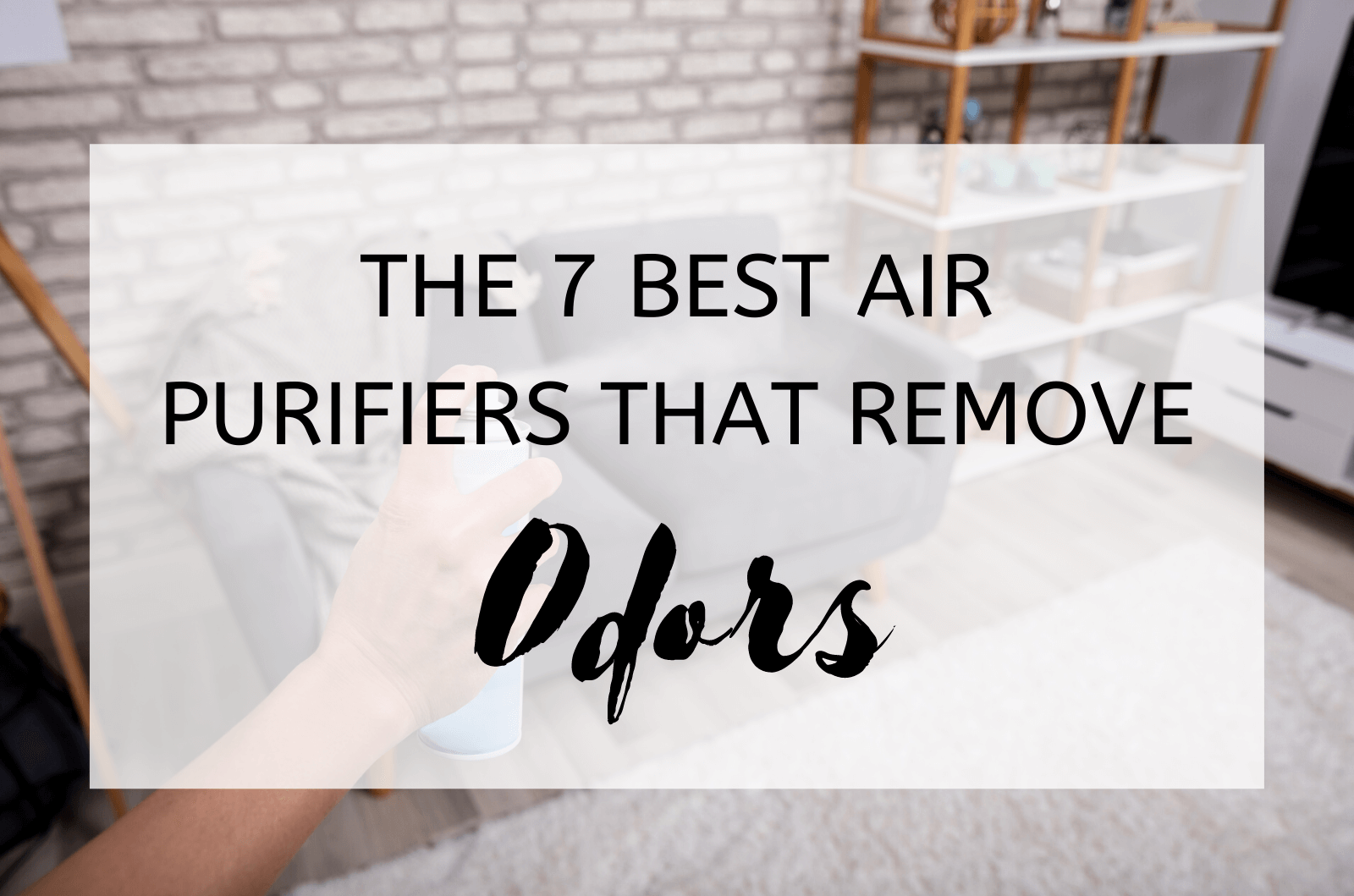 Are you tired of the foul smell in your home? Here are seven of the best air purifiers that remove odors to help you breathe better and live more comfortably.
Odors can be a big nuisance inside the home. Regardless of their source, odors from pets, bathrooms, cooking, cigarettes, trash cans, etc can cause disturbances, both mentally and physically. Not only do odors make it challenging to breathe in fresh air, but odors can stick to clothing. Let's face it – no one wants to go to work smelling like last night's baked salmon.
Air fresheners don't exactly help since they are primarily used to mask odors and most are loaded with chemical contaminants that only pollute your home's indoor air. If you really want to eliminate foul smells in your indoor space, it's a wise decision to invest in a quality air purifier.
Air purifiers eliminate the particles that cause the odors, leaving your home smelling fresh. Getting a portable air purifier can be a relatively easy task. After all, you can purchase air purifiers from your local hardware or home improvement store or have one delivered directly from an online vendor. However, air purifiers are not all made equally, and some perform better than others. There are also air purifiers that are better suited for removing odors than others.
The best air purifiers for removing odors
The Levoit Core 300 air purifier is one of the best products to help eliminate odors from your house. Its activated carbon air filter effectively removes smoke, VOCs, and odor from your house. Thanks to a high CADR and a 360-degree air intake system, the device is proven to clean air in a 174 sq. ft. room in just half an hour.
The Levoit Core 300 is fitted with an H13 HEPA air filter, making it ideal for people with allergies. This particular filter makes it one of the best air purifiers that help with dust.
Its quiet performance makes it ideal for all rooms, including bedrooms. There's also a delay switch-off timer with various options for convenient operation.
Thanks to its ability, portability, and sleek design, the Levoit Core 300 air purifier should be at the top of your consideration when seeking your next air purifier for odors.
Pros
Great coverage
Minimalistic, sleek design
Powerful purification
Cons
The device can get noisy at higher settings.
The VEVA Pro HEPA 9000 air purifier is an incredibly affordable option for those with larger spaces. According to the manufacturer, the product can clean air in a 600 sq. ft. room.
The VEVA Pro HEPA 9000 comes with three filters that capture dander, smoke, dust, and odor. Unlike most other air purifiers in the market, this product doesn't use UV lights or ions. UV lights or ions create trace amounts of ozone, hence polluting the air you're trying to clean.
Besides its powerful performance, the VEVA Pro HEPA 9000 can integrate into any home decor, thanks to its sleek and modern design.
Pros
3 air purification filters
Washable pre-filter
No air ionizer – no Ozone
Cons
Filter to be replaced every 6 months
Replacement filters are frequently unavailable
A GermGuardian AC 4825E air purifier can boost the aesthetics of any indoor space, as it appears like a soundbar. Even with its distinctive design, this particular air purifier is pretty efficient and can clean air in up to 743 sq. ft. of space.
Besides its ability to clean the air of pet dander, pollen, and mold, the GermGuardian is able to live up to its name, using UVC to eliminate germs. Furthermore, it also comes with an activated charcoal filter to eliminate odor from various sources, including mold, bathrooms, cooking fumes, etc.
There is a built-in change filter indicator that enables timely maintenance.
Featuring a vertical design, it is easy to find the best place to put the air purifier. This model requires little space and can seamlessly fit on counters, tables, and desks. Its controls are also top-facing for easier operation.
Pros
Great coverage
Distinctive appearance
Change filter indicator
Sleek design
Cons
The product may give off a slight burning smell at high settings.
The Pure Enrichment® PureZone™ air purifier should be on your list if seeking an air purifier to get rid of odors from your small room. With just a CADR of 80, this device is ideal for smaller spaces. However, its presence is well-noted once it is put to work.
With three filtration systems, this product can eliminate pathogens and undesirable odors. An activated carbon filter ensures that you breathe in fresh air, free from smells emanating from various sources, like pets, bathrooms, smoke, or trash cans.
Besides ensuring that you breathe in fresh air, the Pure Enrichment® PureZone™ air purifier also ensures that the air is safe for breathing. Its UVC light takes out harmful micro-organisms for a healthier living space.
The Pure Enrichment® PureZone™ air purifier has a sleek design that resembles a sound speaker, bringing a contemporary vibe to any room. Furthermore, its 360-degree intake system gives it a more efficient air purification performance.
Other notable features include a top-facing touch control panel for easy operation, change filter alerts, delay switch-off, and sleep mode for convenience.
Pros
Unique delay switch-off timer
Stylish design
360-degree intake system
Cons
Not ideal for larger spaces
Known to be one of the best odor-removal air purifiers on the market today, the Levoit LV-PUR131 air purifier is able to get rid of the widest range of odor particles. This product is ideal for those seeking an affordable yet powerful air purifier to get rid of odors in a small to medium space.
The thick activated carbon filter is ideal for trapping millions of gaseous particles. The true HEPA filter enables it to capture 99.97% of other airborne contaminants that contribute to indoor smells.
The Levoit LV-PUR131 is 100% ozone-free, meaning it doesn't produce any harmful by-products as it works to filter the air.
Pros
Auto-sensing mode to automatically adjust fan speeds
Simple, electronic controls
Excellent overall reviews and customer satisfaction
Portable
Sleek, attractive appearance
Cons
Replacement filters are quite pricey
Honeywell's Air Genius 5 air purifier comes with a sleek tower-like design and conveniently placed controls for easier operation. The unit is packed with long-lasting filters that can go on efficiently for months without needing a change. There's also a permanent pre-filter that doesn't necessarily require a change but just regular cleaning.
The Honeywell HFD320 Air Genius 5 can capture 99.9% of microscopic airborne particles. Its five cleaning levels and a patented ifD technology help capture dust, dander, smoke, and odors.
This product's other notable features are its energy star rating, quiet operation, floor light accents, and oscillation.
Pros
Quiet operation
Energy-star rated
High CADR rating
Oscillating feature
Cons
It is quite costly
Only suitable for small to medium-sized rooms
Do you have a large room with foul odors? Are you looking to improve the quality of air in your home?
Don't look further than the Honeywell HPA300 HEPA air purifier. This particular model provides one of the best odor elimination abilities for its price range. Its True HEPA filtration allows it to clean out 99.9% of microscopic contaminants, while the four cleaning levels ensure efficiency depending on your needs.
Although the HPA300 is quite heavy (at 21 lbs.), it is ideal for extra-large rooms circulating air in 465 sq. ft. rooms up to 4.8 times an hour.
Its most notable features include an excellent touch panel with electronic controls, various fan speeds, dimmer, auto-timer, and change filter alerts.
Pros
Ideal for extra-large rooms
Quiet low-speed operation
Separate change filter reminders for HEPA and pre-filter sections
Cons
Rigid auto-off timer as it's only adjustable in increments of 2 hours
The key to eliminating odors in your indoor space isn't by resorting to toxic air fresheners — as these only mask odors — rather, by implementing an air purifier. Some air purifier models like the ones on the above list are quite effective in removing noxious smells from your home or office.
Consider factors such as budget and the square footage of your home before settling on any brand. Regardless of your choice, you can rest assured knowing that the odors in your home will be significantly reduced or eliminated. By using high-quality air purifiers like those featured here, you'll be able to enjoy a fresh, clean environment free from odors, regardless of their source.
What other air purifier brands do you recommend for removing odors? Let us know in the comments section below.
Disclaimer: *This post contains affiliate links for your shopping convenience. You still pay the same price but we might earn a small commission. Thank you for supporting the brands we love and trust.