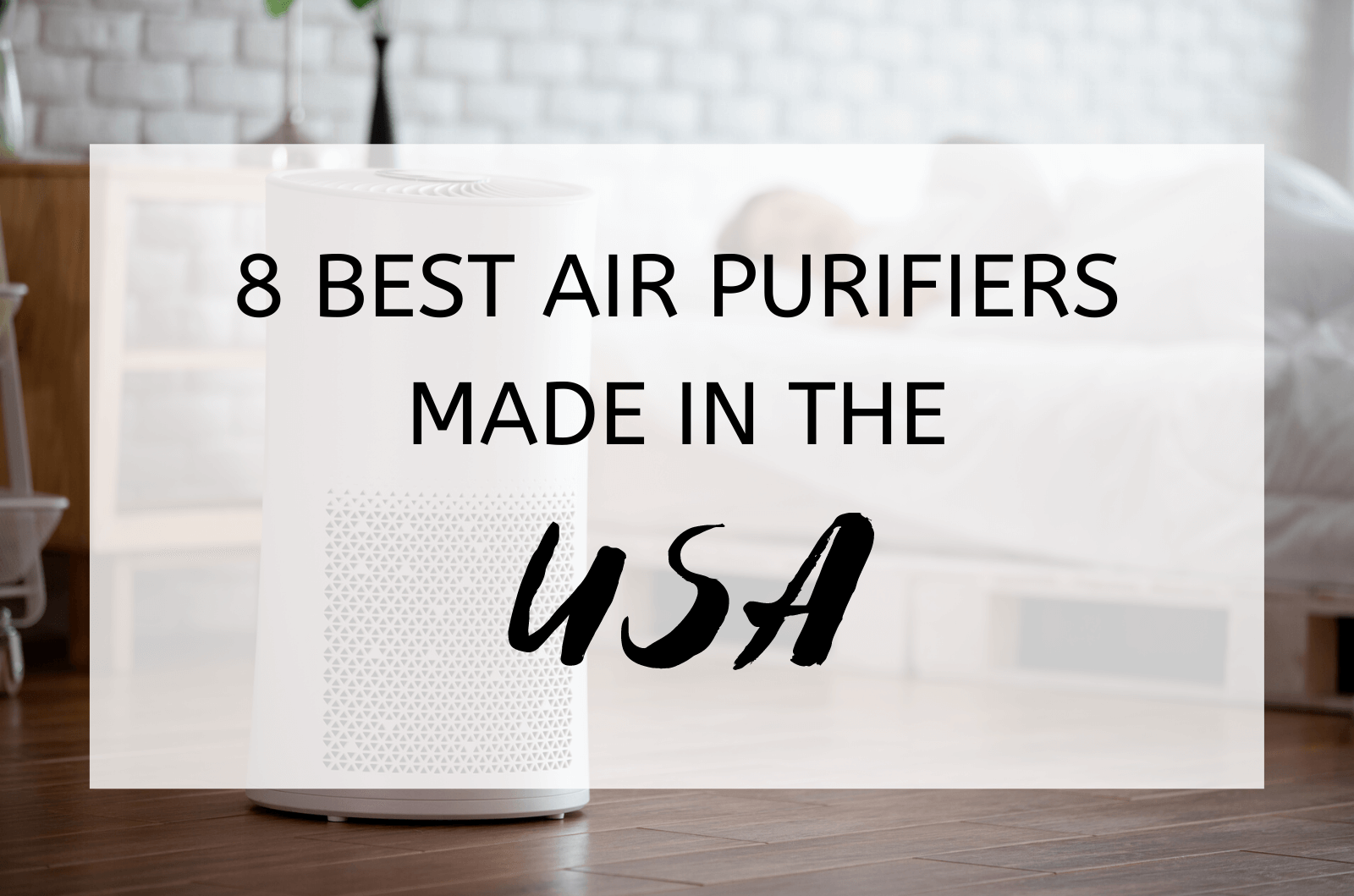 Do you want clean, fresh air in your home without the carbon footprint of shipping your air purifier from somewhere across the world? Well, if you want some of the best air purifiers made in the US, then here's a handy list for you. Here are our top seven choices for portable air purifiers that are made in the United States of America.
1. Austin Air Healthmate
The Austin Air Healthmate purifier has the standout feature of being one of the best for odors and one of the longest-lasting on the market with a lifespan of about 3 to 5 years.
This air purifier is made in Buffalo, NY, and all raw materials are sourced in the US and shipped directly into the manufacturing plant and produced, making it as American a product as one could hope for.
It works by drawing air in through all four sides of the machine and then the air goes through three separate filters – one large particle pre-filter, a medium particle filter, then an activated carbon filter.
There are two sizes to choose from – standard and junior. The standard size is a good air purifier for large rooms, whilst the junior is better built for smaller office or bedroom spaces.
2. Oransi EJ120 Hepa Air Purifier with Carbon Filter
The Oransi is a very well-built, easy-to-use, and quiet filter, which does a fantastic job of cleaning the air without causing much of a distraction. It's said that its HEPA-type filter catches up to 99.9% of contaminants, including pollen and other allergens.
All parts of this filter are also from the US, including the casing, circuit board, and filters. The motor is German engineered, but it is still US-made.
This air purifier has the true stamp of approval at clearing the air from contaminants, being selected by the Javits Center in New York as its air purifier of choice during the Coronavirus outbreak in 2020, and has been used in field hospitals; in other words, its filters are medical grade.
3. Air Oasis iAdaptAir Purifier
However, if you want a stamp of approval, the Oasis surely does have that, seeing as the technology for this one stems from NASA.
The Air Oasis iAdaptAir Purifier is created in Airway Blvd, in Amarillo, TX.
It is made with AHPCO technology and works by bringing in and destroying contaminants by shining UVGI light, which then annihilates them with radiation. This can destroy pollutants better than a HEPA filter – destroying particles up to a thousand times smaller than a HEPA filter can.
This one also comes equipped with Wifi and a smart mode, which means you can control it with your phone if you want to.
4. Alen BreatheSmart FLEX Air Purifier

BreatheSmart is also designed for removing pollutants and other contaminants from the air, so if you have allergies and want to breathe easy, this is another good choice for you.
Alen is a company specializing in air purifiers which are based in Austin, TX.
This one boasts a feature at being low energy consumption, using only 50 watts on its turbo mode, which can make a huge difference on the electric bill at the end of the month.
It also proudly features how quiet it can be – possessing a sleep mode that turns the noise of the motor down when you're trying to sleep.
5. LEVOIT Air Purifier Vista 200

An unusual feature of Levoit Vista 200 one is that it contains a night light feature, with two separate settings on it, which would double up as a bedside lamp, or be great for a child's bedroom.
LEVOIT is a brand that is based in South California and now proudly boasts a global distribution of its products.
This one has the benefit of being quite green as well, not using a UV light and therefore being Ozone free.
It is also very, very quiet, which is another reason it may be good for a kid's bedroom at night.
6. RabbitAir MinusA2 Ultra Quiet HEPA Air Purifier
The RabbitAir MinusA2 is a stylish and high-efficient air purifier with advanced contaminant filtration capabilities. It comes with a BioGS HEPA filter (which prevents the growth of microorganisms) and six stages of purification and deodorization. This device can be used both as portable and wall-mounted, offering you the convenience you seek on such products.
The RabbitAir MinusA2 air purifier can be easily customized based on your specific needs. It can be fitted with extra protection and filters for various allergens and contaminants like a germ defense filter, toxin absorber filter, odor remover filter, and pet allergy filter.
Moreover, this product is pretty quiet, with the motor operating at five speeds with noise levels ranging from 20.8 to 45.6 dBA. A light sensor also puts the device to sleep when it gets dark and resumes work when there's light.
NOTE: We recommend turning the negative ion generator to the 'off' position to avoid any amount of ozone production. This is stage 6 filtration.
7. InvisiClean Aura II Air Purifier

The glaring feature of the InvisiClean is its sheer power – using a DC motor which is much more efficient and stronger than the AC motors used in its competitors, it can sanitize the air in a person's home much faster than many others on the market today.
It also offers an auto-timer shutoff and sleep modes, which can help you control it better if you want it in the same room in which you sleep. With it being less than a foot wide and barely 18 inches, it is quite a convenient little thing as well.
It also boasts energy-saving tactics such as low EMF radiation and a more efficient motor for its use of up to 82% less energy than some other air purifiers on the market.
If you're looking for an air purifier and you want to find it on American soil, then you have plenty of choices. Some boast medical-grade filters and truly sanitized air, others are small and whisper quiet. Naturally, these are our seven favorite American air purifiers that we have found, but ultimately which air purifier you should get is down to which features you want, and how much you're willing to pay for it, so before buying an air purifier, figure out what features you want from it before you make your choice.
8. EnviroKlenz Air Purifier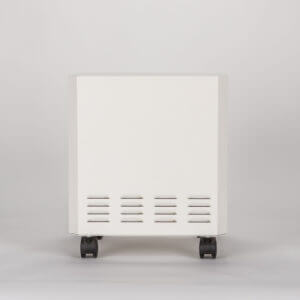 The EnviroKlenz air purifier uses premium HEPA filtration and patented technology to neutralize indoor airborne contaminants to purify the air in your home.
The product utilizes the EnviroKlenz Air Cartridge to effectively capture 99.9% of pathogens, chemicals, odors, and VOCs. Its hospital-grade HEPA filtration absorbs and destroys nearly every contaminant, including viruses and bacteria inside your home.
Designed for use in large rooms, this American-made unit covers up to 1,000 square feet, making it best suited for your living room, kitchen, office space, etc.
The EnviroKlenz air purifier system comes with a four-speed fan with minimal noise. It is easy to operate and includes all that you require to operate it.
Related Articles
Disclaimer: *This post contains affiliate links for your shopping convenience. You still pay the same price but we might earn a small commission. Thank you for supporting the brands we love and trust.