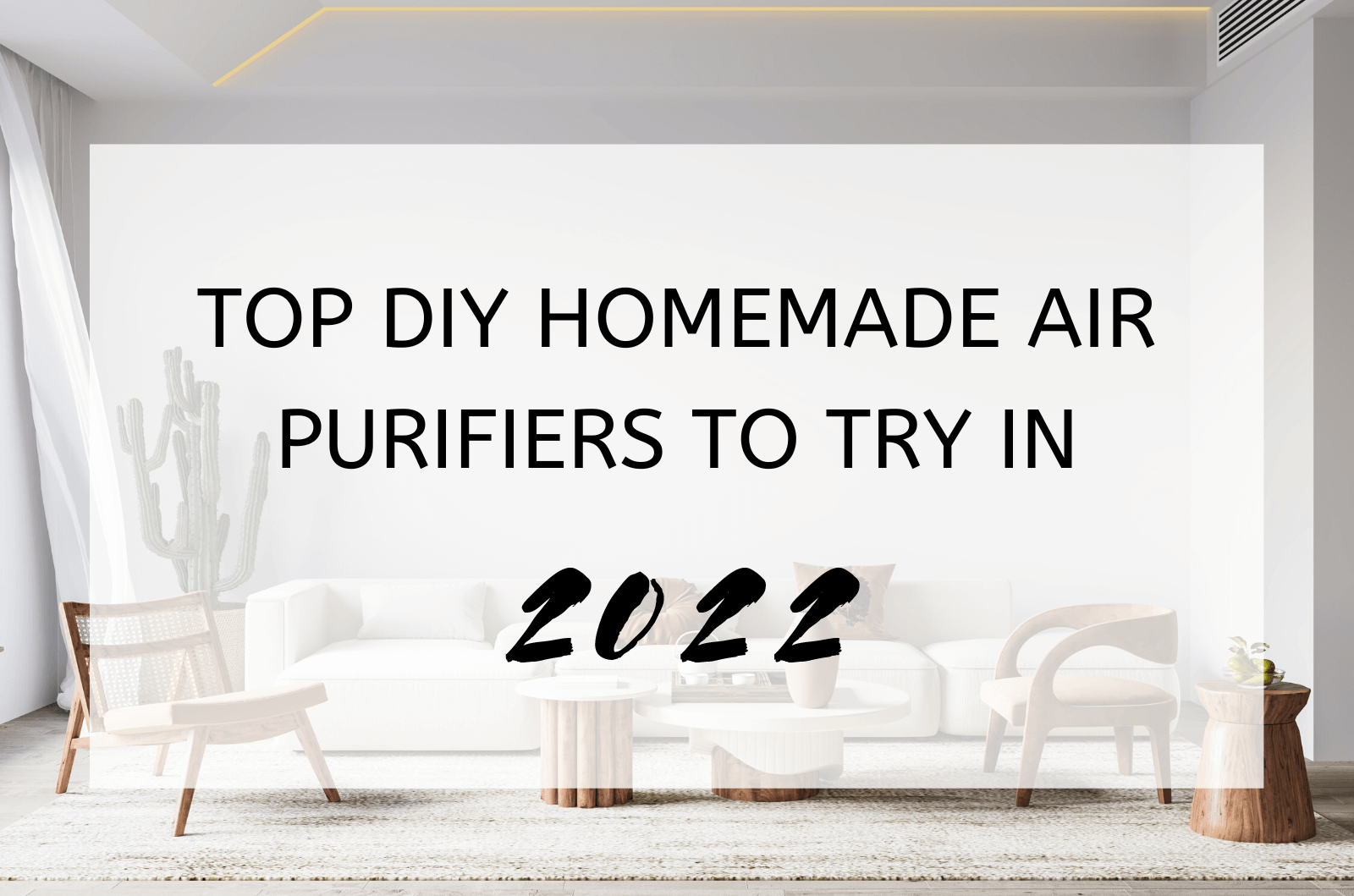 We've tackled a lot of do-it-yourself remedies on this blog including plant-based household cleaners, nontoxic pest control and even natural air fresheners, but never a DIY homemade air purifier…until today.
DIY homemade air purifiers can provide an affordable and effective solution for filtering out airborne pollutants while improving your home's indoor air quality if you're in an emergency situation.
Given that most of the best air purifiers are expensive, it is certainly more economic to test your skills at making your own homemade DIY air purifier if you're in a bind. With the right arsenal of information, you can make your own portable air purifier at home without breaking the bank.
How to Make a DIY Air Purifier
With today's supply chair shortages, fuel increases and air pollution on the rise, your ability to obtain an affordable air purifier quickly – especially if you're experiencing a fire or emergency – might present a challenge.
Polluted air can have severe health consequences. If you already have an air purifier, you can breathe a sigh of relief when it comes to the risks of inhaling polluted air in your home or office. However, if you want to reduce the levels of air pollution in your home quickly and affordably, a homemade DIY air purifier offers a viable solution that you might not be familiar with.
Here is how to make homemade air purifiers in three simple steps.
Step 1: Buy a fan or use one that you already have
Get a square or rectangular fan with a flat front or back to make it easier for you to strap a filter to it. Choose a fan with a recessed motor unit.
Step 2: Buy a filter
Filters come in different types and effectiveness, therefore, determine what will work best for your needs and the size of the fan. For the best results, it is advisable to purchase a pleated filter designed for HVAC systems such as those by 3M that offer MPR (microparticle performance rating) or a MERV (minimum efficiency reporting value) rating of 13 or higher. Measure the fan size and purchase a filter of similar dimensions. Shop online HERE for the perfect size filter for your needs.
Step 3: Secure the filter on the fan
Use strong, clear packing tape to strap the furnace filter over the fan on the opposite side of the knob, assuring to seal the sides securely with the tape. Place the filter in the correct side of the air flow as indicated on the filter.
You now have a homemade portable DIY air purifier.
Tips on Making Your DIY Air Purifier
It is advisable to use your DIY air purifier with the windows and doors closed for the best results. However, your device will still be less effective with the doors and windows open. Also, keep the air purifier away from the curtains and water.
Lastly, remember to change your filter often, especially when the current one clogged with dust and debris. These are typically changed every three to six months, depending on the amount of usage.
The Best DIY Air Purifiers For 2022
If you find yourself in an air emergency without a portable air purifier, here are the three best options for homemade DIY air purifiers to try in 2022.
1. Plastic container DIY air purifier
With this option, you will need a plastic bucket or container a bit larger than your fan unit. Create holes around the body of the container and insert your DIY air purifier inside. This is the most affordable option for a portable air purifier unit that is encased.
Depending on the pollutants you who to eliminate, you could alternatively use a carbon smoke and fine particle filter for this type of DIY air purifier.
2. Wooden DIY air purifier
If you want a more environment-friendly DIY air purifier,  opt for a wooden DIY air purifier in place of plastic. However, this option requires some level of craftsmanship and skills. Use pieces of wood to create a frame for your DIY air purifier. Depending on your skill set, you can make it as simple or elaborate as you want.
3. HEPA DIY air purifier
The last option is a HEPA (high efficiency particulate air) DIY air purifier. This is ideal for people with symptoms of allergy or asthma. Here, you will need to purchase a true medical grade HEPA filter instead of a pleated furnace filters. This DIY air purifier should be 99.9% effective in eliminating airborne pollutants. The only drawback with this option is that HEPA filters can be slightly expensive due to their effectiveness.
Picking the Best Filter for Your DIY Air Purifier
The filter you buy for your DIY air purifier should meet these two conditions:
It should be the same size (or larger than) as the fan you intend to use.
It should have a label indicating it filters the contaminants you wish to eliminate from your indoor air.
HEPA filters are the best option, though you can also use MERV 13 or FPR 10 filters. Seek out a filter that accomplishes what you want. For instance, if you wish to eliminate odors, look for a filter designed to do this.
The Bottom Line
With air purifiers becoming increasingly expensive and supply chain shortages, a homemade DIY air purifier can offer a simple and affordable short-term alternative. With this option, you'll spend less on materials while constructing it yourself. While not a great long-term solution, it is advisable to buy a filter that removes those contaminants you wish to eliminate from your indoor air.- especially in an emergency situation. HEPA filters are highly recommended due to their effectiveness.
Homemade DIY Air Purifiers FAQs
Are DIY Air Purifiers Effective?
There is limited research on the effectiveness of DIY air purifiers. However, a DIY air purifier should be efficient enough to reduce harmful airborne particles from the air your breathe if you use the right filter.
Where Is The Best Place To Put Your DIY Homemade Air Purifier?
The best place to put your homemade DIY air purifier is near your breathing zone. You might want it closer to your bed at night or where you spend most of your time.
Are Homemade DIY Air Purifiers Sufficient For Covid-19?
DIY air purifiers are as effective as the filters you used. The type of filter you use will determine the type of pollutants that can be removed from your indoor air. HEPA filters efficiently filter most allergens, however, you'll need a UV-C filter or Hyper-HEPA filter to remove smaller viruses from the air.