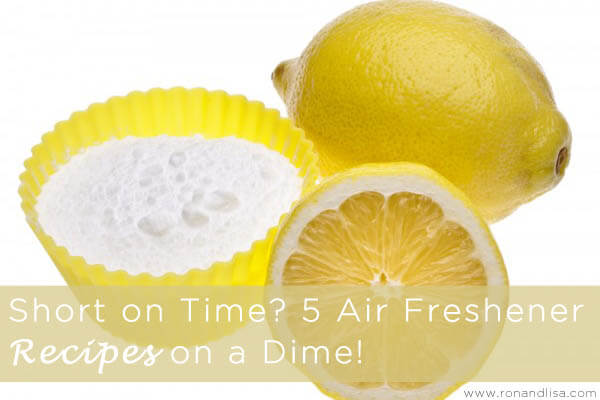 Chances are that the "Pine Scent" air freshener you just purchased for the fall season contains no pine and your prior summer selection with "Citrus Scent" contains no citrus.  Instead, both probably contain a mix of air-polluting chemicals. These include xylene, which affects the nervous system; naphthalene, a suspected carcinogen; and phthalates, which work to prolong the fragrant smell but have been linked to hormonal and reproductive development problems in kids. Synthetic air fresheners work by deadening the nerves in your nose and can cause irritation to the eyes, nose, throat and skin. We suggest trying the real thing instead – air fresheners that are actually composed of the ingredient they are supposed to smell like.  The least expensive alternative is to try making your own.  Here are our fast 5 non-toxic recipes for clean air on a dime:
1.)  Air on the side of caution! Choose the 100% essential oil that appeals most to you.  We recommend citrus to ease stress and lift your spirits, rosemary to enhance your memory and give you energy, and lavender to help you sleep. Get a few different oils so you can scent your home according to your mood. Add 5 to 10 drops of the oil to 2 cups of water in a spray bottle and shake.  Then just spray away! It really couldn't be any easier.
Total Cost:  Approx $25 for an entire bottle of natural essential oil that can make countless air freshener sprays
Total Time: 2 minutes
2.)  For unpleasant kitchen odors, boil cinnamon sticks and cloves for a while in a pan of water. Alternatively, boil cut-up lemons in water or open windows and doors and then scatter partially-filled dishes of vinegar around the room.
Total Cost: Pennies
Total Time: One hour
3.)  To inhibit odor-causing mold and bacteria, sprinkle ½ a cup of borax baking soda on the bottom of garbage or diaper pails.
Total Cost: $0.50
Total Time: 2 minutes
Did You Know?
A University of Washington study of top-selling laundry products and air fresheners found the products tested emitted dozens of different chemicals. All six products tested gave off at least one chemical regulated as toxic or hazardous under federal laws, none of which were listed on the product labels. Chemicals included acetone, limonene, acetaldehyde, chloromethane and 1,4 dioxane. Nearly 100 volatile organic compounds were emitted from these six products.

4.)  Nothing refreshes the "breath" of a kitchen sink disposal better than orange or grapefruit skins – and – you can enjoy eating the fruit first!
Total Cost: $0
Total Time: 1 minute
5.)  Scented beeswax and soy-based candles are also good at freshening the air without polluting it.
Total Cost: $6-20.
Total time: A few seconds to light them.
Did you know?
Manufacturers are not required to list all of the ingredients used in air fresheners. No law requires these products to list the chemicals used in fragrances.
If you don't want to go the do-it-yourself air freshener route, there are healthy alternative products that will freshen the air without damaging your health.  As with any type of product, the greenest ones come in recyclable, recycled, and minimalist packaging. Greener air fresheners come in pump sprayers rather than aerosol cans and are plant-based rather than petroleum based.   The key is to choose products that list all of their ingredients on the label. Look for products that are scented by natural, 100% essential oils.