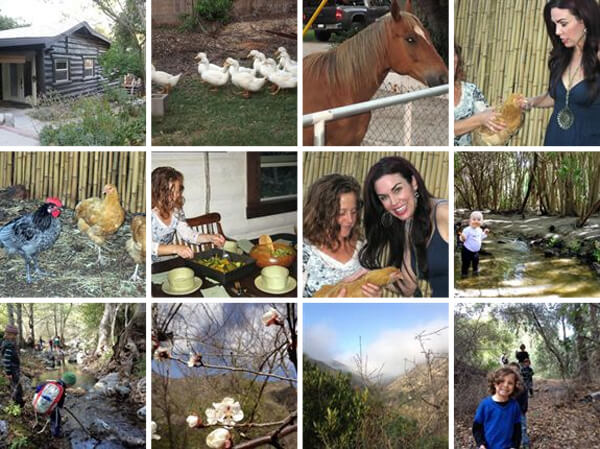 Ron and I have the pleasure of knowing many inspiring and like-minded colleagues. These are people that possess a shared passion for helping others improve the quality of their life, while simultaneously respecting our planet and all of the creatures that inhabit it. One such person is our guest blogger and fellow Building Biologist®, Oram Miller.  Through his tireless efforts to keep people safe from the harmful effects of electro-magnetic radiation (EMR), he recently brought much awareness to the current state of the new Smart Meters being installed and the potential health dangers from exposure to these. This had us thinking about how we are so bombarded with EMF's and radio frequency on a daily basis. Hence, it is becoming eminately important that we find ways to allow our body to rest, heal, rejuvenate and recharge – not only by taking safe measures to protect ourselves at home – but by grounding ourselves and reconnecting with nature.
Case in point, another such inspiring professional in our field, Jodie Levine – founder of Earth Roots Field School.  Recently, we had the pleasure of being invited to her home for dinner.  I use the term home loosely, because – nestled amidst the cookie-cutter, organized sub divisions of Orange County, California – exists a small piece of heaven where Jodi resides in Trabuco Canyon.  To describe it as a cabin in the woods would not be a stretch as we passed rolling hills, a general store and winding roads to approach her lovely abode.  Jodi thoughtfully prepared a vegetarian cuisine of falafel on basil, grilled vegetables, and a bountiful salad.  But, dining on healthy and organic cuisine didn't occur before a visit to her 39 chickens and 10 ducks which cheerfully roam the property. We even met the neighboring horse.  Out to the yard we went where I held a chicken and a duck (first time experience for me). Living with, respecting and honoring the land was the feeling captured and how I wished not only myself, but others, could share a bite of this heavenly experience for themselves.
It wasn't any surprise that in minutes of meeting Jodi, her passion for protecting, honoring and nurturing Mother Earth is eminent as she lives a lifestyle fully in alignment with her life's work.  Hence, the school she founded in Orange County, California – Earth RootsField School.
Earth Roots Field School is dedicated to cultivating a sense of care and connection between children and the natural world. They offer classes that are a true exploration of our natural world and extend into our connection with all things and include: workshops & lectures year round for toddlers, homeschoolers, teens, adults, schools, scout groups and summer camps. These outdoor classrooms include: local organic farms, gardens, wilderness parks, green kitchens, beaches, and creeks.  Can you say…sign me up?
Related Articles:
New Car Smell – Not So Sweet!
Meet Fisker: A New Kind of CARma
The SMARTest Car on the Block!
Climate Change: Fact or Fiction?
PVC: THE POISON PLASTIC! Get Safer Supplies & Back to School Guides
Do You Know What's Lurking in Your Child's Classroom?
Green Product Labels 101: How to Read Between the Blurred Lines
4 Sexy & Sustainable-Summer Must Haves for Her
The Incredible Shrinking House: How Small Can You Go?
Eco-Labels & What they Really Mean
So how do we take advantage of some of the pristine, untouched beauty that still remains for us all to enjoy, grow and learn from?  I love when synchronicity is in full flow and allows for expansion.  Earth Roots is now acquiring Big Oak Canyon!  In Jodi's words, "To be able to host programs on our own property is a dream come true. Tending land that will be nurtured and cared for as our own for generations to come will bring deep educational impact to our region." 
If having too much money is a problem for you or someone you know – or, you would love nothing more than too see these programs survive and thrive, consider donating to this very deserving non-profit.  You can learn more HERE!
"The Great Spirit is in all things, he is in the air we breathe. The Great Spirit is our Father, but the Earth is our Mother. She nourishes us, that which we put into the ground she returns to us." ~ Big Thunder (Bedagi) Wabanaki Algonquin