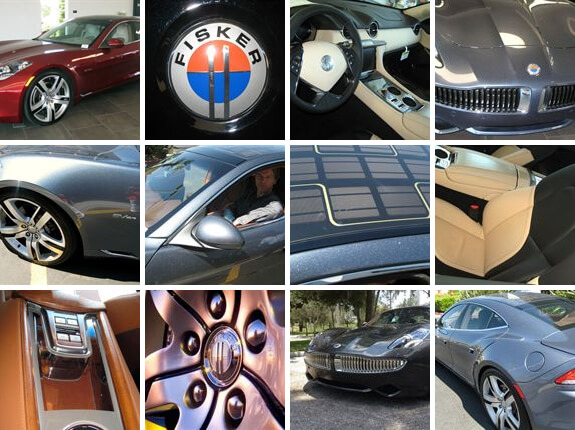 Justin Bieber owns one. So does Leonardo DiCaprio.  Sleek. Sexy. Sustainable.  These three words come to mind when describing the world's first luxury electric vehicle (or, as adjectives to the above owners) produced by Fisker Automotive and manufactured at Valmet Automotive in Finland. Otherwise known as the Fisker Karma, you may have seen it strutting down a street near you.  If not, join Ron and I as we take a spin at Fisker of Orange County in this beauty and show you, up close and personal, what makes this luxurious, plug-in hybrid sedan oh, so green including: it's eco-friendly interior; a seamless solar powered roof; 100% recyclable dry powder water-based paint and more!  Yes, it comes with a steep price, but also a passion for preserving our planet. High style, but low impact.  Zero emissions and zero compromise.  For those who don't want to sacrifice style for sustainability – meet your new set of wheels.
Watch BELOW and come cruise with us!
Related Articles:
New Car Smell – Not So Sweet!
The SMARTest Car on the Block!
Unplug & Recharge with the Power of Nature
Climate Change: Fact or Fiction?
PVC: THE POISON PLASTIC! Get Safer Supplies & Back to School Guides
Do You Know What's Lurking in Your Child's Classroom?
Green Product Labels 101: How to Read Between the Blurred Lines
4 Sexy & Sustainable-Summer Must Haves for Her
The Incredible Shrinking House: How Small Can You Go?
Eco-Labels & What they Really Mean
Recall update: Fisker is recalling all 2,000 of the just introduced plug-in hybrids because a small cooling fan caused a fire in a Karma in aCalifornia parking lot.  Fortunately, no one was hurt in the incident. According to the Los Angeles Times, 'Fisker said it will contact Karma owners and arrange to replace the cooling fan. Technicians also will install an additional fuse, which Fisker said will provide added protection.'