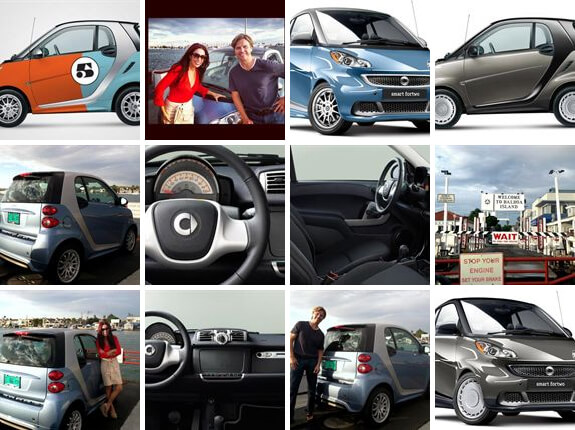 Earlier this week we discussed Smart Meters…not smart.  Today, we are showcasing the smart car…very smart!
You may have seen them zipping around a town near you – squeezing ever so effortlessly into small parking spots, passing you on the freeway and – maybe even riding a ferry (o.k., that was us).  One place you're less likely to see them, however, is at a gas station.  Small, smart and fuel efficient, these little vehicles don't need to fuel up as much since they have more important things to do such as making your ride a joy. At 38 highway MPG, this little smarty pants has the best MPG of any gas vehicle. We don't have room here to brag about all of the 'smart' features of this ultra-urban mode of transportation, so join us instead, for a spin through beautiful Orange County, California.
Related Articles:
New Car Smell – Not So Sweet!
Meet Fisker: A New Kind of CARma
Unplug & Recharge with the Power of Nature
Climate Change: Fact or Fiction?
PVC: THE POISON PLASTIC! Get Safer Supplies & Back to School Guides
Do You Know What's Lurking in Your Child's Classroom?
Green Product Labels 101: How to Read Between the Blurred Lines
4 Sexy & Sustainable-Summer Must Haves for Her
The Incredible Shrinking House: How Small Can You Go?
Eco-Labels & What they Really Mean
Ron and I share with you what makes this Mercedes-Benz engineered car a one-of-a-kind in terms of fun, safety and price. Reclaimable.  Recyclable. Remarkable!  WATCH BELOW: