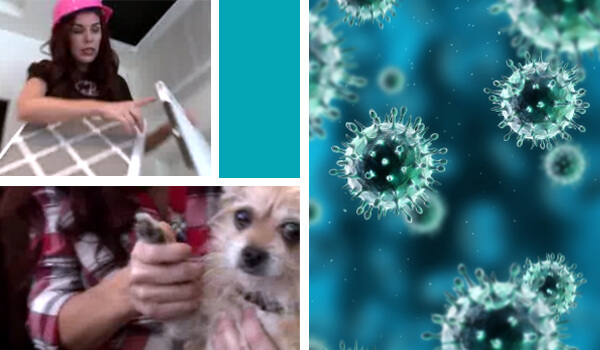 As the weather outside gets frightful, it may not hold a candle to the fright fest of unwanted toxins raging directly inside your home.   Indoor air can be rather undelightful to our health if we are not taking prudent action to ensure proper indoor air quality.  Join Ron & I as we counsel homeowner and multiple dog owner, Linsi Brownson, on simple ways to improve her indoor home's air quality.  We share tips including: regular bathing and grooming of your pet(s) to reduce pet hair and dander; changing your home's furnace filter regularly; and removing shoes upon entering the house.  The Beres' interview veterinarian Dr. John A. Giannone and professional groomer, Kim Beresford, from the Newport Coast Animal Hospital for additional pet tips. Discover:
Which dogs shed the most
Which dogs are hypoallergenic
The percentage of homeowner not changing their furnace filters regularly
The percentage of homeowners that NEVER change their filter
How polluted the average home's indoor air is
What is really being tracked into your home from the bottom of your shoes
Related Articles:
America's Cancer Clusters: Does Where You Live Matter?
Are You Sleeping With the Enemy: Hormone Disruptors?
Formaldehyde at Home: Rolling in the Deep
Five Natural Ways to Reduce Allergens in the Home
10 Plants That Clean Your Indoor Air
Ron & Lisa Discuss Mold Dangers on The Suzanne Show
TAKE HOLD: Everything You Need to Deal with MOLD!
The Toxic Body Burden: Environmental Illness + Chemical Sensitivity
Low Mood, High Mold? Is Your House to Blame?
WATCH NOW