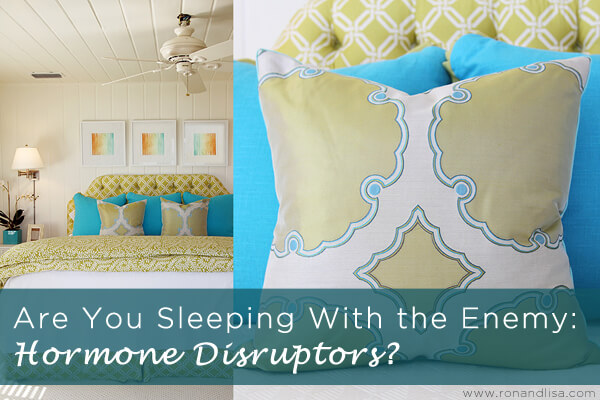 Good night, sleep tight…don't let the bed bugs bite.  But, a bed bug may be the least of your worries as you lay down to sleep with your spouse, your pet, your child – or even a dust mite.  Rather, we are talking about a sinister culprit cohabitating your residence each day, night after night – chemicals called hormone disruptors including brominated fire retardants such as PBDE's.  NBC's Dateline recently featured an expose on three  additional hormone disrupting chemicals that the vast majority of us are living and sleeping with each day.  News correspondent, Andrea Canning allowed herself to be a human guinea pig and have her and her children's blood levels tested for the presence of: Triclosan, Bisphenol-A (BPA) and Phthalates. Watch below to discover the surprising results!
According to the Center for Disease Control (CDC), 90% of American's have hormone disruptors in the bodies.
Hormone Disruptors, Part 1
Visit NBCNews.com for breaking news, world news, and news about the economy
Related Articles:
America's Cancer Clusters: Does Where You Live Matter?
Formaldehyde at Home: Rolling in the Deep
Five Natural Ways to Reduce Allergens in the Home
10 Plants That Clean Your Indoor Air
Tips to Improve Your Indoor Air Quality
Ron & Lisa Discuss Mold Dangers on The Suzanne Show
TAKE HOLD: Everything You Need to Deal with MOLD!
The Toxic Body Burden: Environmental Illness + Chemical Sensitivity
Low Mood, High Mold? Is Your House to Blame?
Hormone Disruptors, Part 2
Visit NBCNews.com for breaking news, world news, and news about the economy
Photo credit: Nest Design Group