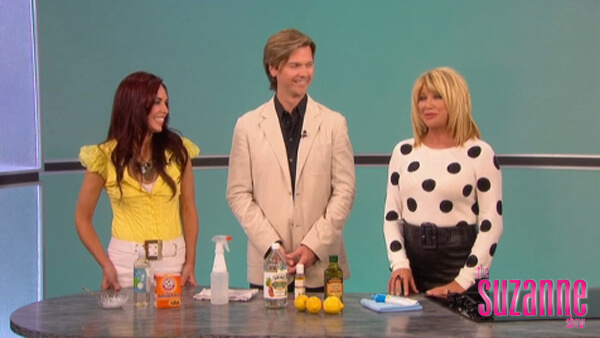 You may remember the effervescent Chrissy Snow from the uber-popular sitcom, Three's Company.  But, don't judge a celebrity by the character they play.  The stunning and talented, best-selling author and entrepreneur (yes, thighs – you remember), Suzanne Somers, is on a mission to change the way we think of health in this country and she's dedicated an entire show, The SUZANNE Show, to it!  Ron and I are beyond blessed to be the show's healthy home experts. Together, we are forging a plan to green up your nest and help you hatch a healthy home!  Tune in to watch us again on The SUZANNE Show this coming Wednesday, November 7, 2012, on Lifetime Television 7 a.m. E/P to get the dish from us, The Healthy Home Dream Team®.
Related Articles:
Clutter-Clear Your Way to More Energy!
Clean Up Your Act: Watch Our DIY Cleaning Recipes on The Suzanne Show!
The Secret to Health Is in Your Pantry!
Dirty Laundry: Tackling the Truth on Tide®
RON & LISA WIN in the 34th ANNUAL TELLY AWARDS!
We are trashing the toxins, canning the chemicals and revealing our fav DIY cleaning recipes!  They're safe.  They're affordable.  And, they are free…if you tune in! Follow the show on Facebook for more info. And, oh yeah, if you missed our last appearance on healthy bedding tips, you can catch it HERE!  Enjoy this SNEAK PEEK below