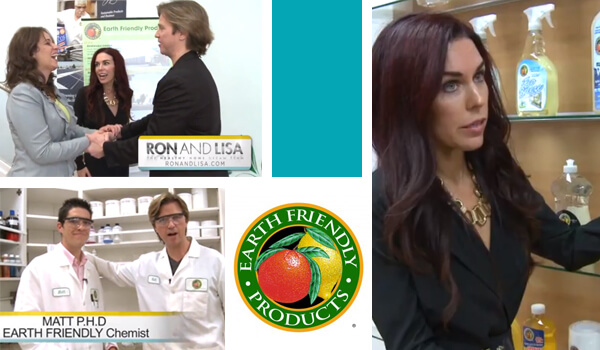 While some are dreaming of a white Christmas this year, others are fed up with their toxic cleaners and wishing for a greener holiday. If the smell of chemicals and inhalation of VOC's has you guilt-ridden from your naughty routine, it's time to introduce a nicer side of household cleaners.  Introducing, Earth Friendly Products — makers of honest-to-goodness, power-packed clean — without toxins, petrochemicals, bleach, ammonia, phosphates or other harmful ingredients. Join us, The Healthy Home Dream Team®, on an in-depth, behind-the-scenes tour of their west coast factory to reveal an inside look at what makes this brand truly one of a kind!  Earth Friendly's line up of 150 household products is safe for the planet, people and pets and includes the #1 selling green laundry detergent in the world, Ecos. Earth Friendly's award winning products are crafted with old-fashioned value. Goodbye volatile organic compounds and hello pure, simple and pronounceable ingredients that are readily biodegradable, have a neutral pH and are cruelty-free – something Santa's reindeers would truly appreciate – and you will too!
Related Articles:
Clutter-Clear Your Way to More Energy!
Take Two: A Sneak Peek of Ron & Lisa with Suzanne Somers on Lifetime TV!
Clean Up Your Act: Watch Our DIY Cleaning Recipes on The Suzanne Show!
The Secret to Health Is in Your Pantry!
Dirty Laundry: Tackling the Truth on Tide®
RON & LISA WIN in the 34th ANNUAL TELLY AWARDS!
Then, refer to the handy chart below to help you make the switch from toxic, conventional cleaning products to safer alternatives.  All the work has been done for you (thanks to a few green elves)!  'Tis, the season, after all, to be healthy! WATCH NOW:
Swap Your Clean Routine to Green!