by Ava Anderson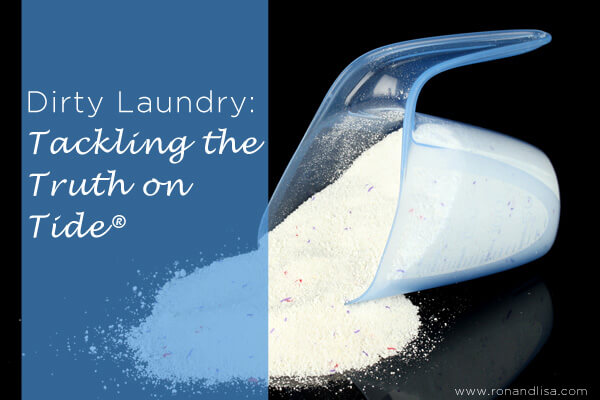 Tide® announced that as of September 2013, they will be reducing the amount of 1,4 dioxane in two of their laundry detergents–Tide Original Scent® and Tide Free & Gentle®. Great news folks – or is it? Hold the spin cycle…reducing? Why not eliminating?!
1,4 dioxane is a byproduct of the manufacturing (ie: ethoxylation) process process, which can be stripped out for pennies. It is a known carcinogen; a cancer-causing chemical.  It has been linked in animal studies to an increased risk of breast cancer. Those Tide® folks sure are smart. They responded to diligent pressure from a report released by Women's Voices for the Earth and a Change.org petition that received over 78,000 signatures.  Proctor & Gamble, the makers of Tide®, also witnessed Johnson & Johnson use this playbook just a few months ago by publicly announcing that they would be removing some toxic chemicals from some of their product sometime in the future. While these offending manufacturers are taking their victory lap and being publicly lauded, even by environmentalists, we need to dig deeper into this dirty pile.
Wouldn't we all prefer these cancer causing chemicals be removed altogether versus just being reduced?  Especially when you consider that our wastewater plants are designed to remove bacteria, not toxic chemicals.  The remaining dense toxic sludge that is left behind and loaded with these cancer causing chemicals is then sold to local farmers as "natural fertilizer" called "bio solids." This is used on farms that supply produce to our grocery stores and the livestock industry.  Yep, all those toxic chemicals end up back on our dinner plates.
We need to make a bigger stink and perhaps these manufacturers will really come CLEAN.  Of course, what is more likely to get attention faster than a bad bleach spot on dark jeans is if their sales decline.  If consumers stop rewarding companies with their hard earned money for products containing chemicals that are toxic for both humans and the environment, change will be inevitable. Imagine your children rolling around on sheets and in pajamas that have been soaked in known human carcinogens. For many, this is an agitating reality.
Related Articles:
Clutter-Clear Your Way to More Energy!
Take Two: A Sneak Peek of Ron & Lisa with Suzanne Somers on Lifetime TV!
Clean Up Your Act: Watch Our DIY Cleaning Recipes on The Suzanne Show!
The Secret to Health Is in Your Pantry!
RON & LISA WIN in the 34th ANNUAL TELLY AWARDS!
AVA has the solution!  You can have effective personal care products and cleaners WITHOUT 1,4 dioxane.  AvaHOME Laundry Detergent Pods, launched last spring.  They are biodegradable, non toxic pods that thoroughly clean; remove stains; and soften clothes. These pods are safe for septic systems, are pet-friendly and are formulated from naturally-derived ingredients; a combination of non-toxic minerals, organic enzymes and soda ash.  Ava pods are hypo-allergenic and contain no dyes, no fragrance, no chlorine, no phosphates, and no optic brighteners and of course, they are not tested on animals.  The Ava pods are tried and tested and enjoyed more than traditional, chemical-based detergents. Plus, proof's in the piles of clean clothes since they work like a dream!
Check out all of AVA's lines of home and personal care products HERE!