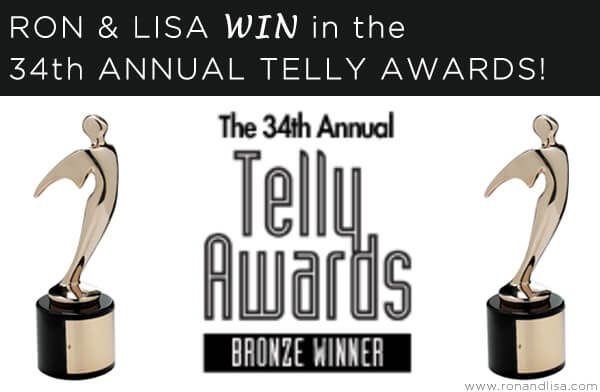 It's pretty big news actually (o.k., like…HUGE!!).  The Telly Awards has named Ron and Lisa Beres as a second place, Bronze winner in the 34th Annual Telly Awards for our piece titled Creating DIY Non-Toxic Cleaning Products on The SUZANNE Show. With nearly 11,000 entries from all 50 states and numerous countries, this is truly an honor. Our goal as The Healthy Home Dream Team® is to educate, empower and inspire others to create healthy, non-toxic homes in which to THRIVE – and not just SURVIVE in.  In fact, we've dedicated over a decade to this mission by appearing as healthy home media experts on 13 national television shows; conducting hundreds of radio interviews; authoring 2 books and 3 audio Cd's; leading national healthy home speaking tours for Sanyo North America and Lowe's Companies, Inc. in addition to providing dozens of how-to videos and hundreds of original articles of healthy home content on this very site.  To use the word passion to describe our daily work would be putting it mildly.  Hence, to receive the coveted Telly Award acknowledging excellence in television programming for our segment on The SUZANNE Show was like a BIG. FAT. UNIVERSAL. pat on the back!
As many entrepreneurs know, acknowledgement doesn't always come easy and many times, it is nonexistent.  So, we are thrilled to be recognized for our perseverance, dedication and sacrifice to do the work we love and believe in and to share this special moment with you.
For those who are not familiar, the Telly Awards was founded in 1979 and is the premier award honoring outstanding local, regional, and cable TV commercials and programs, the finest video and film productions, and online commercials, video and films. Winners represent the best work of the most respected advertising agencies, production companies, television stations, cable operators, and corporate video departments in the world. A prestigious judging panel of over 500 accomplished industry professionals, each a past winner of a Silver Telly and a member of The Silver Telly Council, judged the competition, upholding the historical standard of excellence that Telly represents.
Related Articles:
Clutter-Clear Your Way to More Energy!
Take Two: A Sneak Peek of Ron & Lisa with Suzanne Somers on Lifetime TV!
Clean Up Your Act: Watch Our DIY Cleaning Recipes on The Suzanne Show!
The Secret to Health Is in Your Pantry!
Dirty Laundry: Tackling the Truth on Tide®
"The Telly Awards has a mission to honor the very best in film and video," said Linda Day, Executive Director of the Telly Awards. "Ron and Lisa Beres' accomplishment illustrates their creativity, skill, and dedication to their craft and serves as a testament to great film and video production."