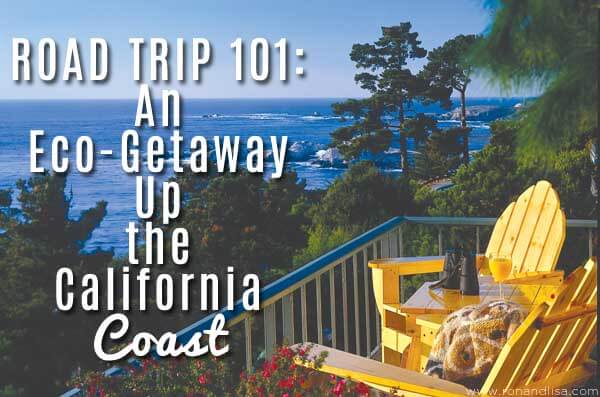 Three words:
Big.
Sur.
Coast.
If you've never taken a trip hugging the southern and northern California coastline along the 101 freeway, then get your map app ready for an excursion for the senses. You'll experience vivid colors that only a cypress-tree-lined ocean convergence can create. The seductive smell of wood-burning fireplaces amongst the pines and the smorgasbord of flavors from local wines and sustainable cuisine will have fellow foodies frothing at the mouth.
As it turns out, Ron and I just hit our one-year veganversary (yes, that is a word…now) on the exact day we met 17 years ago. It also happened to be the weekend we decided to embark out of town for a staycation of sorts. We desperately needed a getaway and, since Ron proposed to me in Big Sur, CA, what better place to venture off to for some rest and relaxation.
Akin to when you stop walking at Disneyland, it's in a resting moment when you realize how tired you actually are. Life is pretty much like that and it wasn't until we pioneered on this road trip adventure that we realized how much we yearned to get away, turn off work, disable the Smartphones, and quite the mind.
Dinner on the Coast…Almost!
Our trip began with battling our way out of Los Angeles; a true test of any good relationship! Alas, it proved to be much worse than expected on a Friday afternoon (since every hour there is rush hour), forcing us to miss our Friday night dinner reservations at the Beach House at Lover's Point. I have to include a photo since it's now on my bucket list to sit perched alongside these ocean rocks for the sunset dinner we had anticipated.

The Hofsas House in Carmel, CA
Fortunately, the phantom dinner was redeemed by our arrival into the quaint and historic town of Carmel-by-the-Sea. Equivalent to a picturesque storybook, Carmel boasts boutique hotels and bed & breakfasts, artistic history, colorful and creative shops, and natural beauty. Sitting perched on hilly streets, the scenic ocean view truly takes your breath (and worries) away.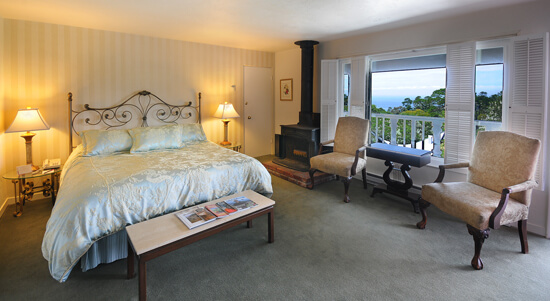 We checked in to the Hofsas House; a family-owned inn established in 1949. Just minutes from Pebble Beach, Big Sur, and Monterey, you can walk to the charming village of Carmel from this 38-room European-inspired inn, boasting Dutch doors in every room. You can enjoy a dip in the heated pool or bask in the dry sauna onsite. We were overjoyed to slumber in a king suite with an ocean view, fireplace, and kitchenette with a wet bar (see above). Eco efforts with recycling bins and water conversation were also taken. I wasted no time lighting logs on the natural wood-burning fireplace, while Ron uncorked the beautiful Monterey wine that awaiting us (click HERE for their Enhanced Package Options for an anniversary, birthday, romance, or relaxation). Next time, we might need to gather up a group of friends and use a service like Limo Find to venture out on a local wine tasting tour.
The next morning, Ron strolled a short walk downstairs to enjoy French roast coffee and complimentary continental breakfast provided for all guests. Later, we met the owner, Carrie Theis, in the lobby as she helped us plan our day's activities and review downtown dining options to suit our vegan desires. Turns out, Carrie is a third-generation owner which was founded by her grandmother. Family tradition, Hofsas hospitality, and Carmel charm are what you'll find when you stay here. Just a few blocks from the beach and a stone's throw from Highway 1 and 17-Mile Drive, book your trip now and tell Carrie we sent you!
The Hyatt Carmel Highlands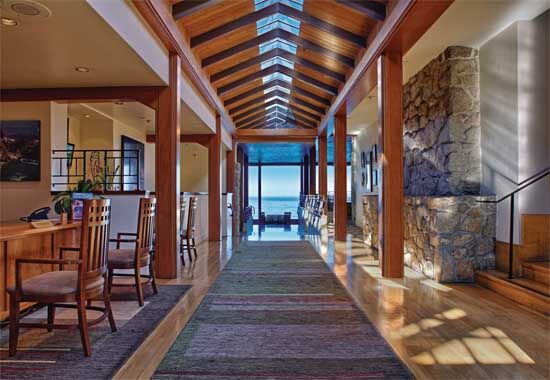 Not too many places leave me speechless, but the Hyatt Carmel Highlands on the Big Sur Coast definitely did. When you think of a Hyatt hotel, you might think of conference rooms, elevators, or business travelers, but this destination will have you swapping your briefcase for brandy and your laptop for the lap of luxury. It delivers rustic charm – or as they refer to it on the Big Sur Coast – coastal rustic. Perched on a luxurious hilltop, epic ocean views can be experienced from every room and restaurant. Sustainable design meets signature cocktails in the oh-so-stunning Sunset Lounge. Adorned with natural wood flooring and stone occasional tables, the lounge offers live music on select evenings. Proudly termed,
The best, most breathtaking sunset views of any venue on the Central Coast.
Upon arrival, we were greeted with complimentary champagne. After a jaw-dropping tour of the main lodge, it was time to check into our residence – or what some of our readers might refer to as- a tiny house. With a fully equipped kitchen and stunning 180-degree ocean views sweeping over lush landscaping, the room has everything your heart could desire including an extra-large marble spa tub. The sliding barn-style doors offered flexibility and privacy, while the large windows and deck provided panoramic views. Too many to mention, you can view all of the amenities HERE, including a natural wood-burning fireplace which we, of course, took full advantage of.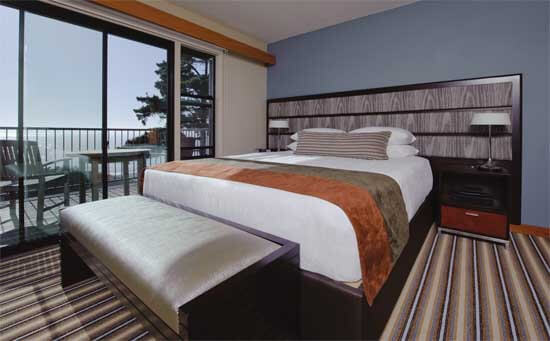 After learning we were vegan, Chef Poncho created an out-of-this-world plant-based tasting for us consisting of 100% locally-sourced ingredients for dinner. Besides the fact a symphony of flavors was playing in my mouth, it was as beautiful as it was delicious. I was so impressed with the attention to detail, care for the community and flavors, I copied this straight from the Pacific's Edge menu:
We believe that everyone benefits when we know the source of our food and it's journey from seed to your table. California Market is committed to fresh, organic, locally grown and raised ingredients to create food that fulfills our appetite and pleases our sensibilities. All the while promoting good health, sustaining our environment, and supporting the local economy.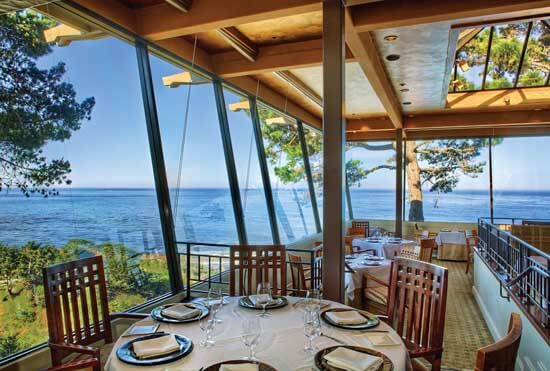 While our stay was pure pleasure, the Hyatt Carmel does offer over 5,000 square feet of – you guessed it – ocean view meeting space and a wedding gazebo. They also have state-of-the-art 24-hour StayFit™ Gym and private yoga lessons, spa treatments, a heated pool, and three whirlpools.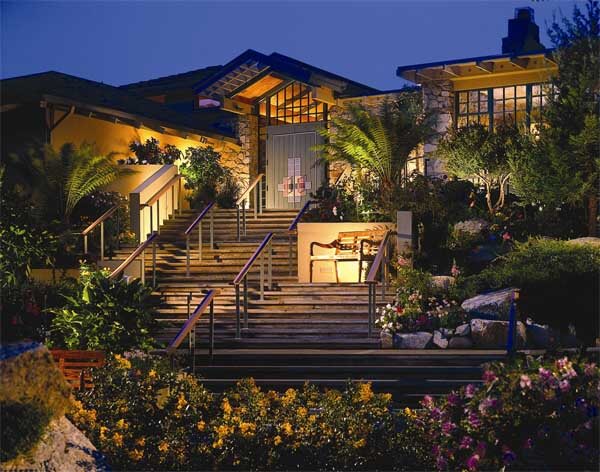 Join us in wishing the Hyatt Carmel a happy 100th birthday this year. Hey, if you can't make a visit for your own birthday, now you have an excuse to celebrate theirs!
Related Articles:
Toxic-Free Travel: 10 Tips to Healthier Trips (II)
Ron & Lisa's Staycation Travel Adventure!
The Hard Rock Hotel + Resort Punta Cana: A RAVE Review
5 Eco Tips to Glamp Your Camp!
VEGAS: 6 Secrets to Green Your Trip to the Strip!
5 Quick Travel Tips to Avoid Getting Sick
Art with a Purpose
Our final stop was a visit to a local artist, Patricia Qualls. While visiting local artists on vacation isn't something we normally do, I highly recommend it. Nestled in Carmel Valley, about 15 minutes from Carmel-by-the-Sea, we stopped into the gallery and studio of this Ph.D. turned contemporary, abstract artist. After Patricia's son was diagnosed with dyslexia, she needed an outlet for her frustration with the system. She witnessed firsthand, the struggles of society trying to fit her square son into a round hole. The 'disabled' title was preventing her son's own unique and special gifts from shining through. What really struck me about Patricia was her desire to spread this knowledge and empower others to honor their own talents.
She believes strongly in the freedom of expression, and understands that by unblocking our internal restraints, we can begin to relinquish the creative comparisons and competition that's limiting our own expressions.
Patricia has a down-to-earth spirit and commitment to leaving this world a better place. In the spring she'll be working with BUILD kids in CHICAGO to beautify our country. She even let me paint with her (well, sort of). See the video for yourself with a cameo from the studio cat, Buddy, HERE.
You certainly don't need to leave the country to experience untouched beauty, charm, and connection to nature. We didn't leave our hearts in San Francisco, but we just may have left them in Carmel, California and I think you will, too!
Save
Save
Save
Save