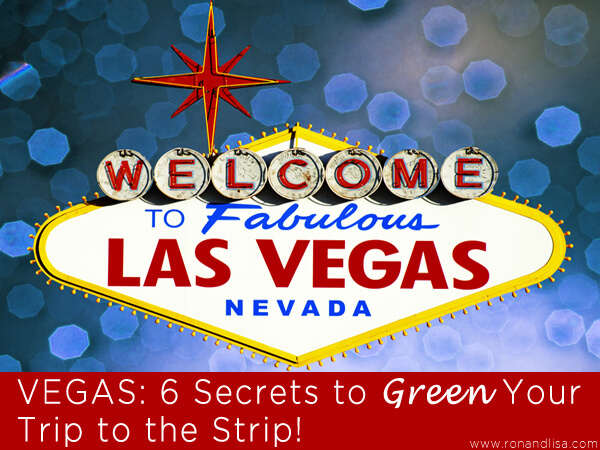 When we think of the bright lights and late nights of Las Vegas, Nevada, maintaining a healthy lifestyle isn't always the first thought that comes to mind.  Rather, most people conceive an overstimulation of the senses coupled with an overindulgence of food, drink and betting.  But, this doesn't have to be so.  As two who prefer getaways in a more natural setting, we frequent the 'other' city that never sleeps annually as we have relatives that reside nearby.
But, is it possible to have a greener trip to the strip (and save a little green while you're at it)?  Yeah baby, it is and we are going to show you how we do it in 6 simple steps.
1.) Stay at the Greennest Hotel
Our favorite hotel has always been The Venetian for a gazillion reasons.  If you have ever stayed there, then you know exactly what I'm referring to.  As a former interior designer, the attention to detail here is second to none.  The all-suite resort rooms are spacious, well-appointed, comfortable and oh, yes, LEED certified. In fact, the Venetian Resort has attained LEED-Gold certification for existing buildings and LEED-Silver rating for new construction in 2008. According to estimates, energy efficiency measures at the Venetian and it's green cousins (the Palazzo and the Sands convention center) save about 73 million kWh annually; appox. enough to power 6,500 average American households. Water-conservation saves more than 97 million gallons of water a year; enough water for 580 American households for a year!  This coupled with green dining options, green cleaning + laundry programs, high efficiency lighting, composting of food waste, recycling of 55% of solid waste and 75% of construction and a roof mounted solar system – oh my!  It's enough to make the other hotels, well – extremely 'green' with envy! At the Palazzo, you can breathe easier knowing their carpeting meets the Carpet and Rug Institute's Green Label Plus program for low VOC's (volatile organic compounds) and they utilize paints, coatings, adhesives and sealants with low VOC's. Did I mention you don't have to compromise an ounce of style, luxury or comfort either?  You'll still feel like king or queen of the canals with the impeccable service their friendly staff delivers.  Service with a smile; sans the attitude and sometimes – even a serenade! P.S.  Sign up for their Grazie program and take advantage of great deals + special savings for your birthday. We enjoyed Ron's b-day during Carnevale (see pics below).
2.) Get Your Daily Greens + Organic Caffeine On!
Visit the Canyon Ranch Café located in the Canyon Ranch Spa daily for a healthy breakfast of freshly squeezed juices, smoothies or organic food options paired with organic coffee or tea. We were thrilled to find this a just short elevator ride down each morning to kick start our day in the desert.  Heading to the pool without the heaviness of a greasy breakfast?  Priceless.
3.) Save Some Green with the Best Show (and deal) in Town
So, this is more of a green your wallet tip.  But, our experience heading downtown to the newly remodeled Golden Nugget Casino to see Gordie Brown was worth its weight in uh, gold.  If you have seen – or are familiar – with the late Danny Gans, then you will adore Gordie.  This uber-talented impressionist, singer and entertainer will have you in stitches. But, the best part?  You can get – not one -but two tickets and two buffet dinners to for a mere $49.00 price tag (see local coupon books for discount coupons). Plus, if you lost your shirt at the slots, everyone knows laughter is the best medicine!
4.) Exercise Your Options
You'll be hard pressed these days to find a resort or hotel that does not offer a fitness center (so, no excuses).  But, not all are created equal. Canyon Ranch at the Venetian is our fave.  If you are staying at the Palazzo or Venetian, entrance and use of the facilities each day is included in your resort fee, so you may as well take advantage of it.  If you stay at another hotel (LEED® Gold Certified Aria or Vdera for example), then you can still purchase a single of multiple day passport to use the facilities.  Let's face it, exercise keeps you feeling great and out of the casinos (during the a.m. hours at least)!
5.) Detox at the Spa!
Ladies – if you danced or walked the night away in high heels, enjoy the Healthy in Heels treatment for sore feet infused with herbal products and massage.  Or, if you indulged in a cocktail (or two, or three) the night before, you can enrich your blood with oxygen and rid your body of toxins at the spacious SpaClub® at Canyon Ranch. With the healing power of water, Aquavana®, consists of a European-inspired aquathermal oasis offering intriguing treatment suites designed to relax your muscles. Treat yourself to a spa treatment and get access to Aquavana included. Ahhh. Enough said.
Related Articles:
Toxic-Free Travel: 10 Tips to Healthier Trips (II)
Ron & Lisa's Staycation Travel Adventure!
The Hard Rock Hotel + Resort Punta Cana: A RAVE Review
5 Eco Tips to Glamp Your Camp!
ROAD TRIP 101: An Eco-Getaway Up the California Coast
5 Quick Travel Tips to Avoid Getting Sick
6.) Seek Sustainable, Organic and/or Veggie Food Options
Yes, Vegas has become a cornucopia of fabulous cuisine options.  But, don't let the scorching heat of the desert tempt you to indulge in a frozen hot chocolate at Serendipity when there are so many healthy choices available.  We mentioned the spa above, but the Palazzo has an entire Green Dining program with vegetarian options at every restaurant as does the Wynn.  Additionally, for the raw foodies who feel like venturing away from the strip, try Go Raw Café on the Eastside of town. Greens and Proteins and The Red Velvet Cafe both come highly recommended as does Mint Indian Bistro which has a great organic salad bar. Lastly, if you are driving, BYOFW – bring your own filtered water so you aren't paying premium for bottled water to stay hydrated (a must in the desert).
[easyrotator]erc_97_1379374149[/easyrotator]
We hope you enjoyed our tips for a greener trip to the strip.  Have a few of your own?  Let us know in the comments below.  And remember, what happens in Vegas really doesn't stay in Vegas; you must return home and face the consequences. You can still have fun, but with a conscience, clarity and respect for yourself and the planet.