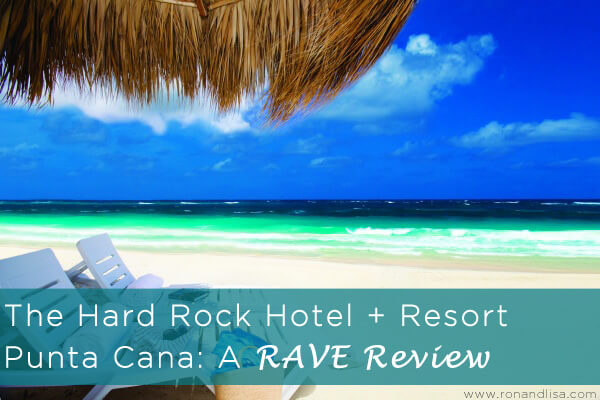 This should be an effortless review to write because we are absolutely over the Caribbean moon about this resort, however, I found myself procrastinating.  I suppose it's because there is so much to say about this unbelievable utopia located in the balmy and tropical island of the Dominican Republic. Being the perfectionist that I am (not to be confused with Type A…wink, wink), I didn't want to do you a disservice by omitting any of the UH-MAZING features of the Hard Rock Hotel + Casino Punta Cana.
As anyone who has been invited to a destination wedding knows, it's the perfect excuse to take a well-needed vacation from the daily nine to five grind and unplug from reality.  Ron's brother, Brett, chose the Hard Rock Hotel and Casino Punta Cana as the destination for his April 2013 nuptials (and was gracious enough to let us share he and Odessa's freakishly stunning slideshow for you all HERE.  Yeah, I know…I felt like my wedding photos needed a redo after seeing these too!).  This location was chosen for obvious reasons including: the all-inclusive feature of the resort, the 5 star accommodations in Caribbean suites with your own double Jacuzzi tub and balcony, fully stocked mini bar, free Wi-Fi and nightly turndown service. Plus, live + nightly entertainment, daily activities and all gratuities included. And if that doesn't make you say OH EM GEE, perhaps a few more of our favorite features will:
A 45,000 sq ft. casino including blackjack, craps, baccarat, roulette and more
A 60,000 sq ft. Rock Spa® 48 treatment rooms, hydrotherapy facilities and a co-ed vitality pool
13 pools including 3 kids pools and a lazy pool
Body Rock® Fitness Center featuring state-of-the-art fitness and weight training equipment
9 restaurants + 19 bars & lounges
Miles of beachfront property
Horseback riding on site ($)
24/7 in-room service
Unlimited phone calls to the Continental US and Canada
We had the pleasure of staying in a Presidential Suite (Suh Weeeeet!) and I don't have time to list all of the additional perks here, but let's just say complimentary champagne, slippers, robes and a pillow menu were part of the pampering.  Yes, you heard that right, a pillow menu – contour, aromatherapy, body – you name it.  Ron chose the Lavender-Mint and I chose the Chamomile.  Did we sleep soundly?  Let's just say, adios insomnia!
After a superb seven nights, I can attest we – in no way, shape or form – were able to see and experience everything this majestic oasis has to offer.  Although we basked by several pools and reveled on the lazy river, we didn't make it to all 13 pools, every restaurant or even the theatre.  We did earn resort credits (cool perk if you stay at least three nights) which can be used toward room upgrades, excursions (giddy up), the spa, salon or even to purchase gifts in the Resort Credits store!  It's true, and my hand-crafted masterpieces from the local Punta Cana artisans are proof in the paintings.
[easyrotator]erc_18_1368393738[/easyrotator]
Since a picture is worth a thousand words, what better way to share our unforgettable experience than to create a slideshow?  This begins from the plane ride (which was a good 12 hours from where we reside in Southern California) that was soon forgotten once we landed foot on in the Rock Spa®. One thing you won't see in the slideshow is the impeccable service.  The staff went above and beyond the all-inclusive, call of duty!  As first-timers to an all-inclusive resort, we had heard the horror stories of poor service, low quality food and up charges. I swear on Just GREEN It! (o.k., shameless plug there), that this did not exist here.  Everyone we encountered was more than willing to be of service. From the rose-adorned, swan-shaped towels in our room each day and fresh flowers delivered with each room service order (YUP – also included) to a mariachi band; complimentary blue margarita and tequila tasting cart at Los Gallos Mexican restaurt and teppanyaki chefs at Zen (that would put Benihana to shame) – the staff was on high alert and ready to make your fantasies come true.  Yes, in true Mr. Roarke and Tattoo fashion, this is a genuine fantasy island and you must take Ze plane, Ze plane to get there).
Related Articles:
Toxic-Free Travel: 10 Tips to Healthier Trips (II)
Ron & Lisa's Staycation Travel Adventure!
5 Eco Tips to Glamp Your Camp!
VEGAS: 6 Secrets to Green Your Trip to the Strip!
ROAD TRIP 101: An Eco-Getaway Up the California Coast
5 Quick Travel Tips to Avoid Getting Sick
So, if you are looking for the perfect wedding destination spot, we clearly give The Hard Rock Hotel + Casino Punta Cana a green thumbs up (yep, they are a socially responsible resort.  Find out why HERE). If you desire a restful retreat with your mate, an all girls getaway, a family reunion, a business meeting or, heck – any excuse – be sure to add this to your sand pail list (so much better sounding than bucket list – don't you agree?). And, if you haven't already, prepare to raise your sustainable glass for a tropical toast to the lucky winner of our Are You Ready to ROCK Your Summer Sweepstakes (who will WIN (3) nights at the Hard Rock Hotel + Casino Punta Cana in a 5 star suite for two)! Be suuuure to enter HERE!