By guest blogger, Amy Ziff, Founder of MADE SAFE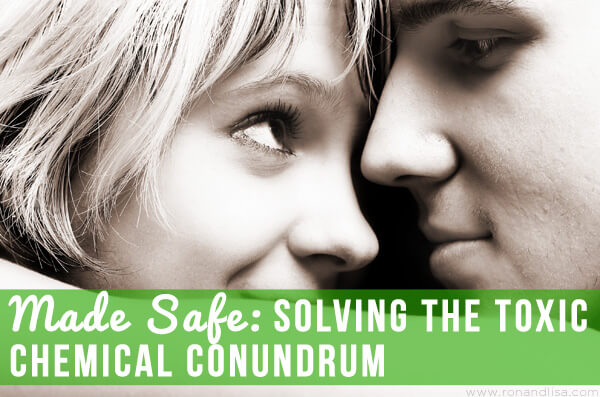 Have you ever found yourself standing in the store aisle wondering what to buy? One product promises to be eco, another promises to be all-natural, yet another uses some organic ingredients – and all you're looking for is some dish soap. A simple household staple that will do its job effectively without leaving a lasting negative impact in your home or our collective waterways. So you pull out your "smart" phone and try desperately to get intel on that unrecognizable ingredient, feeling foolish but determined and wishing really hard that someone could just tell you what was safe.
You're not alone. I understand exactly what you're going through, because that used to be me, sometimes wandering the aisles for hours, trying to decipher labels and determine what was acceptable to use on my children and in my home. And when I realized that nobody else was going to step up to the plate, I resolved to do it myself.
The Chemical Conundrum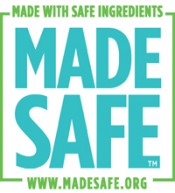 MADE SAFE™ is America's first comprehensive certification program that screens out known toxic ingredients from products across store aisles, from baby bottles and bedding to personal care products, cosmetics and cleaners. We're the first and only seal that applies to all non-food consumer product categories. My team and I made this seal to finally put an end to what we call "the chemical conundrum."
With over 84,000 chemicals in use today, and little to no public data on their impact to human health, it's hard to decipher everything on a label – and that's presuming all the information you need is actually on there. So I became a weekend toxicologist and label sleuth going to great lengths and spending countless hours researching everything that went into a product in order to figure out what might be ok to use with my family and what wasn't. When I finally made a purchase, I crossed my fingers and hoped I was right. It can be hard to know with certainty without having talked to the manufacturers themselves.
Why It's Legal to Buy Toxic Products
I did all this because I simply wanted to know if a product was made from fundamentally sound ingredients that aren't linked to illness or disease. You'd think it must be illegal to use ingredients or materials in products that are known to cause cancer or lead to neurological diseases or impaired performance. You'd think selling products containing heavy metals like lead or neurotoxins like PFOA (think Teflon) or harmful endocrine disrupting chemicals like flame retardants must be against the law.
You're probably shaking your head thinking, "Surely that's the role of one of our government agencies." After all, between the EPA, the FDA and the FTC, at least one of them must ensure that there aren't harmful exposures in our everyday products. If you're thinking that someone must have this covered, you'd be like most people I know—because that's just common sense.
But the unfortunate and shocking reality is that no matter where you shop or what you pay for the products you buy, there is no overarching agency established to protect your health and ensure that products don't contain toxic chemicals. The last time we had Chemical Reform (known as the Toxic Substances Control Act – TSCA) was 40 years ago in this country and the laws are so weak and ineffective that they have only restricted some uses of five ingredients. In fact, TSCA wasn't even able to ban the use of asbestos, showing just how weak of a law it is. Sadly, they haven't tried to ban another chemical since.
There's also a Cosmetics Act on the books officially known as the Food, Drug & Cosmetics Act – FD&C. The original FD&C is still on the books and dates all the way back to 1938 so you can imagine how well that one holds up given that synthetic ingredients barely even existed back then.
The MADE SAFE™ Certification

This is exactly why I started MADE SAFE™. We believe every product on store shelves around the country should be made from safe ingredients. We believe it should be easy to find and buy products that are made safely no matter what your level of education or income. And we also believe in full ingredient transparency, choice and education on this issue.
We follow the Precautionary Principle – better safe than sorry – we don't think that human beings should be used as guinea pigs for the chemical industry as they presume innocence of new chemical concoctions and await proof of harm.
If this sounds good to you, you may be thinking, so what does MADE SAFE™ mean? It means we screen each and every ingredient in a given item to ensure it's not a known carcinogen, behavioral, reproductive, or neuro toxin, hormone disruptor, heavy metal, pesticide, flame retardant, toxic solvent, or harmful VOC.  We don't allow Genetically Engineered ingredients or engineered Nanoparticles. These are just the basics we screen for – these things are known to be harmful – or haven't been proven to be safe.
From there, we work with a chemist to examine every ingredient inside the product to investigate whether it's likely to cause harm to humans, animals or the environment. We look for things like whether it builds up in the body, or harms the environment or ecosystem, and we also look to see if it resembles other known molecular structures that cause harm. This far exceeds the general practice of most manufacturers today. We ask hard questions and when there are doubts about the safety of an ingredient, we will not allow it in MADE SAFE™ certified products.
We built the system needed in the marketplace to finally eliminate toxic chemicals from products. We did the hard job to sort this chemical conundrum out. It means that we put your health first. It means that you can shop our seal knowing that your geeky-science obsessed friends at MADE SAFE™ are making shopping easier and your life healthier.
MADE SAFE™ Approved Brands
Early participating brands that are certifying products with us include Alaffia, Annmarie Gianni Skin Care, Good Clean Love, Healthy hoohoo, Lullaby Earth, Just So, Naturepedic Organic Mattresses, Oilogic, Meliora K, Pura Stainless, Rejuva Minerals, Sustain Natural, S.W. Basics, and True Botanicals.
You can check out our certified products HERE.
Follow us on Twitter and Facebook to learn about our "Switch of the Day" where we encourage you to switch to safer products and share a MADE SAFE™ choice.
Please talk about us with the people you love. Everyone deserves MADE SAFE™ products. Together, we can eliminate toxic chemicals from the marketplace altogether. Here's to our healthy future!
Author, Amy Ziff, is founder and executive director of the MADE SAFE™ and NONTOXIC CERTIFIED™ seals, America's first comprehensive human health-focused certification to cross consumer products categories. Amy is a healthy living educator and successful internet entrepreneur, with a Masters in Journalism and Communications. She blogs about the chemical world we live in on Amy Ziff's NoTox Life, has taught classes on living a nontoxic life, and co-founded the Veritey Shop, a site comprised of safe, nontoxic products.  She was on founding teams for Site59 and Travelocity, and co-founded JetSetter.
Once a brand spokesperson and journalist, Amy has interviewed with Diane Sawyer, Charlie Gibson, David Muir, Meredith Viera, and Bill O'Reilly on shows such as GOOD MORNING AMERICA, THE TODAY SHOW, NIGHTLY NEWS as well as appearing regularly on CNN, FOX news, and more.  Amy speaks at events around the world and her Girlfriend Lunch & Learn series are extremely popular.