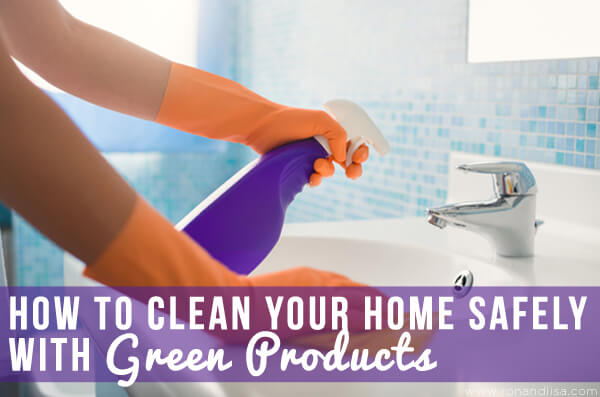 Cleaning green has become a norm for many families. Aside from personal concerns about toxic exposures that can harm people and pets, there has been a measurable, growing demand for cleaners that are also safe to dispose into the environment.
According to the market research firm Packaged Facts, green household cleaning products grew at a "blistering pace" from 2007-2010, dropped a bit during the height of the recession, and will grow at about 1 percent each year through 2019. Hard core followers of certain brands remained loyal to them even during the recession.
When In Doubt, Clean with Vinegar
Vinegar has emerged as the most popular cheap and safe green cleaner of the 21st century, at least so far. Good Housekeeping is among its fans and recommends mixing it with water to clean lots of stuff in your home. We also advise adding a few drops of your favorite essential oil for a fresh and toxic-free scent.
Windows: Mix two tablespoons of white vinegar with a gallon of water into a spray bottle. Use newspaper to scrub (wear gloves); paper towels will cause streaks.
Produce: Use that spray bottle to clean bacteria off produce.
Laundry: A cap full of white vinegar into a full load will make your whites whiter. Blot out grass stains with a 3-to-1 mix of water and white vinegar.
Carpet stains: Treat with vinegar and warm water.
Glue and sticky crud: Can be removed with straight vinegar.
Keep cats out of sandboxes: Pour vinegar around the box.
Green Cleaning Outside the Home
Ironically, the items outside your home are probably less forgiving with cleaners. For some of them, a certified green cleaner may be your best bet.
Cleaning Pools & Hot Tubs
Take the pool or hot tub, for example. These are not items you can leave to chance. Aside from the unpleasant look and smell of phosphates and algae that can follow a neglected pool or spa, there is the safety danger posed by slipping and falling. The Natural Chemistry product line balances phosphate levels but removes contaminants like sunscreen and oils using natural enzymes. Products work with both chlorine and salt water pools.
Cleaning Grills
Your grill also needs special cleaning, and there are plenty of natural grill cleaning products on the market. Bob Vila recommends all-natural citrus products for the grill. Baking soda sprinkled on the grill, or a paste mixed with water, is another safe and natural way to keep a grill clean.
Cleaning Outdoor Chairs
What about outdoor chairs? Vila suggests adding a quarter cup of hydrogen peroxide, a scoop of borax and a squirt of natural dish soap to a gallon of warm water for metal chairs. Use a rag to wipe them down and rinse well. If you discover mold on cushions, spray them with a solution of one teaspoon of tea tree oil to a cup of water. Don't rinse; the oil is what kills the mold.
Cleaning the Details
Brass decorations
Do you have brass decorations on cabinetry or outdoor lighting fixtures? ApartmentTherapy.com recommends cleaning them with a mixture of a half a lemon's juice and a teaspoon of baking soda. (There will be some fizzing.) Apply the paste with a soft cloth, rinse really well and dry.
Related Articles:
Green with Envy? Time to Iron out Those Wrinkles!
OM the Home: Spring Clean Your Way to Green!
Tips to Clean Carpet Stains, Naturally!
Clever Ways to Clean with Vinegar
How to Clean Your House in Under an Hour!
How Often Should I Clean That?
Top 10 Cleaning Toxins and Natural Alternatives
5 Natural Ways to Keep Your Home Clean & Healthy
6 Ways Housework Is Making You Sick
21 Uses for Sodium Bicarbonate
How to Sanitize Your Home Without Harsh Chemicals
Eco-Friendly Ways to Disinfect Laundry
Flatware
Polish your flatware with three-parts baking soda to one-part water, using a clean cloth or sponge. Rinse thoroughly and dry. Adding baking soda to pots and pans soaking overnight will loosen cooked-on food and remove stains as well.
Got a favorite DIY green cleaning tip? Let us know in the comments below. We'd love to hear.