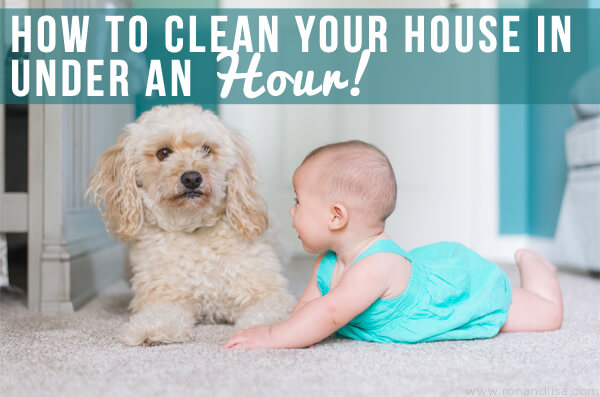 The reality is, cleaning your home from top-to-bottom will take more than one hour. But, the mere thought of spending an entire day cleaning can be a huge turn off; hence, you're likely to do zero cleaning. However, the below infographic from Half Price walks you through, step-by-step, how to achieve a clean(er!) home in under sixty minutes. Knowing that you'll only be cleaning for an hour just may be the motivation you need to get started and get your home ready for last minute guests.
Before you get started, there are a few things you'll need. Many people like to get a good playlist going so perhaps throw on Spotify and create something that lasts exactly an hour; when the music stops playing you know you're done cleaning. You should also wear some old comfy clothes that you don't mind staining and fitness shoes since cleaning this fast offers a definite workout.
Work quickly through the rooms and know which areas you're going to clean before you begin. For example, a good tip for the microwave in the kitchen is to put 1cm vinegar into a cup and add 1cm water before placing in the microwave. Leave in for 90 seconds while all the gunk is removed, then all it needs is a quick wipe down. You can use those 90 seconds to take care of another task in the kitchen.
Go through all of the rooms and give them a general clean, not obsessing over every little corner. Do a quick run through of all rooms with the vacuum at the end rather than dragging it around from room to room as you clean. Find out more below.
Related Articles:
Green with Envy? Time to Iron out Those Wrinkles!
OM the Home: Spring Clean Your Way to Green!
Tips to Clean Carpet Stains, Naturally!
How to Clean Your Home Safely with Green Products
Clever Ways to Clean with Vinegar
How Often Should I Clean That?
Top 10 Cleaning Toxins and Natural Alternatives
5 Natural Ways to Keep Your Home Clean & Healthy
6 Ways Housework Is Making You Sick
21 Uses for Sodium Bicarbonate
How to Sanitize Your Home Without Harsh Chemicals
Eco-Friendly Ways to Disinfect Laundry
Got a favorite quick cleaning tip? We'd love to hear in the comments below.