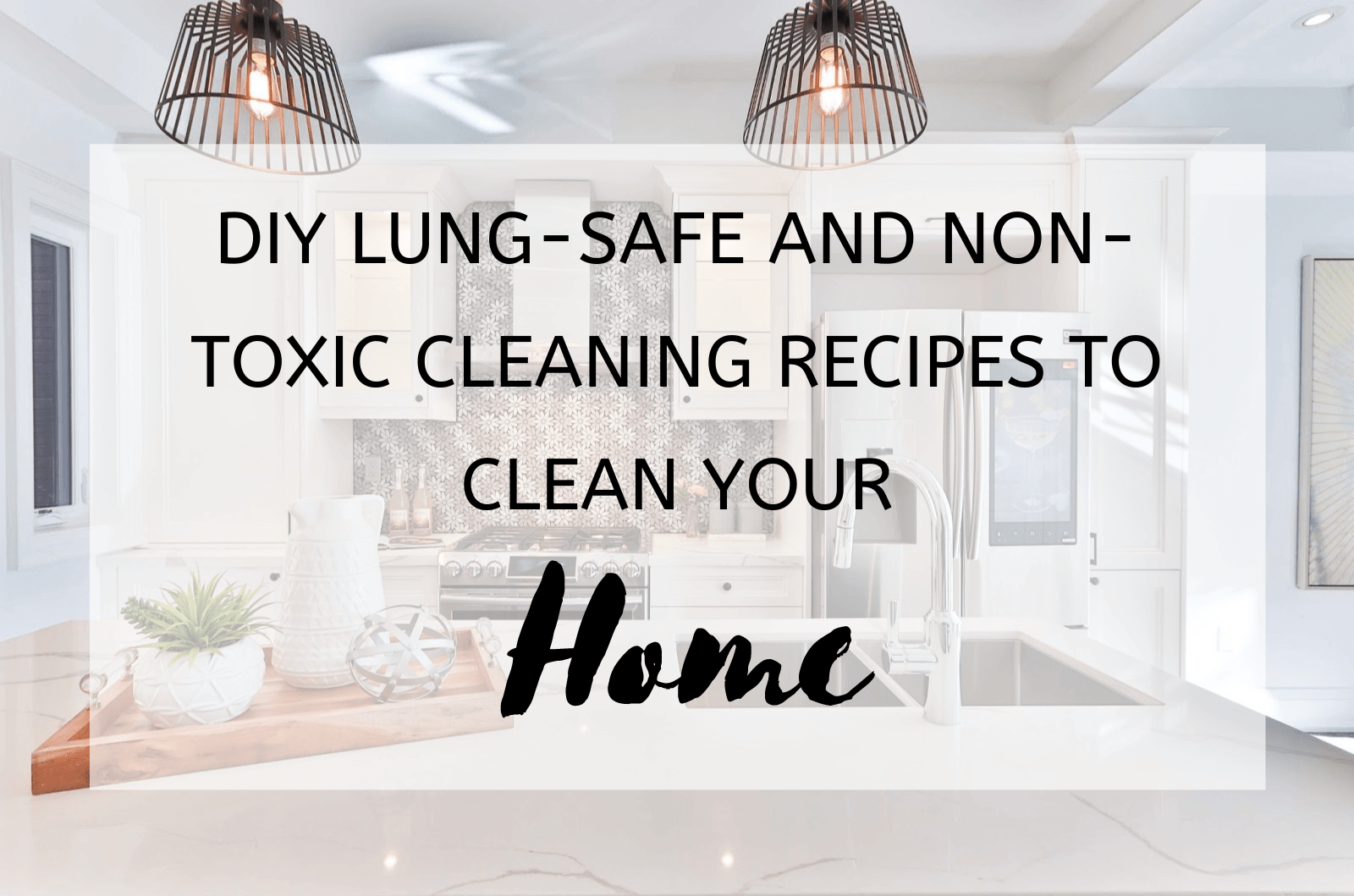 Cleaning our homes is a regular chore that we all engage in daily. Unfortunately, many common cleaning products used in homes contain harmful chemicals, toxic ingredients and added fragrances that can damage the air quality in our homes and cause harm to our lung health. In fact, common household sprays and cleaners are a contributing factor in 1 in 7 adult asthma cases. On top of that, children exposed to these chemicals have a higher chance of developing childhood asthma.
Common toxic cleaning ingredients that can cause respiratory symptoms and cause irritation to those already struggling with lung illnesses include:
Bleach
Aerosols
Ammonia
Oven cleaners
Rug cleaners
These products contact volatile organic compounds (VOCs) which release harmful gasses into the air in our homes and can have lasting effects on lung health. Many store-bought cleaners are often labeled as clean and eco-friendly but still contain harmful and irritating additives. Though some store-bought cleaners are great, familiarizing yourself with these toxic ingredients can help you determine which ones aren't.
The easiest way to ensure you're not using these harmful products is to make your own at-home cleaners. Most of the ingredients needed to make these non-toxic and lung-safe cleaners are ones you probably already have at home. Some of these ingredients include:
White vinegar
Hydrogen peroxide
Castile soap
Borax
Lemons
Baking soda
Isopropyl alcohol
Salt
Essential oils are also great for those still wanting a fresh and clean smell, minus the harmful fragrance alternatives found in most cleaning supplies. When cleaning with essential oils, a little goes a long way. Make sure you're cleaning with ones that have good cleaning properties and won't cause any additional irritation to your respiratory system. Some lung-safe, allergy-proof essential oils include:
Lavender
Eucalyptus
Frankincense
Lemon
Peppermint
Pine
Creating these non-toxic cleaning products is fairly simple. Here's how to make an all-purpose cleaner that works great for cleaning most surfaces in your home.
Ingredients needed:
2 cups vinegar
2 cups water
Spray bottle
Citrus peel(optional)
Instructions:
Combine citrus peels and vinegar in an airtight container and let sit for about 2 weeks.
After the 2 weeks, strain the mixture so that you're left with just the vinegar mixture.
Put the citrus-infused vinegar into the spray bottle and pour in the water.
Stir to combine.
Cleaning your home should be a routine that doesn't make it hard to breathe. Going the all-natural route is the first step toward ensuring you're keeping you and your family's lungs healthy. For more lung-safe cleaning recipes and cleaning tips, check out the visual guide below: