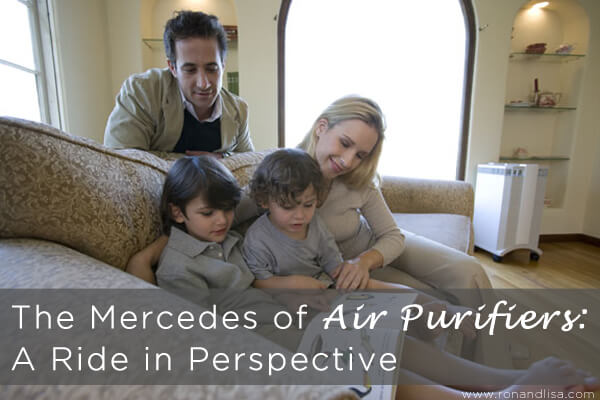 Vrrrrrrrrrrrrrrrrm! He zipped around the corner to passenger pickup. My eyes locked on the shiny black sedan, strutting to the sound of the rubber as it lightly squeaked against the concrete. The late afternoon sun reflected the silver emblem – a three pointed motif positioned inside of a circle. After a long flight to Frankfurt airport this is just what my jet-lagged body needed; a first class ride to my hotel in a Mercedes. Awwww, I thought. I must have really impressed my boss to deserve my own private car service. When you think of the brand Mercedes-Benz what comes to mind? Luxury? Top of the line? Attention to detail? High quality? Or, perhaps expensive? This all depends on your perspective. In Germany, much to my surprise, the vast majority of taxicabs are Mercedes-Benz vehicles. And no, my boss of many years ago did not order me a car service that day.
What we perceive as luxury transportation, the Germans experience as a norm. Hence, our vision of quality depends on our vantage point – or, perspective. How does this relate to indoor air quality – or "the umbrella to one's home," as I like to call it? This has been a heavy topic of conversation for us lately. The majority of you are confused about choosing the correct air purifier for your specific needs. And, rightfully so! After all, many fell prey to the sleek design and silent features of the Sharper Images Ionic Breeze, only to discover later that 1.) It didn't adequately clean the air; and 2.) It emitted ozone. Even the late addition of the OzoneGuard wasn't enough to save grace as the unit still emitted levels of ozone in the air (if you are still using one, please don't as ozone is a lung irritant).
If you have ever experienced any type of illness related to poor indoor air quality and are one of the 24 million Americans who suffer from asthma  (or, are one of 40-50 million Americans who suffer from allergies to airborne particulates), then you know that finding the best relief you get your hands on is non-negotiable.
Did You Know? The U.S. Environmental Protection Agency (EPA) estimates that each day we inhale the equivalent of "two teaspoons" of dust just by breathing the air in our homes. Exposure to household dust causes eye, nose, throat, and lung irritation.
We understand. This is why Ron and I decided to take a new look and delve deeper into an air purifier you may or may not be familiar with: the IQAir HealthPro Plus. In the last 10 years, Ron and I have tested every air purifier brand that we recommend and the IQAir HealthPro Plus is no exception. In fact, we put this IQAir system to the test in ways that far exceed what we've subjected the others to.
Initially, my first impression was that the unit is a force; a solid 35lbs in fact. Next was the care of packing and presentation. Each unit is factory certified and included with each unit is its own individual certificate of performance! It stands proud at 28" high and from a color perspective, is in a neutral grey/white color to blend with most interior decors. But, most important to us was – how well does it perform? We began thinking this was just a matter of doing a comparison test and seeing if this IQAir HealthPro Plus was good, better, or even the best in comparison. With two simple tests and a little channeling of our inner-CSI, we discovered the answer.
With the assistance of IQAir, we tested their HealthPro Plus in our own home with a piece of professional testing equipment called a handheld laser particle counter. It's a high-tech device that uses a laser beam to count every single particle in the air. We began by taking a reading in our living room where, much to our dismay, we discovered hundreds of thousands of measurable particles floating in every cubic foot of air we were breathing.
Next, we turned on the HealthPro Plus and placed the particle counter directly where the air comes out of the system. Our jaws dropped as the particle-count numbers themselves start dropping. It took all of about 20 seconds before the particle counter registered "0" (zero); meaning no particles can escape. I would say the proof is in the pudding, or in this case, the counting! Needless to say, the really air could not get any cleaner than it was now – removing a plethora of airborne allergens including the most common: pollens, mold spores, pet dander, and dust mite excrements.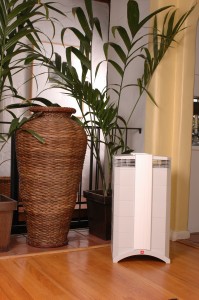 As you can gather, this has all made me hyper with excitement. Well, actually, the HEPA filter itself is hyper! Yes, you read that correctly. The HealthPro Plus contains IQAir's patented HyperHEPA filter. This is the secret sauce. Most air purifiers only filter down to 0.3 microns. That would be sufficient except for the fact that 90% of the air pollution we breathe at home includes particulates are smaller than 0.3 microns in size! Why do you care? Because "ultrafine" particles (0.1 microns or smaller) are the most harmful to one's health and of particular concern for asthma sufferers who are often sensitized to molecular irritants, as well as allergens.
Let's put this in better perspective – a micron is 300 times smaller than the thickness of one human hair. The IQAir Health Pro Plus, in turn, captures the ultra-small particles, literally removing as much as 100 times the amount of air pollutants and allergens other air purifiers miss. Apparently, I'm not the only one hyper with excitement. In 2002, IQAir become the first and only room air cleaner to receive a H12/13 certification for its HyperHEPA filters; normally only available in multi-million Dollar cleanrooms (truly making it the Mercedes of air filtration). The IQAir Health Pro Plus is actually tested and certified to filter particulates down to 0.003 microns with a guaranteed minimum efficiency of over 99.5%.  
So here's our conclusion: At $799 to $939, the HealthPro Plus costs more than many of its competitors. But, consider this – In many ways, you are what you breathe. Those tiny "ultrafine" particles are so small they go right from your lungs into your bloodstream. You can't see them, but scientific studies have linked them to asthma, heart attacks, strokes, even cancer. Whether you see them or not, they are in the air you are breathing. So, we must ask ourselves– What's the point of owning an air purifier if it can't protect you against the most harmful of particles? But, what makes this special is their claims aren't just words. IQAir has subjected their systems to testing, conducted by major third-party independent labs in Europe and by government agencies in the U.S., proving that their filters are effective.
Now that we've covered the most important job of an air purifier – that it effectively cleans your indoor air – there are some extra HealthPro Plus bells & whistles. For example, the plastics they use are non-off gassing, impact-resistant, UV-stabilized material. Then there's the LED light indicator letting you know when it's time to change the filter, and six fan speeds. And, the remote control that allows you to program the system for automatic operation via a day/night timer so you are not wasting energy running it when you don't need to. Here are a few more points about the HealthPro Plus:
An advanced V5-Cell filter that stops odors, chemicals and gases in the air.
All IQAir systems are 100% ozone-free and are certified by the IAACM (International Association of Air Cleaner Manufacturers).
All units in the US and Canada are covered for a full five (5) years against defects in parts and labor.
A toll-free number to speak with an indoor air quality expert 866-488-1918
Don't take our word for it. Take Consumer Search's who ranked them the Best Air Purifier as did Wired Magazine. Or, Consumer's Guide and Consumer Digest who ranked them Best Buy. Or, how about The American Lung Association – their sole educational partner for the air cleaner industry. The Health Pro Plus effectively filters up to 1,000 square feet. For those with loftier spaces, move over Bo Derek, because someone just raised the bar on perfection. For additional coverage, consider the Perfect 16 ; a whole house filtration option that works directly with your HVAC system.
Americans spent an average of $7,681 per person on health care in 2008, for an eye-popping total of $2.3 trillion. Air purification: a wise financial investment? Undoubtedly, but again, the decision depends on your perspective. We all know quality when we see it, drive it, or in this case – breathe it!
A special thanks to today's featured post sponsor, IQAir.  Enter now to WIN one HERE!