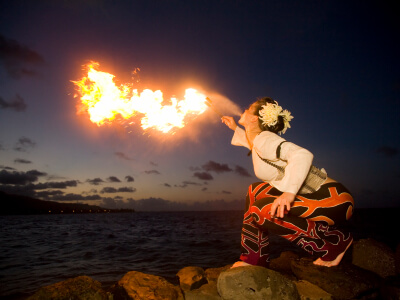 As a boy growing up in Reston, Virginia, I did have green trees and lakes surrounding our family home. But, it was also contrasted with the everyday amenities that we have all become accustomed to and sometimes find impossible to escape like shopping malls, cars, trucks, video games and movie theaters. I'd like to say I was in touch with nature but, unbeknownst to me, it wasn't until I moved to Southern California in my twenties that I realized a nature that I was untapped to. Living on the beachfront, albeit in a bachelor pad, I awoken my senses to the power of the ocean air, the sounds of the seagulls each morning and that smell that carries through the wind off the coastline to fill your lungs.
I had reached paradise – or so I thought. But, once again, I discovered the beauty of nature encased in a technology driven world that I could not escape. On the other side of the homes existed a power plant with an attempt to be disguised by a large Wyland mural of dolphins. Did a true natural paradise really exist? And, if so, where?
Fast forward to me meeting my amazing wife (and business partner), Lisa. Her mom resides in Hawaii and is married to a native Hawaiian. Lisa's love of the islands prompted us to choose this as the place where we would marry. It was through my time spent with the people of Hawaii, learning the culture and seeing how they respect the beauty around them that I finally realized, paradise does exist and we can all have it – if we just choose to respect each other and our surroundings.
The Hawaiians respect life in all forms and they are very much aware that without breath there can exist no life. Hence, the word 'Ha,' which means breath but also has many other meanings such as 'sacred breath of life' and 'exhale.' It seems so apparent, yet why do we take it for granted on continual bases? If there exists no life without breath, then what would a life be without a healthy breath – or the struggle to breathe? Many people today are faced with this challenge be it asthma, allergies, emphysema, COPD and more.
But, there is good news and solutions & answers do exist. First, we must tap into the knowledge our Hawaiian ancestors garnered and realize that breath is sacred. We have choices in the products that we consumer or bring into our homes that may be polluting not only our indoor air, but the air of our planet as well. We can add air purifiers into our home to absorb toxins, chemicals, odors and gases. We can supplement with plants and trees that produce oxygen into our atmosphere making the air cleaner for us – and our future generations.
However, here's where some people sometimes get dizzied, overwhelmed or confused with question like, "Which air purifiers are the best? What should be avoided?
and Why are there so many differences?"
A first rule of thumb is knowing what to avoid and one such component is ozone. The Austin Air cleaner does not produce ozone, ions, or negative ions. Ground-level ozone is essentially smog, and is formed by a chemical reaction between volatile organic pollutants (VOCs) and oxides of nitrogen (NOx) in the presence of sunlight. As a rule of thumb you should always avoid "ionic" air purifiers, which generate small amounts ozone. Far from cleaning the air, ozone pollutes it and can be dangerous to people's health This is especially true for people with respiratory problems such as asthma emphysema, and bronchitis.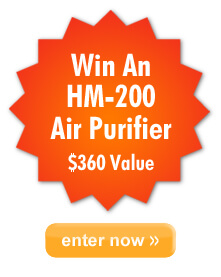 Second, you want to make sure the air purifier you chose has a three stage air filtration of an All True Medical HEPA filter, granular activated carbon and/ or granular zeolite filtration and a pre-filter for added protection. The Austin Healthmate contains all three types of air filtration and more. Other examples of filter systems that are in the market that offer value are electrolyzed water technology or UV light filtration. However, please note that they would still require the foundation of the three stage filtration of HEPA, granular carbon and or zeolite and a pre-filter to be effective.
HEPA filters stand for, High Efficiency Particle Arresting, and the filter was developed by the US Atomic Energy Commission to filter out sub-micron particles. All True Medical HEPA is laser-tested and must remove a minimum of 99.97% of all particulate matter greater than 0.3 microns in size. A human hair is about 300 times too large to penetrate a HEPA filter! The standard Healthmate air purifier contains 60 sq. ft. of All True Medical HEPA, making it a very strong value compared to other cleaners.
Activated granular carbon filters are effective at removing gas molecules and odors. Where as granular Zeolite is a natural mineral that has the distinct capability of adsorbing certain gas molecules. For example, Zeolite is particularly effective in adsorbing formaldehyde, ammonia and carbon monoxide. Each standard HealthMate unit has15 lbs. of granular carbon and zeolite, which is more carbon than some whole house air filtration systems!
The first filter in the Healthmate is the pre-filter (known as Permafilt ) which is a cotton cloth that lines the inside wall of the unit. The purpose of the pre-filter is to stop hair or large dust particles from clogging the HEPA filter. This provides for optimal filtration when combined with the other filters of the unit.
The Healthmate air purifier has been tested by some of the world's most respected testing labs like Battelle Laboratories and the U.S. Army Corp of Engineers. Extensive tests on flow rate, flow design, removal of vapors, gases and sub-micron particles have been performed on the Healthmate. As result of this testing, the Healthmate was chosen by the US Government to fulfill the largest deployment of air cleaners in American history and chosen by FEMA and The Red Cross to address the serious air quality concerns in post 9/11 New York.
There are so many benefits to owning the Austin HealthMate. For example, they use an energy efficient PSC motor, and running your air cleaner can use less energy than some light bulbs. The maximum draw is about 135 watts on the high setting or 1 cent per hour, average cost. Depending on the fan setting used, the noise level ranges from less than 50 to 65 decibels, or from the sound of a whisper to the sound of a normal conversation. The entire body of the HealthMate model is made of solid steel, which has been welded together to prevent any rattles. The paint used is powder coating, baked at 375 degrees Fahrenheit. This process eliminates any odor or off-gas emissions while enhancing durability. It is one reason why it is the favorite air purifier of people who are chemically sensitive.
The overall value of the standard Austin HealthMate air purifier is $500.00 and now you have a chance to WIN this GRAND PRIZE by attending and participating at the Just Green It Book Launch Event and Raffle on August 26th, 2010 at Environment Furniture store in Los Angeles, CA.  This incredible prize is must for any family looking to better the indoor air quality of their home. Does anyone in your family have asthma or allergies? Do you have pet dander from the animals in your home? Now you have a chance to win a powerful solution, with the Austin HealthMate air purifier.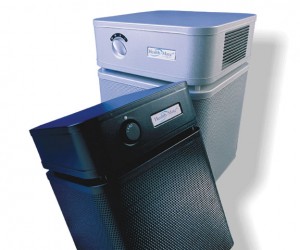 There is also an additional opportunity to WIN an Austin HealthMate 200 Jr. unit in the Ha' – "Breath of Life" & Air Purifier Contest! That's right. YOU can WIN a Healthmate Jr. in black for your home, office or loved one just by entering our contest (no purchase necessary). Make sure to forward to your friends & family so they can enter too!
It's worth noting that the Austin HealthMate air purifiers come in a variety of colors (i.e. Sandstone, Silver, Black and White) and models. There are two major sizes: Standard which Stand 23" tall and 14.5" wide and clean an area of 1500 sq. ft: and Jr. size units which Stand 16.5" tall and 11" wide and clean an area of 700 sq. ft. The also have specialty air purifiers outside of that standard HealthMate series (i.e. Allergy Machine, Pet Machine) and unique nursery colored air purifier models called "Baby's Breath" that come in colors of pink and blue. They were featured on NBC's Today Show.
While the initial costs of competing brands are comparable, over five years when you add the cost of filter replacement, the true cost of a competitors air cleaner can be almost five times the cost of an Austin Air Cleaner.
It may not be in your current budget to take a vacation to Hawaii, but that shouldn't prevent you from experiencing the fresh air the islands in your home! Right now, each Austin Air Purifier ordered is being offered with FREE SHIPPING on GreenNest.com. Check out GreenNest.com for additional information on Austin HealthMate includng videos and downloads.