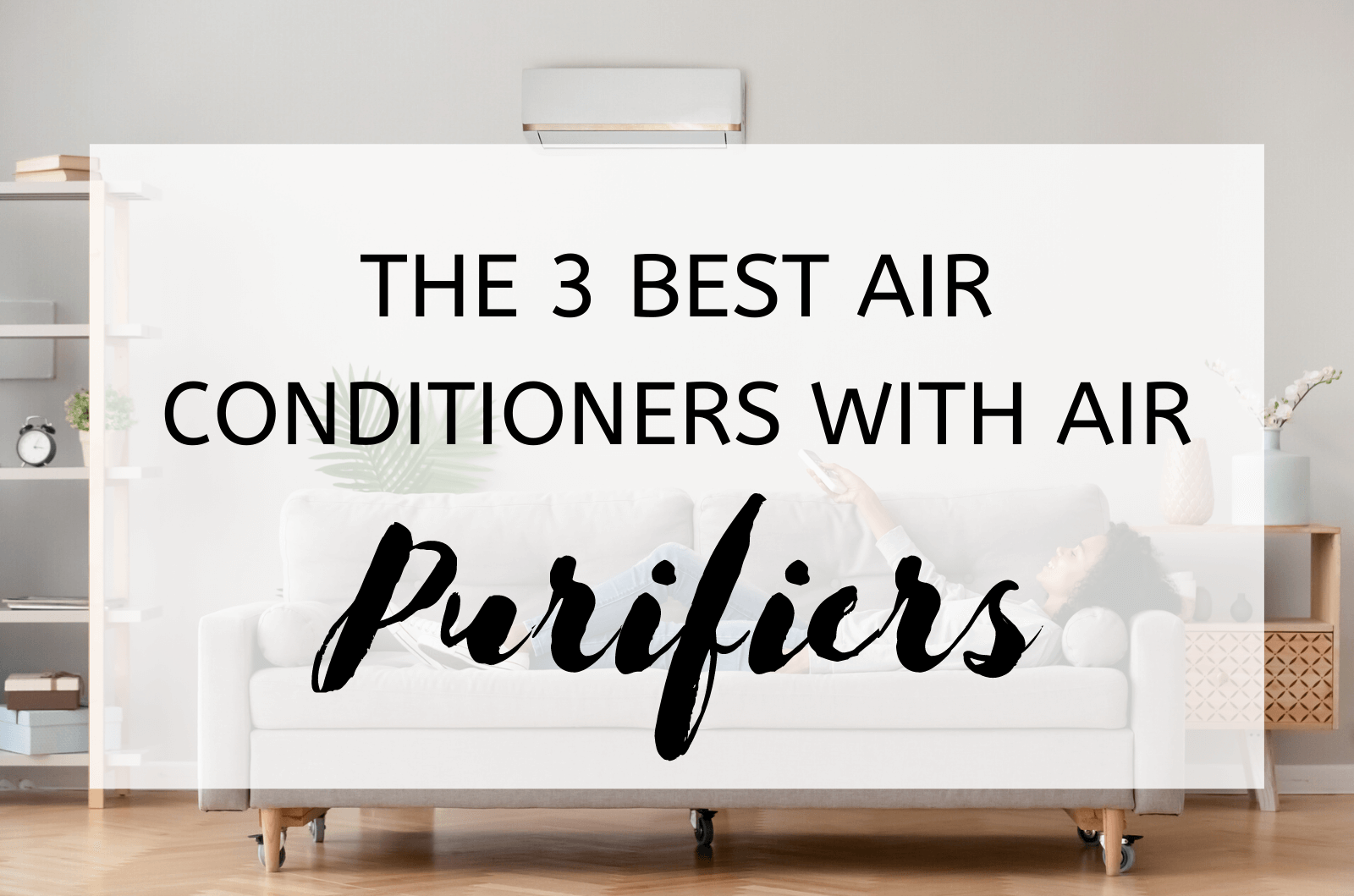 The majority of us prefer devices that can multitask rather than clutter our homes with the need for multiple appliances. Here are some of the best air conditioners that double as purifiers.
The best air conditioners with air purifiers
1. Dyson HP01 Pure Hot + Cool, HEPA Air Purifier, Space Heater, and Fan
2. Whynter Arc-14s 14,000 Btu Dual Hose Portable Air Conditioner
3. COSTWAY Evaporative Cooler and Heater, Portable Air Cooler
We're all familiar with the invigorating feeling generated from breathing in the fresh air. Regardless of the landscape, be it the beach, the forest, or hiking in the mountains, the fresh air that's breathed outside in nature is restorative. The main reason is due to the lack of numerous pollutants in this air. This is why it's much easier to inhale deeply in these geographic locations.
The most effective way to remove pollutants from the indoor air is to purify the air; this doesn't mean that you should open your windows since undesired climate or poor air index quality could be factors. The surest way to improve the quality of air inside your house is by using a portable air purifier.
Comparing the best air conditioners with air purifiers
While air conditioners and air purifiers are completely different in what they do, some manufacturers have combined their functions and placed them in one device. This means that you can achieve cool and purified air from a single product.
However, with this type of technology still fairly new to the market (unlike single air conditioners and air purifiers), it can be a daunting task trying to find the right one.
Fortunately, we have done the research to share the best air conditioners with an air purifier combo. Here's our recap of the best 3 air conditioners with air purifiers.
At the top of our list is the Dyson HP01 space heater and air purifier. This product makes it possible for you to air condition your living space to your preferred temperature while also helping to get rid of all pollutants in the air.
Its HEPA filter can clean out 99.97% of airborne contaminants as small as 0.3 microns. This means that pollutants like dust, mold, dander, gases, smoke, bacteria, etc., have no chance to stay in the house.
The Dyson HP01 also has a digital screen indicator that shows you in real-time if the device is heating, cooling, or purifying the air. Unlike most other products, this air conditioner and purifier combo gives you complete control over features like airflow, temperature levels, oscillation direction, etc. All these you can achieve with a remote controller.
Key features
Air purification, heating, and cooling in one device
77 gallons of airflow per second
10 adjustable levels of airflow
360° coverage for both detection and purification
Oscillation control
Sleep timer
Automatic shut off if tripped
Night-mode: Uses the quietest settings
Pros
Premium, elegant design
Effective purification
Hot mode evenly heats up the room
Comes with an air conditioner and air purification combo
Well-designed app for remote operation.
Cons
Quite pricey
Bottom line
The Dyson HP01 Pure Hot + Cool, HEPA Air Purifier, Space Heater, and Fan is one of the most technologically advanced air conditioner and air purifier combos. Although it comes with a steep price tag, it is ideal for someone that's seeking to kill two birds with one stone, and still does not require the extra space in the house.
If you're only interested in dedicated air conditioners or air purifiers, you might save a significant amount of money by getting a single-tasking model. Nevertheless, with all its capabilities, sleek design, and efficiency, the Dyson is a unique and worthy purchase to consider.
Get the Dyson HP01 air conditioner and air purifier combo here.
The Whynter Arc-14s is a portable air conditioner with an air purifier capability. It is a sleek unit with an incredible 14,000 BTU rating. It also has a broad coverage as it can comfortably cool a 500 sq. foot room. Besides that, it also comes with a 3-speed fan level and a dehumidifying ability.
Thanks to its high-end activated carbon filter and a pre-filter, the Whynter Arc-14s is all that you need when looking for an air conditioner and air purifier combo. Moreover, its dual hose system makes it ideal for those seeking a device to control the temperature much faster.
Just like most modern air conditioners, operating this machine is a breeze. The onboard control panel, wireless remote control, and comprehensive digital display make it easy to change between modes.
Key features
Its double filtration (activated carbon filter and pre-filter) make it an ideal air purifier that improves the quality of the air that you breathe.
It has an ASHRAE rating of up to 14,000 BTU cooling capacity.
Cleans and conditions air on up to 500 sq. ft. of space.
Pros
Dual hose operation
Activated Carbon Filter
3 in 1 functionality
More energy efficient than most other 14,000 BTU units
Cons
It is not Wi-Fi enabled for remote operations
This is one of the largest and heaviest portable AC units in the market. While most other units weigh between 50 lb. and 70 lb., this product weighs over 80 lb.
Bottom line
Although with a lower SACC and energy efficiency compared to other top-rated ACs, the Whynter Arc-14s still comes with its perks. For starters, you get both an air conditioner and air purifier in one device, which isn't so easy to come by. This dual hose portable AC may be on the more expensive side, but it's still worth the price, in the long run.
Get the Whynter Arc-14s portable air conditioner and air purifier combo here.
The Costway air conditioner and air purifier combo is yet another product to consider. You can use it as a cooler, heater, dehumidifier, and air purifier. With 3-speed fan levels to match your needs, you can be sure to get the most from this device.
There's a PTC heater to keep your room warm during the cold seasons. The swing makes it easy to spread the heat across the room equally. There's also a 7-liter water tank and two ice-crystal boxes that ensure that you receive cool air in your indoor space whenever you need it.
Apart from its effective temperature control, the product also detects and cleans air pollutants, sanitizing the air that you breathe. It helps get rid of most air contaminants like dust, pollen, pet dander, odor, and smoke.
Key features
This is a 4-in-1 machine with a heater, cooler, dehumidifier, and air purifier.
It is remote-controlled for a seamless operation.
It uses a PTC heater mechanism to keep your indoor spaces warm.
There are 3 levels of fan speed to suit your different needs.
Pros
Includes a window kit
Dehumidifying capacity of 50 pints per day
3 in 1 functioning
Cons
No check filter indicator
Bottom line
All in all, the Costway Portable Air Conditioner is quite a decent product. It has all the main features that you would look for in an air conditioner and air purifier combo. Besides, it is a lot more affordable than other similar units.
Get the Costway air conditioner and air purifier combo here.
No one is safe from pollutants inside our homes. The safest way to remove the plethora of contaminants in your indoor air is to get an air purifier.
What if you also want an air conditioner? Turns out you don't have to purchase multiple devices. With our comprehensive guide, you are in a better position to obtain the best air conditioner with an air purifier. Which air conditioner and air purifier combo do you like the most? Let us know in the comments below.
Related Articles
Frequently Asked Questions
What's the main difference between air conditioners and air purifiers?
Air conditioners assist in creating a cool airflow or changing the surroundings to the temperature of your liking. They are also known to help trap large dust particles while reducing humidity. On the other hand, air purifiers improve air quality by trapping and removing pollutants like finer dust particles, pet dander, smoke, and bacteria.
Is an air conditioner and air purifier combo effective?
Yes. However, this will depend on the specific brand that you choose. We have highlighted some of the best air conditioners with air purifiers to consider.
Do air conditioners help with dust?
Air conditioners help with large dust particles by trapping them through their filters. However, you should consider an air conditioner with an air purifier combo if you seek to eliminate dust problems completely.
Disclaimer: *This post contains affiliate links for your shopping convenience. You still pay the same price but we might earn a small commission. Thank you for supporting the brands we love and trust.