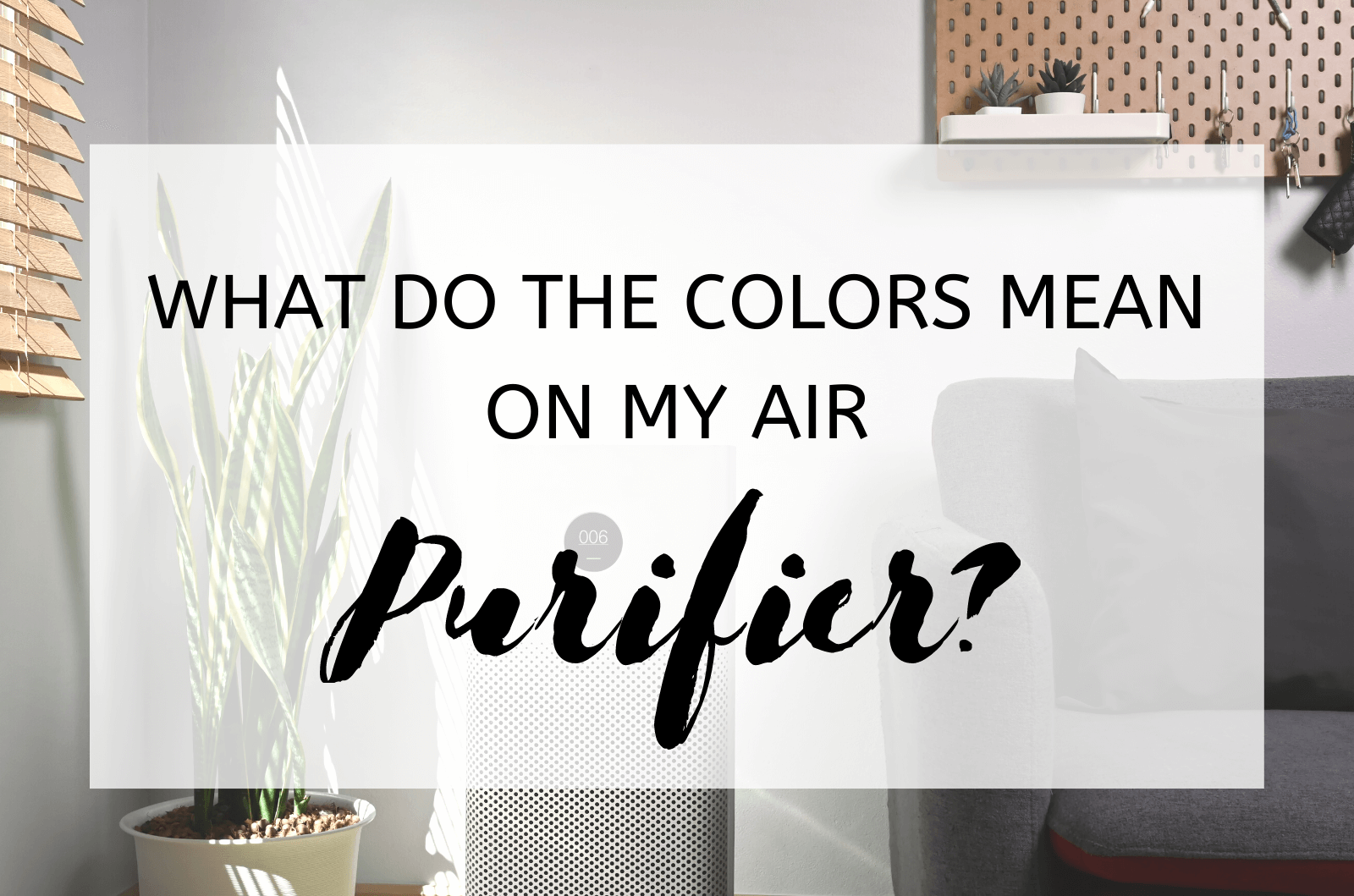 Does your air purifier display any colors, whether by blinking or steadily exhibiting one or more colors? Here's what you need to know about the colors shown on your air purifier.
Air purifiers are no longer a luxury; they've become an necessity in our homes today. Air purifiers do a great job of protecting us against dust and other airborne hazards. But what do the colors mean when displayed on an air purifier? It is crucial to not only know the best spot for air purifiers to be placed inside your home, but what a color code may be indicating in order to help you diagnose a potential problem.
Have you ever looked at the color illuminated on your air purifier and wondered what it means? You might ask yourself if this is normal or if something is faulty with the device. Or, you may be about to purchase an air purifier but have questions regarding what the color codes mean. If you're unsure, this article will help you interpret the colors depicted on your air purifier.
What are the Different Colors?
Many USA-made air purifiers display varied colors depending on the air quality in the room. While the colors and interpretations are similar across most brands, your air purifier may not necessarily display all of the colors.
The most common colors are blue, green, and red. The blue color may indicate the air quality is good, while a red represents the worst air quality.
It is also important to note that other colors denote whether the filter is working normally or if it needs a replacement.
Other colors you may find displayed include:
Blue, both steady and flashing
Red
Orange
Dark purple
Green
Blue
A steady blue color means that your air purifier is running fine. This is most common in the Blueair Classic series, Sense+, or Sense+ with Alexa.
It also means the air quality in the home is clean, and you can either turn the air purifier off or reduce its speed.
If the light is flashing blue, a timer has been set, and the unit will turn off in an hour.
If you have a Blue Pure 121/211/211+, Light, or Light+ air purifier, your device's color display will read "On" when it is working normally.
Flashing Blue Light
When your air purifier is on, the timer light may blink blue. This means you have set the timer, and your machine will turn off in one hour.
To set the timer for one hour, press the "Timer" button on your remote or control panel until you hear a single beep sound.
The timer can also be set for two hours (two beeps), four hours (three beeps), eight hours (four beeps), or 12 hours (five beeps). You can set the timer while your air purifier is on or off.
Red
If your air purifier displays a red light on the front of the machine, typically the filter needs to be replaced, or in some cases cleaned. You may need to hold the button down for ten seconds after replacing it to reset the timer.
Red blinking

You may alternatively see a red blinking light at other times. This indicates it's time to change or clean the filter also.
Some models will beep when it's time to replace the filter, but the blinking light serves as an additional reminder if you don't hear the beeping.
The recommended solution is to replace the filter so that you can continue enjoying fresh and pure air.
Steady Red Light
A steady red light could mean your main filter has reached its maximum operating period.
If your air purifier is always displaying a red light, do the following
Check to see if the filters have a mechanical problem
Check if the air sensor is clean. Air purifiers help with dust, and sometimes it settles on the filter causing it to interpret the room's air quality as bad
If your air purifier has washable pre-filter, check to see that they are clean and wash and thoroughly dry it
Whenever you change the filter, the light should revert to blue. To know if the filter is okay, it may turn to red if contaminated, then to green, and then back to blue. If you've tried this and are still having problems, contact customer service for help.
Orange
Some air purifiers will display an orange light. It should not worry you as this is normal. The air cleaner is notifying you the filter is nearing its shelf life and needs replacement.
You might continue using the filter, but the air may be unhealthy for sensitive groups of people.
Green
When an air purifier is on, it will first indicate red to show it is functioning correctly and measure the air quality.
If, after a few minutes, it shows a green light, then the air quality in the room is relatively healthy.
Yellow or Dark Purple
This color shows that the air is moderately polluted, and there is no need to worry. Nevertheless, you should continue monitoring and change it if it turns red.
Generally, the coloration of an air purifier refers to different stages in the filtration process.
A purple air purifier might mean it uses a pre-filter to remove larger particles. In contrast, an orange air purifier might mean it uses an active HEPA filter to collect dust and pollen.
However, these are generalizations. Some manufacturers will be more specific about these colors. Be sure you read the instructions in the owner's manual if you have any questions or concerns.
In addition to understanding each color's function, you may also want to consider what the colors say about the air quality. If your colored lights seem dimmer than usual, it may indicate that your air filter is beyond dirty and needs to be replaced immediately.