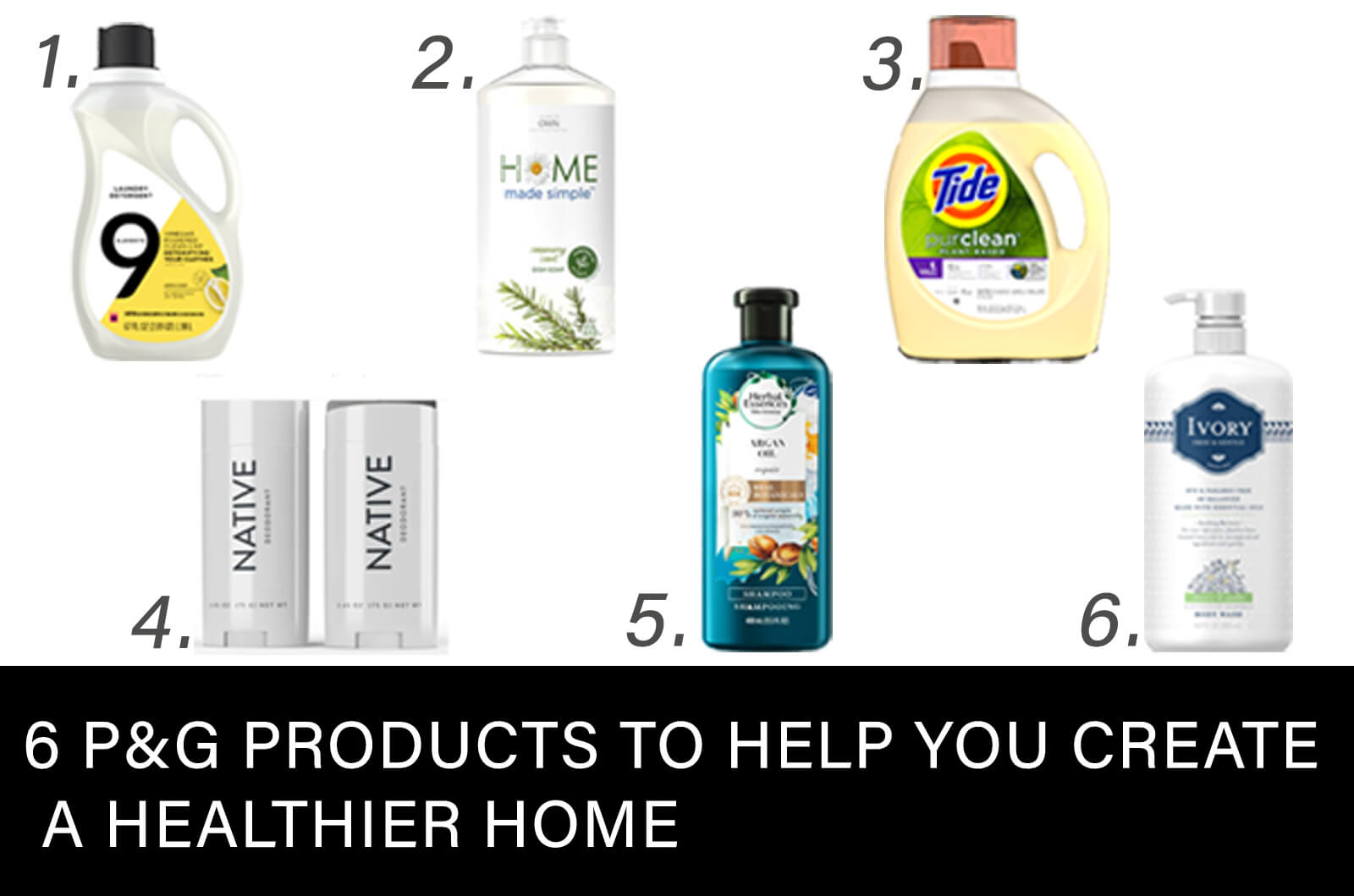 This post may come as a bombshell to those of you who've been accustomed to our focus on small- to mid-sized, natural and eco-friendly consumer brands as well as to our readers who may have preconceived notions about the integrity (or, lack thereof) of some corporate giants. Today, however, we're thrilled to share six sustainably-centric, cruelty-free and healthy household products created by the largest manufacturer of consumer goods in the world, P&G (Procter & Gamble) that just might knock your toxic socks off.
Behind the Scenes at P&G


As Baubiologists and for over fifteen years, Ron and I have studied how the plethora of toxins found in homes today affects our health and the living environment. Hence, when we recently trekked miles through the corporate headquarters of endless testing facilities and on-site laboratories, then sat down with some of the not-so-familiar faces behind the Procter & Gamble Company to discuss product ingredients, we were all ears. No questions were off-limits. We approached each conversation armored for possible battle and potential greenwashing. Most of us have read Dr. Seuss' The Lorax, yes? But what followed suit was not a meeting with the Once-ler. Rather, a private peek into a company that actually does care, a whole awful lot.
The P&G headquarters is a massive structure of buildings and a cornucopia of addresses as you might expect, but every employee we interacted with was helpful, professional and genuine. The interior walls were drenched in vibrant colors while engaging meeting spaces and open cafes flanked the interior walls to create a cohesive atmosphere. We witnessed workers encouraging and supporting each other across various departments, while executives heeded our feedback; showing pure humility and modestly. What we experienced was a firsthand, in-depth look into what it takes for a company of this magnitude to research, test, operate and sell consumer products that do what they say at a price most families can afford. Were there some areas that we'd like to see improvements in? Absolutely. We shared these concerns loudly with several of the head scientists (a diverse team consisting of more than 500 – many surprisingly female – who instill a rigorous safety process to analyze every ingredient), toxicologists and members of the marketing team. We applauded their efforts, but also expressed that we represent you – the concerned parent, wife, teacher, nurse, etc.; those of us who need to know that brands we trust genuinely care and will strive to create products that don't pose harm to human health or the planet. They listened.
As the day unfolded and much to our surprise, we observed an immensely positive culture ensue at the Cincinnati-based headquarters. We didn't encounter a bunch of stuffy suits concerned merely about their bottom line, shareholder profits or ways to cut corners. On the contrary. The amount of rigorous testing and compassion for product excellence was no more apparent via the onsite laboratories, infinite rows of washing machines, stacked dryers and myriad of dishwashers that spanned miles.
We even toured an onsite museum that humbly depicts the company's successes and failures throughout their 181-year history. Founded in 1837 by brothers-in-law, William Procter and James Gamble, Procter and Gamble, the small soap and candle company has today grown to great heights. While they don't claim to be perfect, P&G does claim to strive for greatness, taking each failure as an opportunity for improvement. Here are some eco-friendly efforts and products that we give a major green thumbs up to and think you will, too.
P&G's Full Ingredient Transparency
The global fragrance market is increasing and is projected to be worth a whopping 92 billion U.S. dollars by 2024. However, the terms "fragrance" or "parfum" on the label of a household cleaner, air freshener, shampoo, lotion, deodorant, or bottle of your favorite perfume can legally hide dozens – even hundreds – of chemicals under the guise of trade secrets. This is a problem for those who unknowingly expose themselves to synthetic ingredients that scientific evidence has linked to cancer, endocrine disruption, asthma, allergies, skin issues as well as water and air pollution. Therefore, something we loathe is not being able to see the full ingredient list of what's contained in the products we purchase.

With big bottom lines and the lion's share of retail shelf space comes big expectations from your family and ours. Here at the Healthy Home Dream Team, we expect that if you are going to dominate the marketplace, you have a social responsibility to our planet and the people and animals who inhabit it. P&G has certainly received its fair share of pressure from advocacy groups over the years demanding improved corporate sustainability, recycling efforts and perhaps most importantly, full ingredient transparency. The good, no great, news is they've acted.
In 2017 P&G announced that it would voluntarily list the ingredients making up the ambiguous 'fragrance' that shows up on many product labels. There are over 2,000 P&G products that will have fragrance ingredient information available online. This sweeping change affects products sold in the US and EU markets involving personal care and cleaning. The goal is to expand this information in 180 countries. The self-imposed rule discloses ingredients down to the 100 ppm (0.01percent) level.
There are several ways in which you can access the specific details for what the 'fragrance' term is referring to. The easiest method is to scan a QR code on the product's label. P&G uses a platform called SmartLabel in North America that details information about the 'fragrance' ingredients. P&G also has an extensive 'red list' on its website that reveals all of the ingredients common to the 'fragrance' label that they avoid using. As of January 2020, the fragrance ingredients are available for viewing via the SmartLabel system.
Ingredients P&G Doesn't Use
Some most common materials that are not used in P&G ingredients within any formulated products (health care, skin, and personal cleansing, hair care, laundry, home care, and oral care) include:
Alkylphenols and alkylphenol ethoxylates
Benzene
Bisphenol A (not in formulas)
Heavy metals: Arsenic, Lead, Chromium VI, Mercury, Cadmium, Nickel
Microbeads
Organotins (TBT, DBT, MBT, DOT)
PVC (not in formulas)
PAHs (Polycyclic aromatic hydrocarbons)
PCBs (Polychlorinated biphenyls
Phthalates (not in new formulas)
Triclocarban (not in new formulas)
P&G's Other Chemicals of Concern
1,4 dioxane: Household cleaning products are at or below 25 parts per million (ppm) and many are even below 10 ppm; beauty products are reliably at or below 10 ppm. The brand is continually working to reduce and/or eliminate 1,4 dioxane.
Phosphates: Removed phosphates from over 95 percent of cleaning products already—and are working to eliminate the remaining 5 percent from consumer products over the next few years.
Triclosan & Triclocarban: Eliminated triclosan from products globally and have an exit plan for remaining uses of triclocarban.
Microbeads: Removed microbeads from all P&G facial/body cleansers and toothpaste formulas; today the products are now manufacturing microbead-free.
Fragrance: Excluded over 140 ingredients from their fragrances – more exclusive than the list of ingredients banned by the International Fragrance Association.
P&G's Sustainability Goals: Ambition 2030
As of 2019, 88 percent of P&G packages are considered recyclable. The company has also created the world's first recyclable shampoo bottle made with up to 25 percent recycled beach plastic. But the green buck doesn't stop there. Here is a sneak peek into sustainable changes that the consumer conglomerate plans to have in place by 2030.
DID YOU KNOW? P&G is now purchasing 100 percent renewable electricity in the U.S., Canada, and Western Europe.
1) Goal: 100 percent of leadership brands will enable and inspire responsible consumption
a.) 100 percent of packaging will be recyclable or reusable
b.) Brands are transparent about ingredients and share safety science
c.) Brands reduce supply chain impacts
2.) Goal: Reduce the use of virgin petroleum plastic in packaging by 50 percent
a.) Reducing the amount of virgin plastic by half by 2030
b.) Avoid the use of over 300,000 tons of virgin plastic (estimate)
c.) Ensure 90percent of product packaging is recyclable.
3.) Goal: Build even greater trust through transparency
a.) Ingredients for Good
b.) Publish fragrance ingredients down to 0.01percent for all fragranced products in the US and Canada (done)
c.) Pampers Pure (Crafted with premium cotton, soft plant-based materials, and other thoughtfully selected materials)
d.) Tampax Pure (100 percent organic cotton core, 90 percent plant-based plastic applicator)
e.) EC30 is a new waterless cleansing product form (for home and body) that formulates without preservatives or water, reducing the demand for water in production and can be more sustainably transported
f.) All P&G formulated products will share accessible ingredient information online
g.) Partner with organizations like PETA and HSI to help accelerate a global ban on animal testing of beauty products and work towards a world without animal testing of any consumer products
h.) TerraCycle's Loop tests Reusable Packaging. In 2019 they joined test programs in New York and Paris with TerraCycle's groundbreaking Loop platform, a new circular shopping model that offers a variety of household favorite products in durable, refillable packaging. Once the containers are empty, Loop collects and cleans the packaging that can then be put back in the circulation loop for reuse
4.) Reducing supply chain footprint
a.) 100 percent renewable electricity and cut GHG emissions in half at P&G sites
b.) Sites will deliver a 35 percent increase in water efficiency and source at least five billion liters of water from circular sources
c.) Advance at least 10 significant supply chain partnerships to drive circularity on climate, water, or waste
5.) Protect and enhance the forests we depend upon
a.) Increase use of Forest Stewardship Council (FSC) certified fiber to 75 percent across all Family Care brands by 2025
b.) 100 percent of the wood fiber used to make Bounty is from responsibly managed forests
6.) Create solutions so no packaging finds its way to the ocean
a.) Figuring out holistic solutions so that no P&G packaging finds its way to the ocean
7.) Protect water for people and nature
a.) Tide HE Turbo saves an estimated 260 gallons a year per household by helping high-efficiency washing machines rinse to spin easily
b.) Households using Swiffer Wet or WetJet can save more than 70 gallons of water per year compared to the standard mop and bucket
8.) Advance recycling solutions for Absorbent Hygiene Products
a.) Pampers used this technology to recycle used diapers into bottle caps and viscose, a semi-synthetic fiber. Plan to have this recycling practice operational in 10 cities across the globe by 2030
6 P&G Products to Help You Stay Healthy at Home
1. 9 Elements – A new, vinegar-based household cleaning brand, 9 Elements, includes laundry detergent, fabric softener, a multi-purpose cleaner, and hand dish soap. Founded by two female P&G scientists, Sarah and Sunny, 9 Elements is appropriately named since each product never contains more than nine ingredients. With scents like lemon and rosewater, every product boasts vinegar as its main ingredient while deriving scents from essential oils or a single component ingredient.
The laundry detergent is specially formulated to not irritate sensitive skin. This doesn't mean it's less powerful than other detergents, given it removes armpit stains more effectively. The purifying softener is also made for people with sensitive skin, yet it can still effectively return vibrant color to faded clothing. The foaming dish soap includes lemon and rosemary essential oils, which help in removing the odors that kitchen sponges tend to amass. The multi-purpose cleaner acts quickly and can be used safely on stainless steel, ceramic, and hardwood surfaces.
2. Home Made Simple – Adheres to the EPA Safer Choice certification, as well as USDA standards with up to 95 percent of the ingredients being derived from plants. The Home Made Simple products are free from many additives including parabens, phthalates, phosphates, and dyes. The bottles themselves are completely recyclable and a quarter of the plastic they're sourced from is post-consumer recycled plastic. Under this brand, the laundry detergent boasts 75 percent of its ingredients from plants while the laundry detergent is a powerful stain remover, it won't irritate the skin. Another product, the multi-purpose cleaner, generates 80 percent of its ingredients from plants. Finally, like other green hand soap brands on the market, 85 percent of the foaming hand soap ingredients are plant-based.
DID YOU KNOW? Two percent of P&G's manufacturing sites are zero manufacturing waste to landfill.
3. Tide Pureclean – Meet Tide's first USDA BioPreferred certified plant-based detergent that's produced in a zero-waste plant powered by renewable energy. 75 percent of the ingredients within this product come from plant sources, yet it's just as powerful as synthetic formulas. Free of dyes, phosphates, optical brighteners and ethanolamine, the unscented version (our pick) is free of fragrances. Contained within a completely recyclable bottle, Tide Pureclean is produced at a facility where absolutely no waste is generated or sent to landfills and every bottle is made with 100 percent renewable wind-powered energy.
4. Native Deodorant – Native never use aluminum, parabens, or sulfates in any product. They never test on animals and all of their products (deodorant, bar soap, body wash, and toothpaste) are crafted together in the USA using vegan ingredients. Deodorant scents include Coconut Vanilla, Charcoal, Cucumber Mint and more and are available in men's and women's scents and as sets. Check out the fluoride-free charcoal toothpaste – it's one of our faves.
5. Herbal Essences – These two new BioRenew shampoo products are free from any sulfates. Instead, they source 90 percent of their ingredients from natural sources. This line features a new commitment to shine a light on the staggering loss in biodiversity on the planet in recent years. Unless drastic measures are taken now, it may take millions of years for biodiversity to recover from human-caused environmental destruction and degradation. The Environmental Working Group has awarded BioRenew the coveted EWG Verified certification.
6. Ivory Free and Gentle – A new formula made with sensitive skin in mind, there are no artificial dyes, parabens, or harsh chemical cleansers in Ivory Free and Gentle. Essential oils provide effective results that synthetic alternatives usually provide. This has become the most recommended moisturizer by dermatologists.
Disclaimer: This post is not sponsored or endorsed. All opinions are our own.