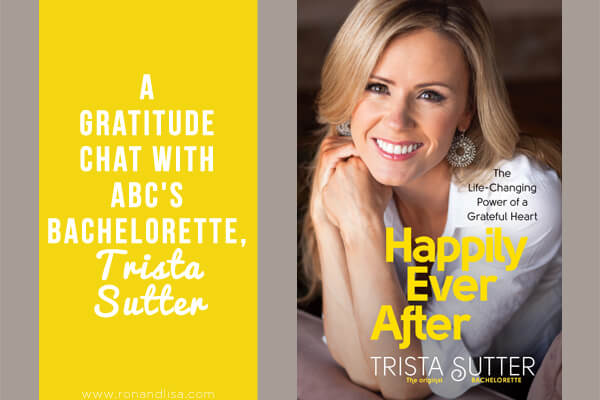 When you meet the effervescent Trista Sutter from ABC's The Bachelorette, you may initially feel a bit green with envy of her inner and outer beauty, completely adorable family and positive personality. But, you'll soon realize, that this mom of two doesn't take her blessings for granted. In fact, she's written a new book, Happily Ever After (see details below to WIN your own copy), detailing her struggles, victories and how appreciating every moment keeps her grounded. Having worked directly with the Sutter family to help create a healthy + green nursery for baby Max, we know their core values are not just about themselves; but of community and the well-being of planet earth. With a little gratitude twist on James Lipton's Inside the Actors Studio questions (based on Bernard Pivot's concept) we thought it would be fun to take a peek into Trista's life and find out what she does to keep her life healthy, happy and well-balanced. Ohhh, and don't forget to visit our Ron & Lisa's Favorite Healthy Things: 2013 Holiday Gift Guide where we feature Trista's book and some uber-cool gratitude gifts from her new collection!
L: What is your favorite gratitude quote or word?
T: Starting off with the hard questions! 😉 I actually have an entire journal dedicated to quotes and used them throughout my book as a way to convey different ideas, so choosing one is not easy. For you, though, I took on the task and chose the one I end the book with…
Thomas Wilder once said, "We can only be said to be alive in those moments when our hearts are conscious of our treasures."
L: What is your least favorite word?
T: As a mom of a 4 & 6 year old, anything said with a whine.
L: What inspires you?
T: First and foremost, my family. My kids see life through innocent and pure eyes and my goals as a mom include giving them a life full of happiness, keeping them safe, making them proud, and introducing them to the beauty of the world around them. My husband, Ryan, constantly shows me what it means to be a good person and I am constantly striving to be more like him.
L: What turns you off?
T: Pessimism, insecurity without reason, disrespect, lack of considerate behavior, wasted time, and egotism.
L: What sound do you love?
T: That's an easy one…laughter, especially that of my children.
L: What sound do you hate?
T: You can probably guess by my earlier answer, but whining.
L: On your Twitter page, you do something called Favorite Part of the Day (#favepartofday), which I love! If you had to choose one thing, what is it that you are most grateful for in your life right now?
T: Without a doubt, my family and the joy that they bring me on a daily basis.
L: Do you currently do any type of daily practice (ie: meditation, yoga, etc) to stay focused and balanced?
T: Besides posting my #favepartofday and trying to reflect on the blessings of my day, I try to exercise as much as possible. It plays a huge part in keeping my mind focused and in my ability to stay organized and balanced.
L: You are one of the rare reality-TV relationships to make it to the altar and beyond. If you could give married couples one tip for a long lasting and happy marriage, what would it be?
T: Make sure to prioritize the relationship with your significant other at the top of your list. You are the foundation of your family and for that foundation to stay strong; it needs your time and energy.
L: If heaven exists (which it does, sorry James), what would you like to hear God say when you arrive at the pearly gates?
T: I am proud of you. Welcome.
One of my favorite quotes is 'To those whom much is given, much is expected.' ~John F. Kennedy. I am proud to share this interview with you and honor someone who really embraces the meaning of this quote and has set the bar high for others in the spotlight to follow!
Who's ready to WIN a new copy of Happily Ever After by Trista Sutter? Details below…
Related Articles:
Green Your Routine – In the Bathroom!
Tired of Yellow Headlights? Make 'Em Shine, On a Dime!
Corn: The Good, The Bad & The Ugly
A Fresh Take: From Farm to Table
Discovery's Planet Green TV: Green Home Makeover with Ron & Lisa!
A Glamour Girl Goes Green from Head to Toes
How to Enter:
For every action below that you complete, you receive a specific number of entries. Click each individual action to enter yourself. For actions you have done in the past (i.e. you are already a fan of Trista Sutter or RonandLisaTheHealthyHomeDreamTeam on Facebook) just click directly on 'I did this'. The eligibility of the winner will be verified by The Healthy Home Dream Team®.
There is no mandatory entry. Each action will earn different numbers of entries into the contest. You may Tweet or share on Pinterest, Google+ or your Facebook wall for an entry once per day. All other actions will only be counted once. You must be 18 or older and reside in the United States to win. Contest ends 12/27/13 at 12:01am ET. Click here for complete terms and conditions.