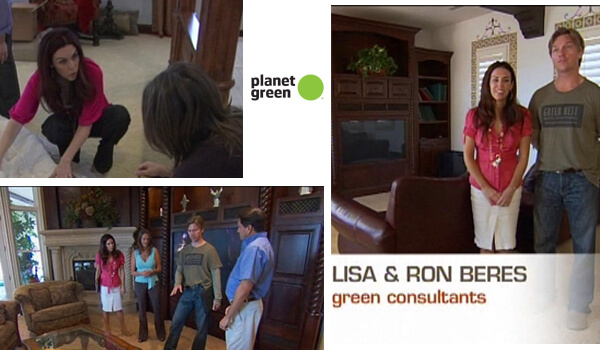 Ron and Lisa Beres, The Healthy Home Dream Team®, appear on Discovery's television show on Planet Green™, Greenovate. Watch as we transform the home of a local Southern California family of ten into a healthy haven.  Each of the eight children received a green bedroom makeover to turn their eco-dreams into a reality (yeah, yeah – we're all a bit jelly of these lucky kiddos) – a Parisian-themed room, Hollywood-glam, and a log cabin fit for a four year old – just to name a few. But, the true magic lies behind what you can't see with your eyes.  After a full healthy home consultation and assessment, we required that a special graphite paint to shield EMF's (electromagnetic fields) be painted in every room; followed by fresh coats of zero VOC paint in choice of color!  Each child (and their super-fabulous parents) received organic mattresses, pillows and linens in addition to a room sized HEPA air purifiers to assure a solid…and healthy night's sleep.
Related Articles:
Green Your Routine – In the Bathroom!
Tired of Yellow Headlights? Make 'Em Shine, On a Dime!
Corn: The Good, The Bad & The Ugly
A Fresh Take: From Farm to Table
A Glamour Girl Goes Green from Head to Toes
ABC's The Bachelorette, Trista Sutter: Her New Book + A Gratitude Chat with Lisa Beres
How does the family like their new digs?  WATCH BELOW to find out!  And don't worry…it's o.k. to be a little green with envy!