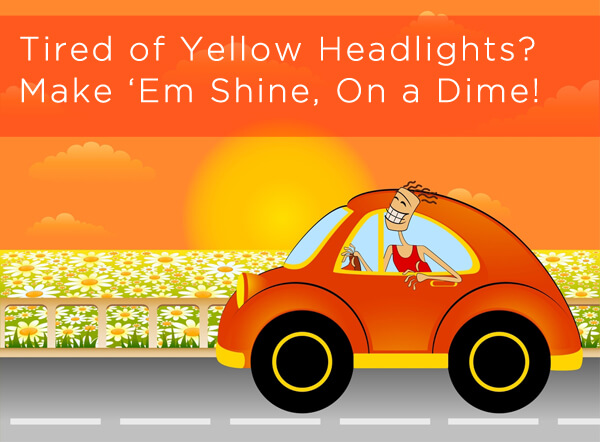 Chances are if you're like Ron and I, you have experienced a yellowing of your vehicle headlights at one time or another.  It's no fun – especially when you pay your hard earned dollars on a professional car wash; only to find your shiny exterior has suddenly lost its luster when butted up against hazy headlights.  We were both quite frustrated and convinced this dirty film must be on the inside, but were informed by the automotive pros that this is almost always not the case.  What happens with these acrylic covers, found on most cars today, is that the clear UV coating gets worn off via outdoor pollution, environmental factors and even car wash bristles and detergents.  So, what's a dull and dingy headlight owner to do?  You can do one of (3) things to restore their shine:
1.)    Spend a hefty sum on a professional buff at the car wash or auto-detail shop
2.)    Purchase a headlight restore kit (like those shown on many infomercials)
3.)    Or, for mere dollars (and gas saved from avoiding a trip out), you can attempt our tried and true method…toothpaste!
Related Articles:
Green Your Routine – In the Bathroom!
Corn: The Good, The Bad & The Ugly
A Fresh Take: From Farm to Table
Discovery's Planet Green TV: Green Home Makeover with Ron & Lisa!
A Glamour Girl Goes Green from Head to Toes
ABC's The Bachelorette, Trista Sutter: Her New Book + A Gratitude Chat with Lisa Beres
WATCH below as Ron puts the DIY headlight cleaner to the test.  These eco-friendly results may surprise you!