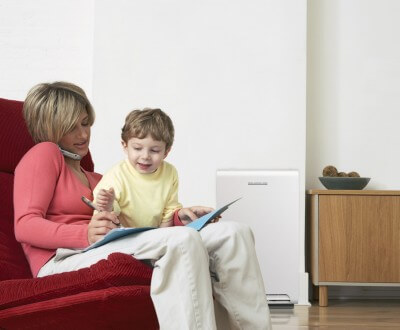 Keeping your family healthy is about more than just making sure everybody eats right and get plenty of rest. Your home itself plays an important role in your health and especially that of young children.
Maintaining a visibly-clean home isn't enough, as what you can't see can be harmful. Airborne contaminants and irritants, such as bacteria, mold and pollen can circulate through homes that appear clean. And chemicals in some cleaning products also can be damaging to your family and pets.
"According to the Environmental Protection Agency, the air in an average home has two to five times more pollutants than outdoor air. These include dust, mold, carcinogens and other toxins that can severely affect the health and well-being of your family," says certified green building professional Lisa Beres of GreenNest.com, who provides consultations to help people make their homes healthier.
Here are a few ideas to keep your home, your family and your planet clean and safe:
Check those Linens
Dust mites and bacteria tend to collect in large numbers in your blanket, pillows and bed sheets. These types of microbes can trigger asthma and allergies.
Washing linens once a week in hot water is a good way to kill bacteria, but there also are products that help. These include mattress barrier covers, which are woven tight enough that allergens can't penetrate them. A variety of bedding materials, including wool and natural rubber, are perfect for repelling dust from the average bed, which can potentially house millions of dust mites.
Clean the Air
Even with all the corners and crannies of your home nicely scrubbed, many microbes, ragweed and pollen could be circulating through the air, contributing to allergy and asthma symptoms. There are several simple ways to air out your living space, like opening the windows, but nothing works as efficiently as a reliable air purifier.
"You definitely want to use an air purifier," stresses Beres, who recommends the Sanyo Air Washer Plus. "It literally uses the power of water to clean the air and suppress the spread of bacteria and germs. It also uses the HEPA filtration system, which removes 99.97 percent of allergens and neutralizes odors."
It's all about cleaning the air, just as you do with your home's surfaces. With this in mind, the portable Air Washer Plus features an air-distribution system that maximizes air flow and helps clean all areas of any room in which it operates. More information is available at us.sanyo.com.
Look for Green Cleaners
The right cleaning products can make your house spic and span. But many traditional cleaners contain solvents and chemicals that can be harmful to you and the environment. Mixing different types of cleaners, like bleach and ammonia, also can cause health problems — including coughing, nausea and even pneumonia. And other cleaners containing phosphates and chlorine can harm the environment.
Fortunately, there are less-hazardous, environmentally-friendly cleaners now available. You even can mix your own eco-friendly cleaners at home, using non-toxic ingredients like vinegar, baking soda and water. A variety of recipes can be found by searching the Internet.
As we learn more about how contaminants circulate inside our homes, more families are realizing a dirty home isn't just an eyesore, but also could be a health hazard.
Courtesy of StatePoint
Photo: courtesy of Sanyo