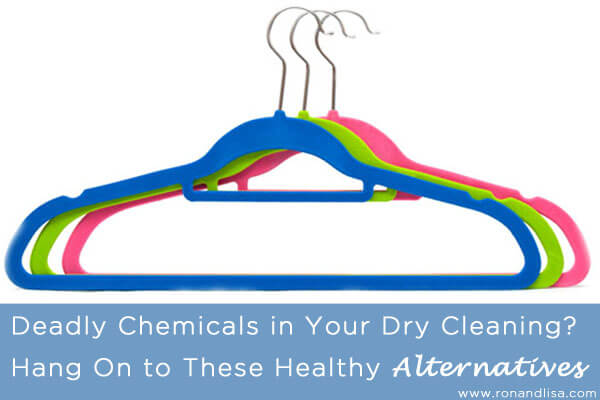 Those of you who remember Joan Crawford's closet tantrum in the 1981 movie, Mommie Dearest, will agree that wire hangers ain't got nothing on the real threat of toxic chemicals lurking in today's dry cleaned clothing.  You should be familiar by now with the crucial role good indoor air quality plays in creating optimal health.  Today, Ron and I share another essential step that will aid in improving the air quality in your home.  But, first, we must look at the source of this hanging, hidden culprit:  dry cleaning.
Read about natural deodorants
The most commonly used dry-cleaning solvent, perchlorethylene, is very effective at removing stains and dirt from a wide variety of fabrics without shrinking the material or ruining the colors.  Unfortunately, perchlorethylene (also known as "perc") is as bad for humans as it is good for stained clothes.  Perc is a Volatile Organic Compound (VOC) and a strongly suspected carcinogen and air pollutant.  Inhaling or ingesting it can cause cancer, birth defects and a host of other illnesses.  You do not want to add traces of perchlorethylene to your indoor air!
Green Warning: Minimal contact with perc can cause dizziness, headaches, drowsiness, nausea, and skin and respiratory irritation. Prolonged perc exposure has been linked to liver and kidney damage and cancer. Perc has been identified as a "probable" human carcinogen by California's Proposition 65. The US Environmental Protection Agency (EPA) has found that clothes dry cleaned with perc can elevate levels of the toxin throughout a home and especially in the room where the garments are stored. Nursing mothers exposed to perc may excrete it in their milk, placing their infants at risk. Perc can also get into our air, water and soil during the cleaning, purification and waste disposal phases of dry cleaning, according to the EPA.
If your clothing has been dry cleaned with perc – and 85 % of the dry cleaners in the U.S. use it today – don't bring it into your house until the plastic bag has been removed and it has been aired out in a well ventilated place for a few hours, allowing any residual gases to escape.
Better yet, find a cleaner who is offering liquid carbon dioxide (CO2) cleaning or "wet cleaning" a non-toxic alternative to dry cleaning that is becoming more readily available.   A wet cleaner uses water in moderation and selects among various cleaning techniques (steam cleaning, spot removing, hand washing, gentle machine washing, tumble drying or vacuuming) depending on the garment type, fabric condition and soiling.  Experiments have shown that most clothes that specify "dry clean only" can be wet cleaned without damage.
Liquid carbon dioxide cleaning is a method that uses pressurized liquid CO2 in place of perc, in combination with other cleaning agents. CO2 is a nonflammable and nontoxic gas that occurs naturally in the environment.  Although CO2 is a greenhouse gas, no new CO2 is generated with this technology, so it does not contribute to global warming. It may be difficult to find, however, as few dry cleaners are adopting this technique due to the high costs of the machines.
Did you know? California has committed to phasing out perc by 2023, offering grant money to cleaners who switch from perc to CO2 or wet cleaning.
As always, beware of greenwashing!  You may encounter dry cleaners who advertise as "green," "organic" or "environmentally friendly" when they are anything but environmentally friendly.  Heard of the "Green Earth Method"?  It replaces perc with a silicone-based solvent called siloxane similar to the base ingredients in shaving creams or deodorants called D-5. It is anything but "green."  The EPA says siloxane may be a carcinogen. Hydrocarbon cleaning methods also pose problems as hydrocarbon is a petroleum-based solvent and carries environmental concerns similar to those for petroleum.
For additional non-toxic dry cleaning alternatives, pick up a copy of our book, Just GREEN It! Simple Swaps to Save the Planet and Your Health.  Finally, don't forget to visit our prior posts for healthy laundry solutions in Secrets Revealed: We're Airing Out Your Dirty Laundry! and Dirty Secrets Revealed: We're Dishing on Laundry! Part II