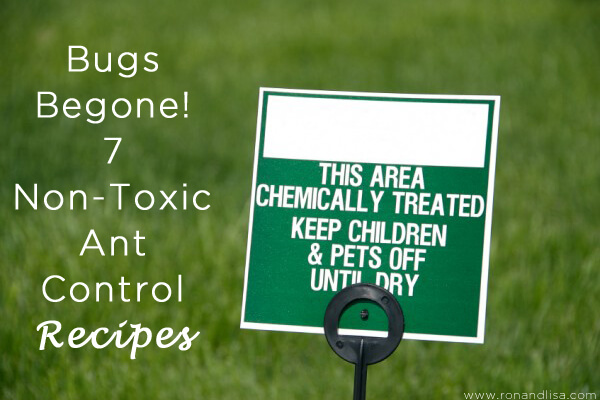 The Labor Day weekend celebration is a time for fun, laughter, food and invited family & friends…not uninvited ants! If you are planning a picnic, mountain or beach outing to celebrate this holiday, then you'll be pleased to know you do not need to resort to toxic ant control remedies to protect you and your feast. It's easy to remove ants and other pests without having to resort to toxic pesticide sprays and bait traps. For example, the so-called "inert" ingredients labeled on pesticides sprays and bait traps have been shown to be more toxic than the active ingredients and even receive less safety testing in many cases.
Here are a few of our favorite all-natural, non-toxic remedies (that you most likely already have the ingredients for in your kitchen cabinets) to create a barrier of entry from pesky ants.
1. Soapy Water
Soapy water will not only kill individual ants, but will remove the chemical trail that other lines of ants use to follow.
Make a moat of soapy water around the legs of the picnic table – this will deter ants from getting on your picnic table.
Soapy water in a spray bottle can be a very effective ant repellent. You will want to dilute the soap to roughly 1 or 2 tablespoons per quart of water. The soapy water can be sprayed on the legs of a picnic table to deter ants.
DID YOU KNOW? Research has shown higher rates of leukemia and brain cancer in children who live in homes where pesticides are used and a 3 to 7 times greater chance of developing Non-Hodgkin's Lymphoma for those living where insecticides and extermination methods are applied.
2. Jalapeno Pepper Spray
Grind up a handful of jalapeno peppers, mix into a quart of water and boil it for fifteen minutes. Allow time for the mixture to cool and place in a spray bottle for later use. Ants are repelled by the pepper spray and will avoid areas that are sprayed.
3. Sprinkle Cinnamon
Cinnamon acts as natural barrier to ants. Sprinkle cinnamon around the perimeter of a picnic blanket or table.
4. Coffee grounds
Ants are repelled by coffee grounds and this creates another natural barrier ants won't cross. Many local coffee shops offer these for free for your garden.
5. Lemon juice
Spray bottles filled with a 50/50 concentration of lemon juice concentrate and water can make an effective ant repellent.
6. Cayenne pepper
Sprinkling cayenne pepper is a great non-toxic way to prevent ants from entering a desired area.
Related Articles:
Just Say NO to Pesticides at Home! 6 Healthy Alternatives
Bugs vs. Pests: Understanding the Crucial Difference
5 Reasons We Love Terminix AllClear Mosquito Bait & Kill
GOT BUGS? Ron & Lisa Show You How to Tackle 'Em, Toxin-Free!
Ants Away – Indoors & Out
7. Vinegar
White vinegar is not only great at removing small weeds, but it can be used in a spray bottle to destroy ant trails. Without clear trails, the ants will get confused and avoid the sprayed area. The vinegar ant repellant can be made with white distilled vinegar diluted with water; or can be made with just straight vinegar.
For additional tips on non-toxic pest control, visit Beyond Pesticides or Just GREEN It!