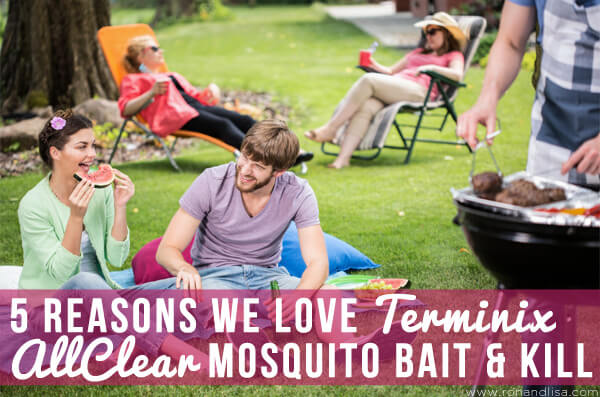 Summer is in full swing – and so are mosquitoes! It's one thing to get annoying and unsightly bites, but it's another thing to contract a dangerous mosquito-borne disease from these small, blood sucking vampires.
We have discussed natural insect repellents here before including MOSQUITOES AWAY Naturally: 4 DEET-Free Alternatives. While applying a topical solution is a smart, proactive measure to protect yourself and your loved ones during outdoor festivities, it's just not enough anymore. Today, the risk of diseases such as malaria and West Nile Virus, (view map to find high risk areas for West Nile HERE), is high and extra precautions are a must. Plus, a whopping 68 percent of Americans agree that 'they need to spray more than just their bodies to effectively combat pesky and potentially dangerous mosquitoes,' according to a March 2016 online survey by Harris Poll on behalf of Westham Co. Gone are the days of ineffective candles or highly toxic chemicals that require contact in order to kill.
But, how do you protect yourself, your kids, your pets and even your garden without resorting to toxic chemicals? Warding off vampires works great with garlic, so it seems logical that it would work for mosquitoes, too, yes? If you're looking for a safe and nontoxic solution that's benign to humans, pet and plants – meet sugar and garlic – or, Terminix® AllClear® Mosquito Bait & Kill. Sounds deadly and it is…to mosquitoes, that is.
"If you think you are too small to make a difference, try sleeping with a mosquito." ―Dalai Lama XIV
We love this product so much that we're actually giving it away! You can enter to win your very own twin pack and a fifty dollar gift card by entering daily at the Safely Spray Mosquitoes Away Sweepstakes. And, if you want to know why Ron and I are proud to stand by the effectiveness and safety of Terminix® AllClear® Mosquito Bait & Kill, here are five good reasons:
REASON #1: It's more effective than sprays, tiki torches and foggers.
The jury's in and fifty five percent of Americans polled in a recent online survey agree that current backyard do-it-yourself solutions to protect their yards 'don't work.'
REASON #2: It kills mosquito populations by more than 90%.
Terminix® AllClear® Mosquito Bait & Kill is the only ingestible mosquito control that collapses backyard populations by more than 90 percent in just two to three weeks.
REASON #3: It works fasts and lasts up to 4 weeks.
This patented ATSB(R) bait-and-kill approach starts killing mosquitoes within 24-48 hours and controls for up to 4 weeks.
REASON #4: It's nontoxic
Terminix® AllClear® Mosquito Bait & Kill is safe. The non-toxic formula is safe to use around people and pets and is environmentally sound. ATSB works by baiting mosquitoes with a proprietary attractant and then killing them with a safe, ingestible sugar-laced toxin–microencapsulated garlic oil.
Related Articles:
Just Say NO to Pesticides at Home! 6 Healthy Alternatives
Bugs vs. Pests: Understanding the Crucial Difference
GOT BUGS? Ron & Lisa Show You How to Tackle 'Em, Toxin-Free!
Bugs Begone! 7 Non-Toxic Ant Control Recipes
Ants Away – Indoors & Out
REASON #5: It protects 5,000 square feet.
Terminix® AllClear® Mosquito Bait & Kill is sold as a twin pack and protects up to 5,000 sq. ft. Plus, it's readily available in-store and online at Lowes, Target, and Amazon.com. Oh, and did I mention it's affordable? The twin pack retails for just $12.99.


Save