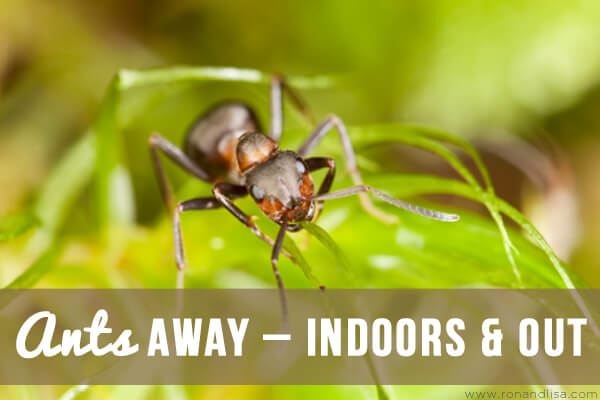 If you followed our last post, Bugs Begone! 7 Non-Toxic Ant Control Recipes, then you have hopefully reaped the benefits of an ant-free picnic or celebration. But, as we all know, ants can also be a problem inside the home.  Ants follow pheromone trails left by other ants to help them find food sources. Following this path backward can help you identify their point of entry into your home. You can eventually seal that part of your home with a non-toxic caulking. We recommend AFM's Safecoat which is a not-toxic, water-based, elastic emulsion type of caulking compound. It is ideal for windows, sealing cracks, filling holes, door perimeters, walls and woodwork, air duct openings, venting and plumbing areas, siding openings and masonry cracks.  It won't dry out or crack and does not release any solvents or obnoxious odors that could harm you or your family members.
Another trick is to leave out a small piece of cardboard covered in a mixture of borax (bait) and syrup or a high protein treat (depending on type of ant) overnight. The ants will return the bait to the colony. Allow up to 10 days to complete the cycle and keep out of children's reach. Remember, there are 12,000 species of ants throughout the world and different types of ants are attracted to various types of food.  Some prefer sweets while others prefer fats and protein, etc.  Therefore, identifying the ant species will help you understand which treat to use with this method.
Finally, here are two additional methods you can utilize to remove ants in your own backyard:
Choose the ideal backyard location for entertaining.
Avoid heavy vegetation. Areas with thicker vegetation are more attractive to ants. Look for barren areas to place your outdoor table or barbecue grill.
Related Articles:
Just Say NO to Pesticides at Home! 6 Healthy Alternatives
Bugs vs. Pests: Understanding the Crucial Difference
5 Reasons We Love Terminix AllClear Mosquito Bait & Kill
GOT BUGS? Ron & Lisa Show You How to Tackle 'Em, Toxin-Free!
Bugs Begone! 7 Non-Toxic Ant Control Recipes
Eliminate ant colonies from your backyard prior to a hosting guests or dining outdoors.
Look for obvious signs of ant infestation. If many ants are visible, soapy water can be used to drench outside ant nests in your backyard. This will not only kill some of the ants, but will force the remaining ones to relocate.
Ant colonies can also be controlled by digging up the ant nests and pouring scalding water and or soapy water on to the nest.
Pouring apple cider vinegar down entrance holes of ant nests will cause them to leave the area.
Repeated flooding of an ant nest every few days with a garden hose can cause the ant colony to relocate. However this method requires persistence and is not always effective.