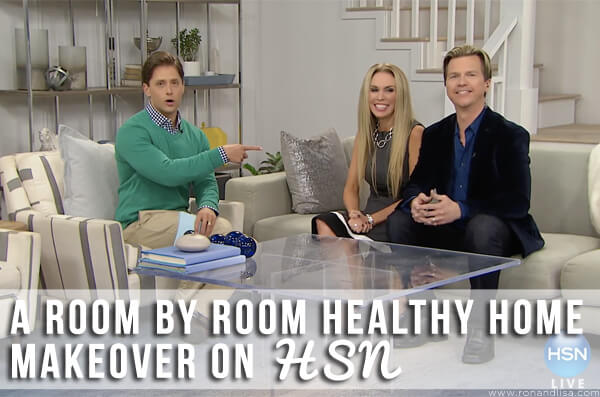 Ron and Lisa Beres, The Healthy Home Dream Team, are back on the Home Shopping Network's (HSN) A Healthy You with Brett Chuckerman. This isn't your typical tour of homes. Follow us as we walk you step-by-step, through each room of your house. We'll point out potential deadly dangers and hidden hazards lurking quietly in your home. Then we'll offer easy and affordable solutions to create a healthy space for you and your family to thrive in.
Create a Toxic-Free Entryway
Did you know 60% of household dust is tracked in from the bottom of your shoes? This makes the entryway to your home one of the most important spaces when it comes to overall health. Get our three essential tips to tackle toxins now:
Create a Healthy Bedroom
We spend one third (hopefully) of our life in the bedroom. Your beloved mattress can be home to one hundred thousand up to ten million dust mites (eww!). Here are a few must-have tips to reduce allergens, bacteria, germs and fungi in the bedroom:
Create Clean & Green Kitchen
It's the heart of the home. Discover the two things you must do right away in the kitchen. It's not just about looking clean; this space needs to be toxic-free. Enjoy our money saving tips for your kitchen now:
Create a Natural Bathroom
Shower to shower each day, but keep biological contaminants, PVC and chlorine away! We'll show you our three simple steps to detox the bathroom quickly and affordably:
Create Chemical-Free Living Room
What you can't see, can hurt you. Discover the four F's of the living room that are wreaking havoc on your health. We'll reveal proven techniques to avoid these hidden toxins and what you must look for when purchasing new furniture.